There are days when you really like to indulge in cooking. However, if you are anything like me, you are always in a hurry to cook. Cooking a meal fast does not mean you have to be cooking not so good food. I say, cooking fast is about efficient meal planning and execution.
Keep these tips in mind and learn how to cook good meals in record time. In today's article, we have elaborated upon the various tips and tricks you could incorporate to cook your meals faster when you are racing against the clock. 
Mise en place –
 This is a French culinary phrase which means "putting in place" or "everything in its place". It is vital that you should measure the required quantities of the ingredients beforehand, put out the things required for a particular recipe right on the shelf before you start cooking. This saves a lot of time going back and forth. Also, once you are finished cooking, put the jars/spices/spices, etc back in their designated place. A clean and organized kitchen workspace is very important to cook faster. 
Plan everything ahead –
Meal planning comes in handy if you are a working woman and need to quick superfast every day. You have all the veggies/lentils/spices required for the recipe stocked up.
Also, you do not have to waste your time and energy in thinking about what to prepare. 
Try not to juggle with more than two main course recipes for a single meal with a proper time table of what you want to cook.
Work Smart and multitask
While something is being cooked on the pan, you can finish lots of other work around the kitchen. For instance, you can chop or mince vegetables for the next meal, check out the leftovers in the fridge, knead flour if needed for the next meal.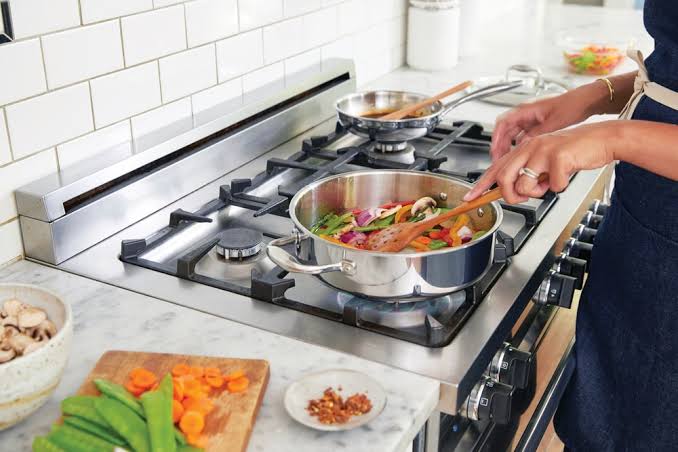 Salt Water
 If you are boiling something, add some salt to your water this helps in raising the boiling point and therefore, it becomes easier for the food to cook and gives a salty taste to food as well. 
Even if you are a fan of pan cooking, you cannot deny that using a pressure cooker helps to keel the flavor intact yet helps to cook the food quicker.
Use a countertop Trash Can 
 You must always keep a trashcan by your side to dispose of all the waste easily and efficiently. This will help you to clean the kitchen quickly once you are done with cooking.
Use a Food processor-
if you are cooking in a hurry, it would be of great help to use a food processor. It makes jobs like chopping, grating and slicing easier.
Braising –
When you are braising the food, use a minimum amount of water, then cover the pot and cook. 
This will help you to preserve the flavor and would take lesser time for the dish to prepare.
The right kind of Kitchen Tools –
Proper kitchen tools are extremely important to chop different kinds of veggies, fruits, and meat, as well as to mix and grind things. Have a set of knives for different things, different sizes of strainers, graters, spatulas, etc. to serve specific purposes.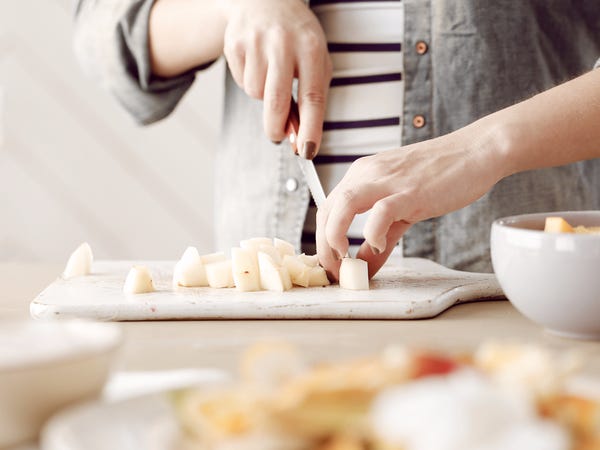 Freeze The Items –
There are certain items like soups, sauces, and purees, etc that can be preserved for a longer time in your freezer and can to be used whenever you require. Therefore when you are making these items, you may make them in large quantities and then store them in the freezer, where they will remain fresh and nutrient intact, mostly.
These are some of the tips that will help you to cook faster. Do you have any tips to add? We would love to hear from you so please leave your feedback in the comments section. 
Utpal Khot
Copyright © Utpal K
1. If you share this post, please give due credit to the author Utpal Khot
2. Please DO NOT PLAGIARIZE. Please DO NOT Cut/Copy/Paste this post
© Utpal K., all rights reserved.
Copyright Notice: No part of this Blog may be reproduced or utilized in any form or by any means, electronic or mechanical including photocopying or by any information storage and retrieval system, without permission in writing from the Blog Author Utpal Khot who holds the copyright