The season 3 of #HomeChefMatters by Food Bloggers Association and Godrej Group brought together home and professional chef under one roof to discuss how home chefs could scale up their business. The theme for this year was "Towards Healthy Cooking" and it included a spontaneous cooking competition. Home chefs were divided into several teams and they were given the task to rustle up healthy dish using Healthy Vegetable Oils made by Godrej Veg oils.
The Fun Cook-off
At the Event we had these 9 wonderful Home Chefs namely Devansh Zaveri, Bimba Nayak, Roopa Nabar, Ginee Shah, Aparna Choudhary, Jasleen Marwah, Hemali Prasad, Lunica Desai and Joyadrita Ragavendran who had cooked some awesome dishes using the relevant vegetable oils. FBAI has always encouraged budding, unseen talent through its #HomeChefMatters and as a responsible blogger of the Food Industry, I always appreciate the initiative Sameer Malkani and Saloni take to organize such and other events. They get awesome support from Pooja Khanna, Rachna Prasad and the entire core team. We also saw a cook off in the evening amongst the participating guests with the usage of Godrej Vegetable oils in abundance. Here is a glimpse of the same …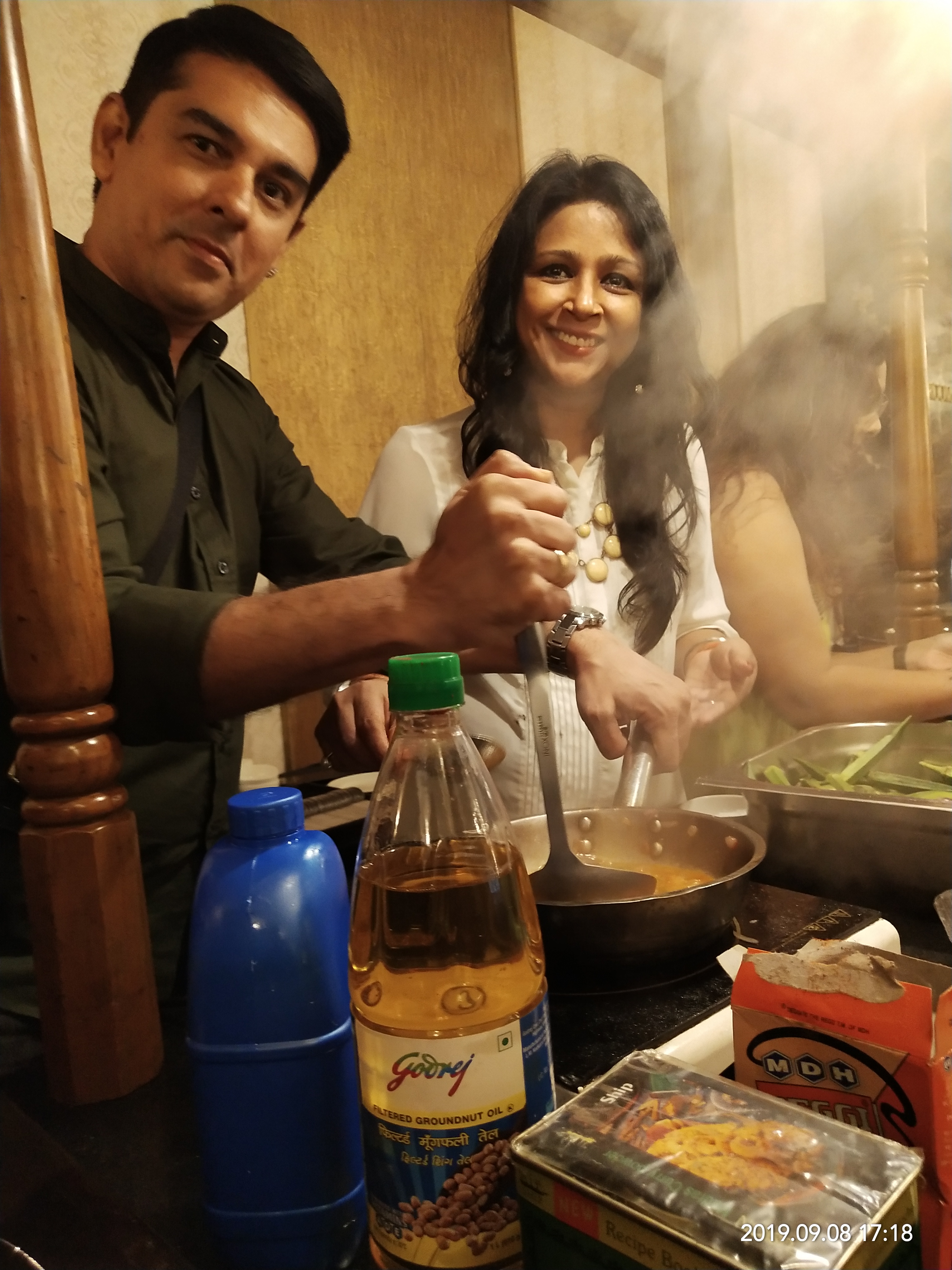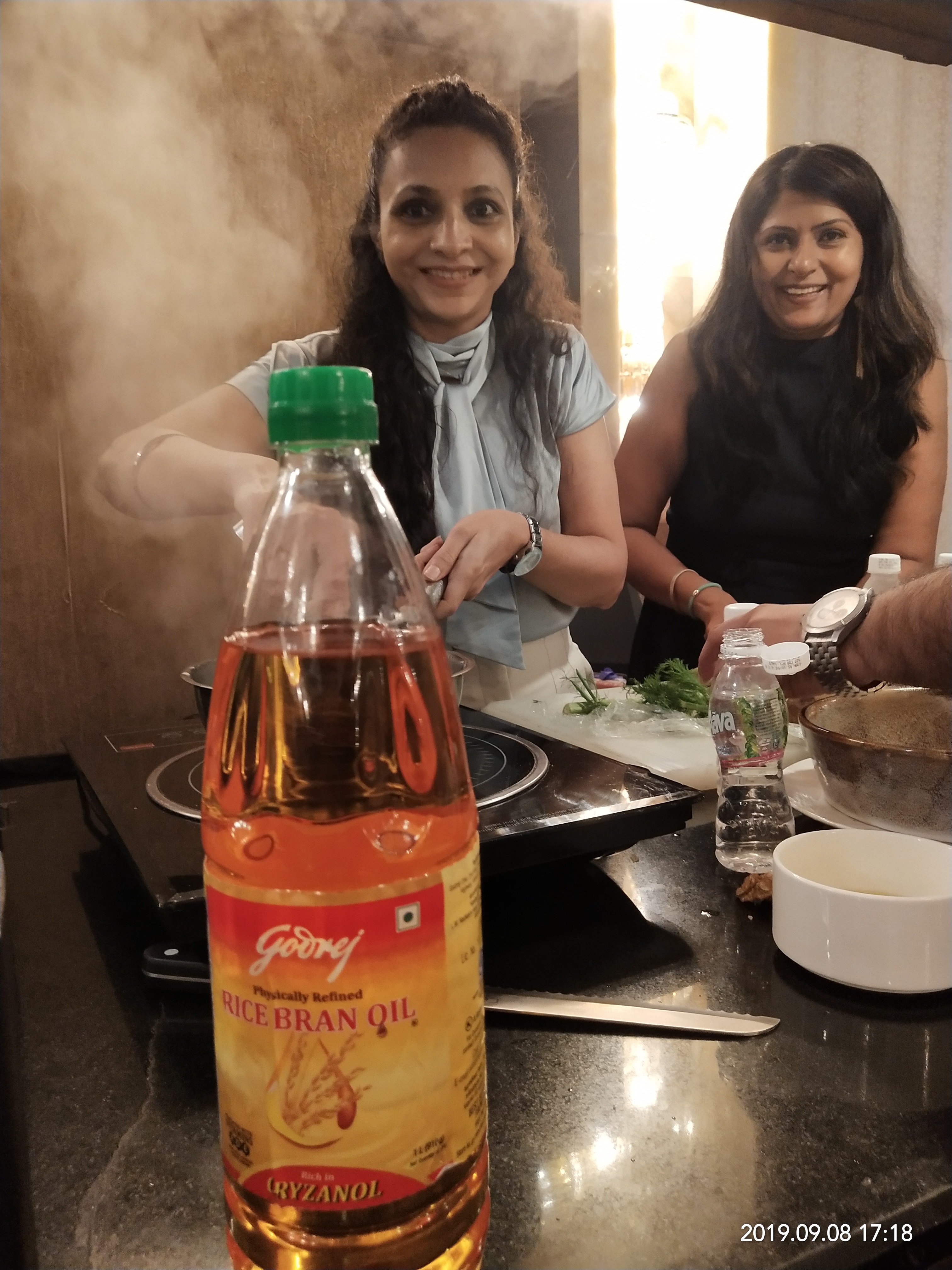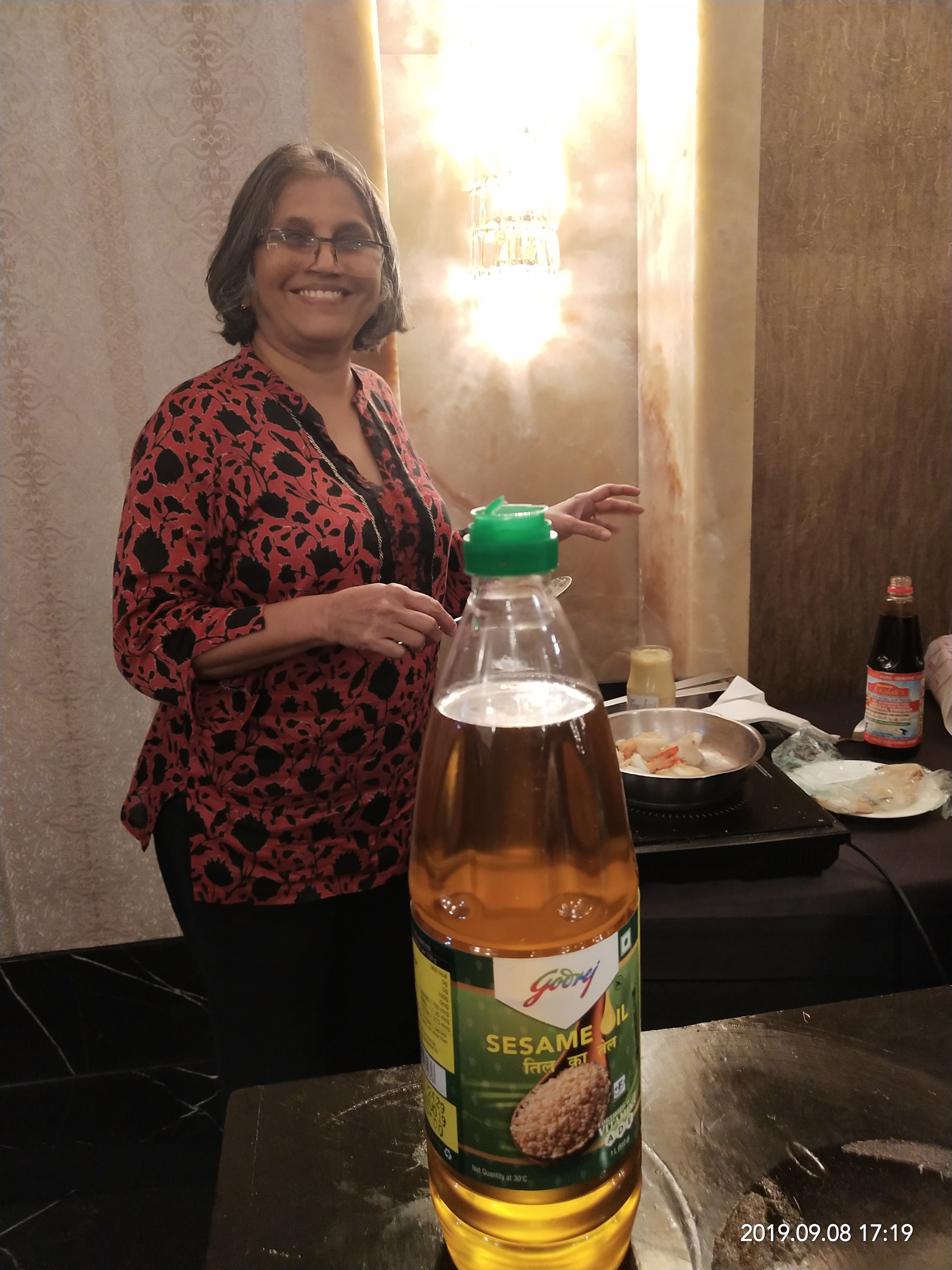 It is important to understand the various oils while cooking and select the appropriate one. They play an essential role in providing nutrition to the human body. Vegetable oils help in the preparation of food by adding flavor. It also adds extra texture to food, helps to make the baked products crispier, and helps in conducting heat while cooking. So, let us look at the various Vegetable oils made and marketed by Godrej Veg oils Division in this post.
Godrej Vegetable Oils for cooking:
Some of the oils provided by Godrej are Refined Sunflower oil, Sesame oil, Refined Groundnut Oil, Filtered Groundnut Oil, and Rice Bran Oil. Godrej vegetable oils are derived from plant sources mainly from oil-bearing seeds & materials such as Peanuts, Sunflower, Sesame, and Rice Bran. The oils are fortified with vitamins A, D, and E, which are beneficial for human health. Vegetable oil contents ingredients like PUFA (omega-3 and omega-6 fatty acids), MUFA, Gamma Oryzanols, which helps to balance cholesterol & improve immunity. Gamma Oryzanols in Rice Bran Oil help to lower bad cholesterol levels (LDL) & increase good Cholesterol (HDL) and further reduce the risk of cardiovascular diseases, thus improving cardio-protective properties.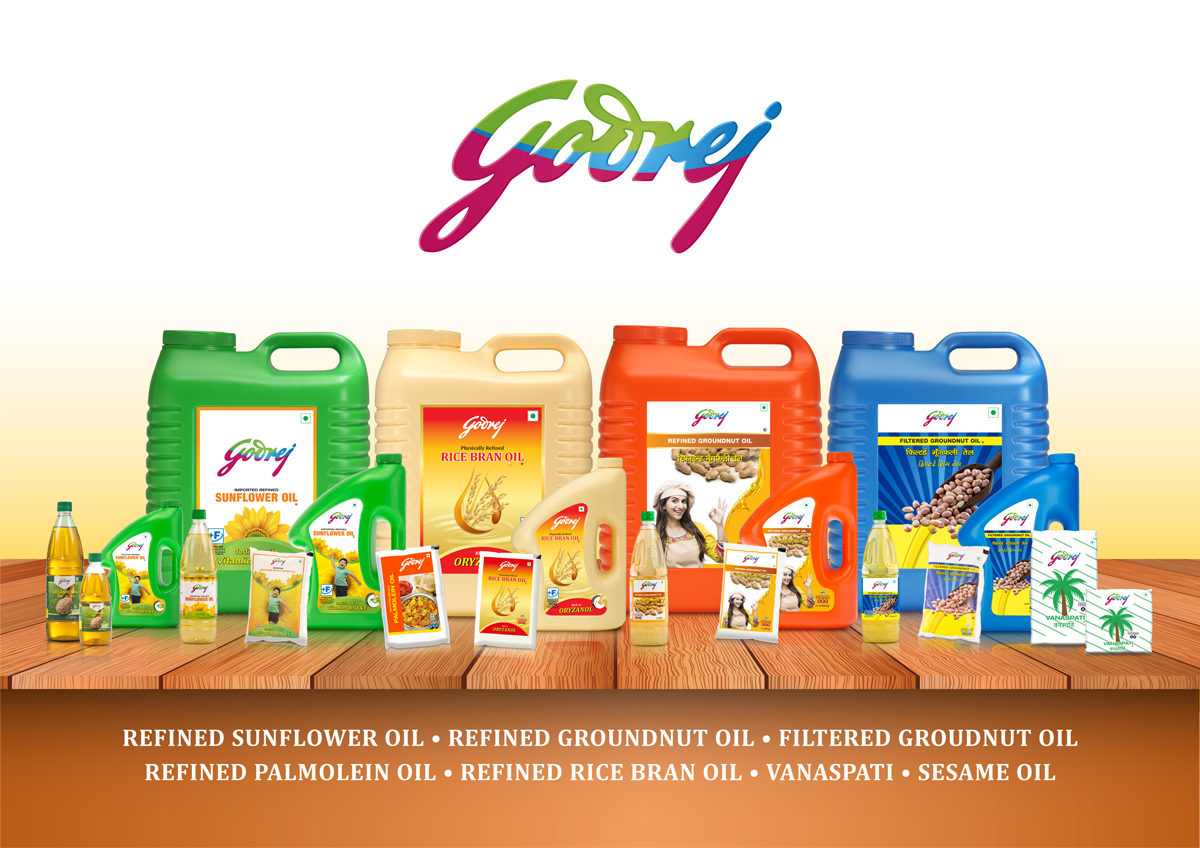 Benefits of various oils:
1. Decreases Risk for Heart Disease:
Sunflower Vegetable oil may decrease the risk of developing heart diseases, according to a survey conducted by the State University of New York. People who consume vegetable oils are less prone to cardiovascular diseases because the use of vegetable oil normalizes the blood sugar level, blood pressure, and increased serum cholesterol levels.
2. Decreases Risk for Breast Cancer:
The regular use of sesame seed oil helps to decrease the risk of breast cancer rather than those who consume butter and margarine.
3. Helps to boost the immune system:
Vegetable oils like coconut oil contain lauric acid (monolaurin), which helps to reduce candida, fight bacteria, thus keeping you healthy. Rice Bran Oil helps in improving immunity of human body.
4. Helps in improving metabolism:
The intake of Rice bran oil, helps to increase metabolism in obese people. As Rice Bran oil contains ingredients like;
1.Phenolic compounds
2. Antioxidant substances
3. Anti-inflammatory
4. Anti-blood clotting properties substances.
These above ingredients help to increase the body's metabolic rate.
5. Lowers anxiety and depression
Tyrosine, in sesame oil, and groundnut oil helps in serotonin activity. It helps to calm down the brain, which further helps to boost mood by adding enzymes and hormones in the body that makes a person feel happy.
6. Helps to promote cell growth:
Oils like Refined sunflower oil, almond oil, and wheat germ oil are rich in vitamin E. This is essential in the body for cell protection and development.
Conclusion:
Selecting the best of best vegetable oils can not only change the flavor profile of your food but can also make a positive difference to your health. To stay fit the best solution is to avoid trans-fat and limit saturated fat intake. It is recommended to switch to healthier options and have a balanced diet with regular fitness exercises. What is your take on Vegetable oils? Do let us know in the comments section or your regular whatsapp messages to me.
Utpal Khot
Copyright © Utpal K
1. If you share this post, please give due credit to the author Utpal Khot
2. Please DO NOT PLAGIARIZE. Please DO NOT Cut/Copy/Paste this post
© Utpal K., all rights reserved.
Copyright Notice: No part of this Blog may be reproduced or utilized in any form or by any means, electronic or mechanical including photocopying or by any information storage and retrieval system, without permission in writing from the Blog Author Utpal Khot who holds the copyright
Keywords: #Cooking, #VegOils, #GodrejVegOils, #CookingOils, #RiceBranOil #HomeChefMatters #VikhroliCucina
How to choose a cooking oil for a perfect healthy life – https://t.co/RqQZd0LDJZ via @foodietweeter@AfiraChhapra @lifestyle_annu @nickybadani @VikhroliCucina @mommys_dayout @Hugetrick @1985luckygal @nehasclicks @themukhtiars @FoodBloggerAI @salloni @SamMalkani @2blissofbaking pic.twitter.com/BakkCdO88Y

— Utpal K (U K) (@foodietweeter) September 18, 2019