One of the most important aspects of Food is the presentation. As they say a person always sees the food first, then inhales the aroma and finally tastes it. It is essential that the food is presented in a manner which appeals to all the palates. For a long time, the importance of Knives in food presentation was not known even up to the last century. In course of my Food blogging I always try to learn about the importance of knives in food presentation and cooking as a whole process.
I could witness the exemplary knives skills, the logical and valid explanation for each knife being where it is supposed to be at this event called the #HomeChefMatters. The star studded event was graced by my friend Chef Vicky Ratnani, Chef Harpal Singh Sokhi, Chef Gaurav Gidwani, Chef Sabyasachi, Chef Amrita Raichand, Chef Rakhee Vaswani, Chef Paul Kinny, Rushina Ghildiyal and others. Healthy eating was the theme of the day and Vikhroli Cucina played a very important part in Highlighting it all through the event.
What touched a chord in me during the #HomeChefMatters event was the proactive approach of the home chefs to use different cooking oils and precision cutting tools to enhance the speed and quality of cooking. So much so that I decided to choose these two as my topics for my blog posts and write about the various knives, their USP and their use in cooking.
Godrej Cartini knives were used by Chef Paul Kinny for his demo. Even the 9 home chefs used them in their cooking. When I checked out these knives one by one, I found out some very vital and important information which I thought of sharing with all my readers and followers.
What are the home chefs using now
All the Home chefs I saw there used Cartini knives, which are readily available online. These are high grade, premium quality knives that are used by Professionals. Though, anybody who is fond of cooking and likes to work with precision use them,too.
CARTINI, which a famous brand of kitchen accessories and tools has collaborated with Godrej to provide consumers with a good kitchen experience. They believe that the right kind of kitchen tools are of utmost importance. The fine and precise tools are necessary to encourage creativity in kitchen. Cartini products are famous cutting-edge design, super fine quality and blade and durability. They were used extensively by all at the 3rd edition of the #HomeChefMatters
Why are CARTINI knives superior
Use of high grade and rust resistant Stainless Steel.
Non toxic knife handle made up of Polypropylene.
Hollow ground blades of knives manufactured using European heavy duty machinery
Comfortable to use
Precision and effectiveness
Variety of designs to suit different purposes.
Lots of lengths, thickness, curvature and handle design variations.
What are the Types of Kitchen Knives?
Broadly, these are the following types of Godrej Cartini knives that are readily available offline and online in India. There are variations of these basic knives too which you can check out on their official website.
Precision Carving Knife
These are perfect for heavy duty cutting jobs like for chopping Meat or Chicken. Another name for Carving knife is Slicing knife or slicer. This knife is perfect for slicing uniform, thick pieces of cooked Chicken/Turkey/big roasts of meat and Beef. This knife can be used for filleting big fish, as well.
They have heavy weight blades which are thick to allow perfectly shaped cutting.
Kitchen cleaver knife
This knife is also called Butcher knife. It may vary in shape slightly from one manufacturer to another but basically, it is rectangular in shape. We can use it for butchering or cutting through bone. The flat, broad side of the butcher knife also crushes cloves or garlic and similar things.
Easy Chopping Knife
These work great for slicing veggies or cheese, for quickly chopping leafy veggies and other fruits and vegetables for salads etc.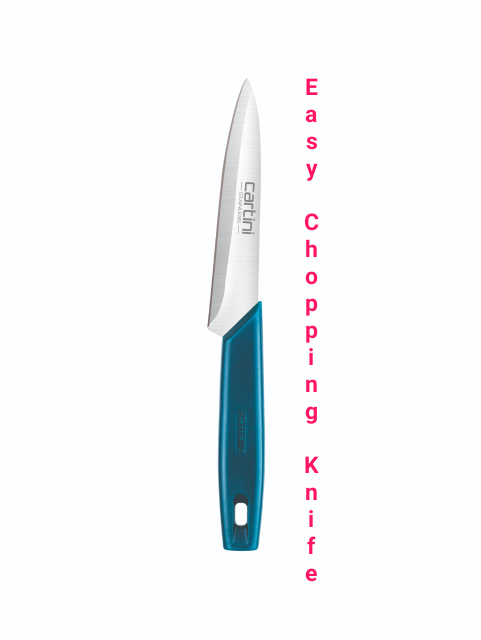 Fine Dicing Knife
The name is self explanatory. These are ideal for dicing onions, Garlic, vegetables, trimming leafy vegetables and neatly slicing meat.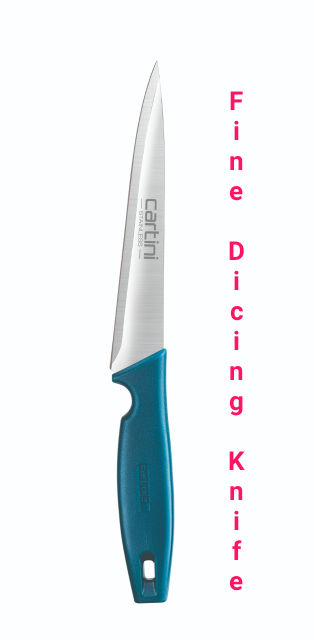 Perfect Paring knife
There are compact in size and areIdeal for peeling off skin of fruits and veggies and for cutting fruits into small pieces, as well. This is a versatile chopping knife used for a variety of purposes like slicing, coring and peeling.
They have shorter blades and are good for a lot of tasks of precision. For instance, use these to core tomatoes, hulling strawberries, scoring meat.
It's variant paring knife has pointed and curved blade for different cutting styles.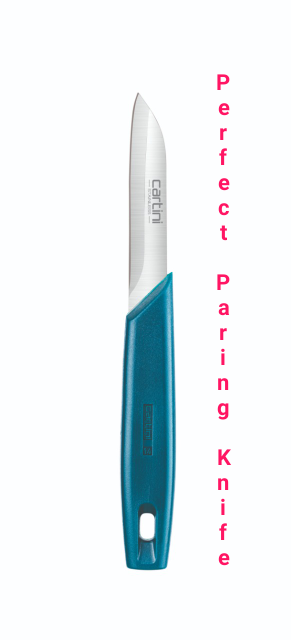 Handy Chef's Knife
This is a multipurpose knife used by chefs for many jobs. This is a multi utility knife designed for: gross chopping, mincing herbs, slicing, as well as for gross dicing. The handy knife has a slanting edge and a curved handle for a convenient and firm grip.
The slanting edge makes it easy to effectively rock the knife for fine mincing. Chef knife characteristically has a metal collar or a bolster to prevent the knife from slipping while working. Basically, all the light duty work can be easily accomplished using the handy chef knife.

Tomato Knives
The tomato knife looks very much like a bread knife. Though, it has finer and smaller serrations, comparatively. It is good for cutting through tough skin and the tip is bifurcated for picking up small slices of food.

Bread knife
The bread knife has thick-bladed to ease the job of cutting through bread loaves. These have big blades. Bread knife has big and deep serrations in the edges to make it easy to cut the crust of the bread loaf. This type of knife is not good for cutting fruits and vegetables, properly.
Your Thoughts
Do share your thoughts on Importance of Knives in Food Presentation. In case you know about any other knives or about any other new technology or know how which has recently come into the Kitchen tools, please do share in the comments or whatsapp me like you always do.
Do check out my next one on the Oils used during this event and more about them.
Utpal Khot
Copyright © Utpal K
1. If you share this post, please give due credit to the author Utpal Khot
2. Please DO NOT PLAGIARIZE. Please DO NOT Cut/Copy/Paste this post
© Utpal K., all rights reserved.
Copyright Notice: No part of this Blog may be reproduced or utilized in any form or by any means, electronic or mechanical including photocopying or by any information storage and retrieval system, without permission in writing from the Blog Author Utpal Khot who holds the copyright