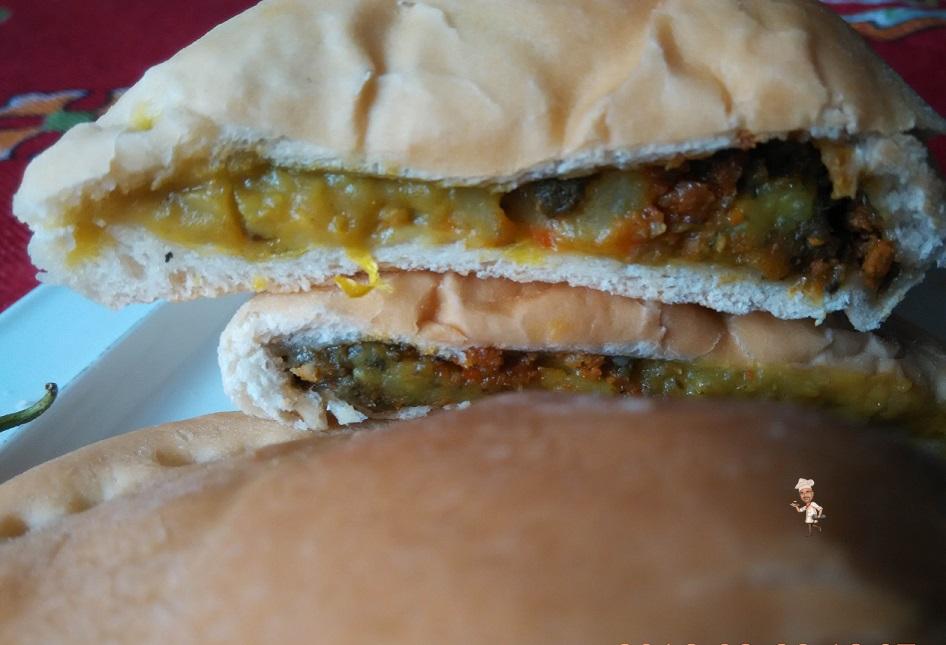 When it comes to street food, we look at healthy options so as to keep ourselves away from any possible harm the Street Food may cause. While eating Vada Pav, most of us think the same and wish we had a healthier version which would not worry us so much. So here is a small twist in the original recipe to give you the same taste of the Street Food and yet maintain the health factor.
We will need to make dough for the Vada Pav and there are many recipes available to do so. Here is one of the many (you can do some variation as per your need)
Ingredients for the Vada:
5-6 Potatoes medium
4 Green chili in paste
2 tsp Garlic paste
1/2 tsp Turmeric
Salt- to taste
4 Tbsp Chopped coriander
3 Tbsp Olive Oil
Recipe of the Vada Stuffing:
Wash potatoes and pierce with a knife.
Heat water in a pot/Pan and add in pierced potatoes and cook until doe in approximately 15 mins.
Once cooked, remove water and let them cool.
In a bow,l mash them and add salt, chili paste, garlic paste, chopped coriander, salt, turmeric and mix well until well combined.
Heat a pan and pour some oil. Add some mustard seeds and as they splutter, add the mixed mashed potatoes with all the ingredients. Stir for a while and switch off the gas.
Allow to cool.
Add some Lasun chutney, which we eat along with the Street Food Vada Pav.
It's simple to make with garlic, grated coconut, red chili powder, salt and oil. You can also add some crushed groundnuts for extra flavor.
Ingredients for the Coating / Pav:
3 cups whole wheat flour
3 cups all purpose flour also known as Maida
2 cups water
1 Tbsp Dry active yeast
4 Tbsp Bertolli Olive oil
2 Tbsp Sugar
2 tsp Salt
Recipe for the Coating / Pav:
Warm some water , add sugar and after it dissolves, add the yeast.
The froth should be formed in 10-15 mins, Mix salt and the flour at the other end and add some oil to it.
Add the frothy water to it and knead well to make a round dough ball.
Leave it aside, covered with a kitchen towel for about 2-2.5 hours depending on the climate and allow it to prove (rise)
It should become double the size in that much time.
Knead smaller balls of the proved dough ball and roll it into thick Rotis.
Now place the mixture made earlier on the Roti  on one half.
Apply some water to the sides of the Roti and roll over to make a dumpling like a Karanji.
Make all the dumplings and keep them in a an Oven at 400 Degrees for about 15-20 mins, checking after every 5 mins.
Ensure that the Oven is preheated at 400 Degrees for 5 mins before being used.
Your Healthy Baked Vada Pav is ready to eat. Since Everything is added in it, you just need to dig into it once it's cooled down a bit.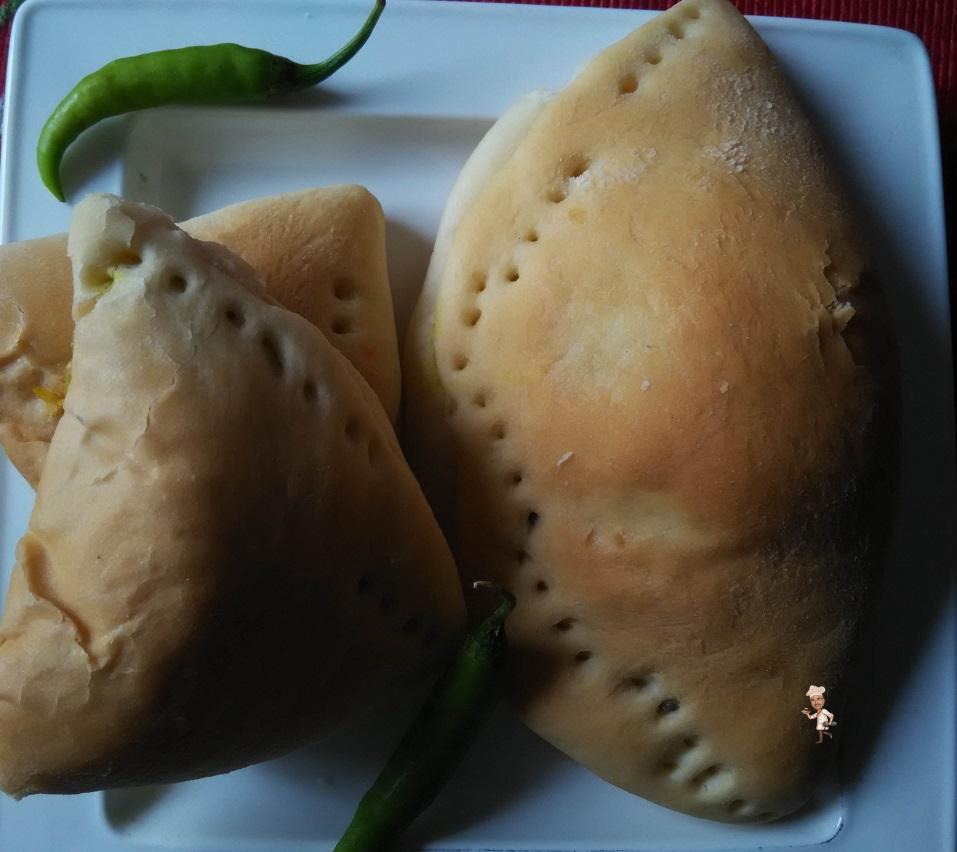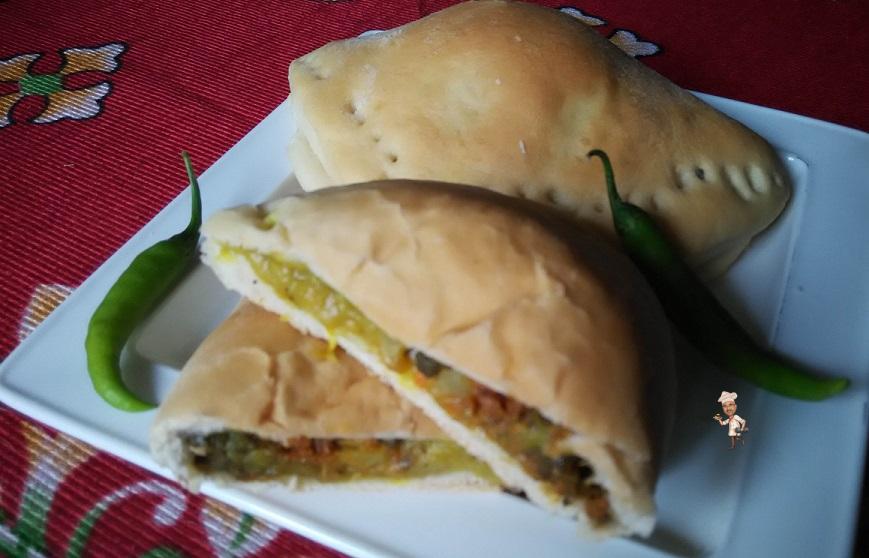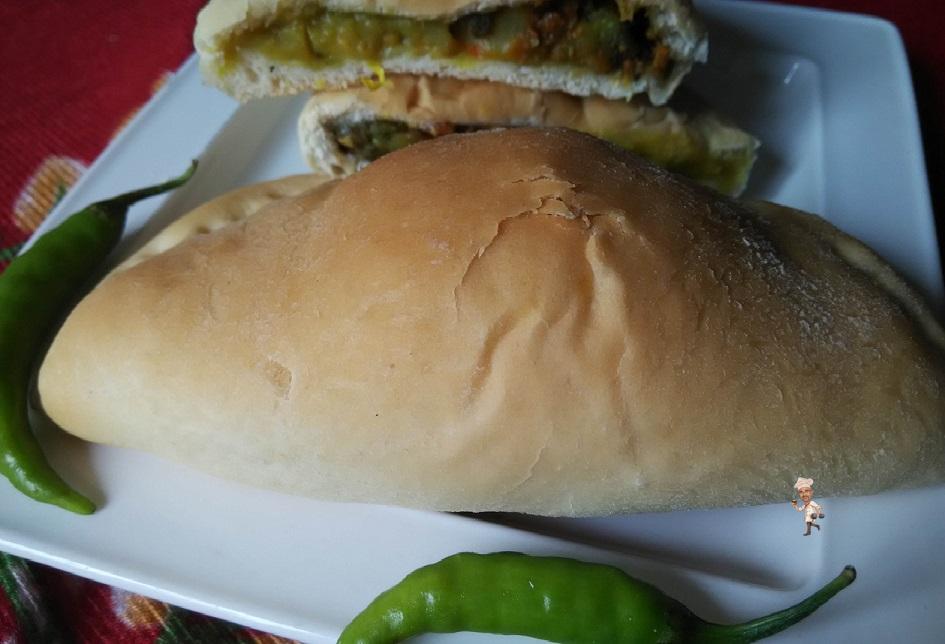 Uttpal K
Copyright © Uttpal K
1. If you share this post, please give due credit to the author Uttpal K 2. Please DO NOT PLAGIARIZE. Please DO NOT Cut/Copy/Paste this post
© Uttpal K., all rights reserved.
Copyright Notice: No part of this Blog may be reproduced or utilized in any form or by any means, electronic or mechanical including photocopying or by any information storage and retrieval system, without permission in writing from the Blog Author Uttpal K who holds the copyright.