Decorating your house turns into creativity when you do something unique but affordable.  You can decorate your sweet place within your budget by using materials that can be recycled.  The following are a few ways to decorate your home with a limited budget.
Bottles: 
Bottles of all types can be used for decorating home.  The soft drinks and liquor ones can be turned into a utility item by spending a few bucks.  The wine bottles can be decorated with crochet or laces and they can be used as flower vases or soap dispensers.  These glass bottles can be painted and used during Christmas or Diwali as lighting pendants. The base of soft drink bottles i.e. usually the plastic holders can be used as pen holders.  Its base can be cut and used as holder keys or jewelry.
Suitcases as pet beds: 
Old luggage bags can be used as a bed for pets. It can be there favorite place to sleep.  It consists of wheels which makes it movable.
Old dinner set: 
Using your old chinaware for decorating walls of your home can be the best option for you.  Old plates and bowls can be screwed in the wall and they can be painted. Old cutlery set can be used as a wall hanging by putting all the spoons, forks and knife in a pattern. 
Light bulbs:
Old bulbs can be used as planters if their filament is removed.  Small stems of flowers can be planted in bulbs and they can be used to hang in pendant style.  They can be painted and use for decorating a living room.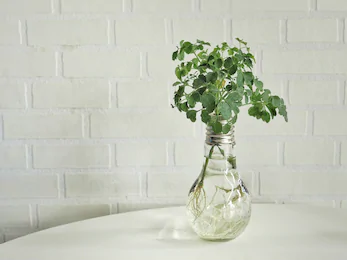 Old cassette tapes: 
They can be used for making a lamp that can be lighted using candles or bulb.  Decorative pen holders can be created using old cassettes. Old cassettes can be painted and screwed in the wall of a dining room.
So what are your ides of decorating your house? Please let us know in the comments below.

Utpal Khot
Copyright © Utpal K
1. If you share this post, please give due credit to the author Utpal Khot
2. Please DO NOT PLAGIARIZE. Please DO NOT Cut/Copy/Paste this post
© Utpal K., all rights reserved.
Copyright Notice: No part of this Blog may be reproduced or utilized in any form or by any means, electronic or mechanical including photocopying or by any information storage and retrieval system, without permission in writing from the Blog Author Utpal Khot who holds the copyright