Being The Real Human Foundation – #OldAgeHomeDiaries 3
Being The Real Human Foundation is a not-for-profit organization that is independent from states and International Governmental organizations. We are engaged in a wide range of activities, and take different forms in different parts of the World. Our work includes but is not limited to, Animal Rights, Environmental, Social, Advocacy and Human rights work. We work to promote social or political change on a broad scale as well as locally. We are determined to play a critical part in developing society, improving communities, and promoting citizen participation in various social work activities.
About us
How we started
A group of friends working in their respective profession came together for the common cause of helping fellow living beings who needed help. We started with the simple work of placing water bowls at various places for animals and birds on one side, and giving assistance to cases of Domestic Violence resulting in gross violation of Human Rights. Slowly our Team increased and the love of the Humans/Animals whom we helped. Being The Real Human Foundation now looks at a much more wider aspect of the society across the country.
Incidents
We had observed a few animal lovers keeping pots in their society/building for stray animals and birds. I decided to make this a full fledged program. I spoke to animal lovers across Navi mumbai and chalked out a plan. Where it was needed we contributed money, where the volunteers could manage it, they did take care of the expenses. We succeeded in talking to various shops, societies and restaurants and placed 500+ pots all over Navi Mumbai. These are cement pots. One has to fill water in them during summers and change it every two days if not daily. Post summers, we just have to add some soil and a seed to it. During rains, the sapling is developed naturally and post rains we have to remove the sapling and plant it in the nearby land. We then clean the cement pot and fill water again for animals and birds.
This work was noted and appreciated by the Times group too and an article appeared in the TOI too about the same. The local police also helped and appreciated in this cause where equal care of environment and animals was planed and executed.
The Progress
We noticed that on an average 10 animals die in Navi Mumbai and the municipal workers don't know what to do with the decaying bodies except pushing them in nearby gutter. After thinking rationally, we made a plan and submitted to Panvel Municipal corporation and local MLA Prashant Thakur. We suggested the making of an independant crematory for the animals and birds in Navi mumbai on lines of what we have in Mumbai. The Municipal commissioner and Mayor appreciated the thought and asked us to give the application in writing. The same has been put up for discussion and very soon Navi mumbai will have its first animal crematorium. This will help the environment and also give respectful ending to the dead animals.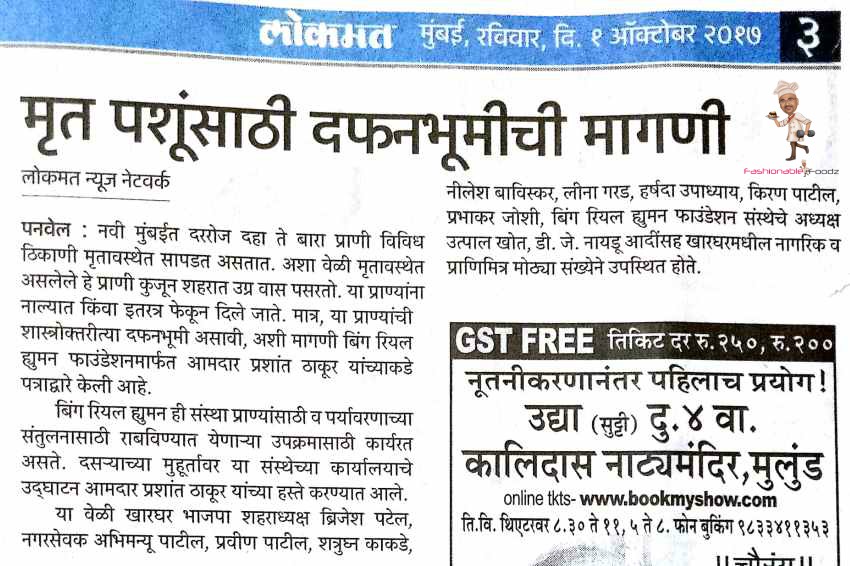 The NGO volunteers (with self motivation and some help from me) managed to do over 110 adoptions of stray and abandoned animals and got them homes. The Pet Federation recognized our efforts and gave us the Award for the best NGO doing welfare for animals and birds in December 2017.
The Present Scenario
As of now, we have motivated enough citizens through the right use of social media to come forward and donate old clothes, shoes, bags and other household items. Some people buy new and donate to our NGO. These are collected over a fortnight and then they are distributed to the
various Ashrams
we are associated with. Most importantly we always have new set of citizens and kids who come along us to these
Ashram visits
and spend time with the old. Many of them have started going independently on their own after we have introduced them to any ashram. They have taken the mantle from us and do the same work. While spending quality time with these old people they try and give them some happy memories. They also bring a smile on their face before they move over to the other side,
We always want to grow
Being The Real Human Foundation always welcome selfless humans, of any age to come and join hands with us. This allows you to choose the field you want to serve, Human Rights, Animal Rights, Environmental Improvement, General Social work, Teaching and much more and make the world a better place to live in.
Join us
Do you relate to what we feel? Come, Join us and become more empowered.
Donations accepted here:
Bank Name: Vijaya Bank Ltd
                                           Type: Current Account
                                           Account Name: M/s Being The Real Human Foundation
                                           Account Number: 509200301000438
                                           IFSC Code: VIJB0005092
The above post is a part of the #BlogchatterProjects
Uttpal K
Copyright © Uttpal K
1. If you share this post, please give due credit to the author Uttpal K
2. Please DO NOT PLAGIARIZE. Please DO NOT Cut/Copy/Paste this post
© Uttpal K., all rights reserved.
Disclaimer: Stories in this Blog are a work of fiction. Events, Places, Settings and Incidents narrated in the stories are a figment of my imagination. The characters do not exist and are purely imaginary. Any resemblance to persons, living or dead, is purely coincidental.
Copyright Notice:No part of this Blog may be reproduced or utilized in any form or by any means, electronic or mechanical including photocopying or by any information storage and retrieval system, without permission in writing from the Blog Author Uttpal K who holds the copyright.