Naval Godrej is one of the Pioneers of Progress. In order to understand why it is said so, we have to know the History of one of the Oldest Legendary family of India. I was honored to attend the launch of this Amar Chitra Katha publication " Naval Godrej-Pioneers of Success". This happened on 22nd December 2022 at Godrej – Vikhroli. It was one memorable event with almost the whole Godrej Family attending the launch of this much awaited book.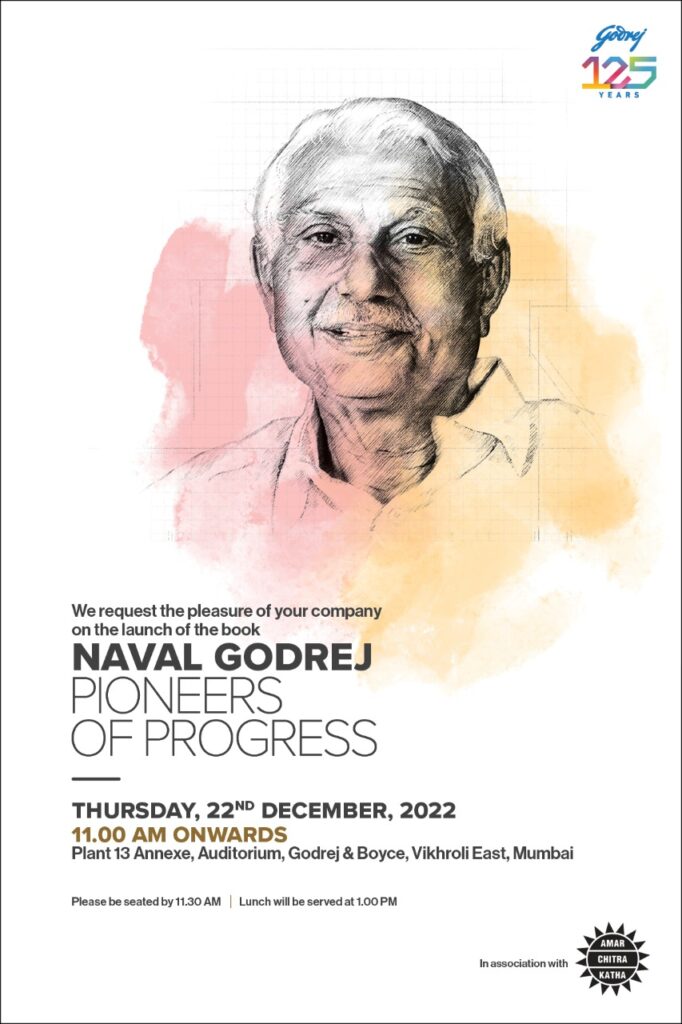 On very rare occasions do you get to see Mr. Adi Godrej, Mr. Nadir Godrej, Mr. Jamshyd Godrej and Ms. Smita Crishna Godrej on one platform. The event was nothing related to business or economical stats. I could only see moments of walking down the memory lane with nostalgic moments shared by the children of "Naoroji".
The Legacy
In 1897, when Ardeshir Godrej was 29 years old, he opened a small factory in Lalbaug to make locks. This was India's first such business of its kind. Ardeshir Godrej, a lawyer-turned-entrepreneur who has had some failures along the way, made Godrej the trusted household name. From its humble beginnings, the Godrej family has shown great courage in overcoming obstacles and making shrewd business decisions as they built their empire.
In the world of business, how far you go depends on how close you stick to your roots. Naval Pirojsha Godrej took over the reins of his family's company from his uncle Ardeshir Burjorji Godrej and father Pirojsha Burjorji Godrej—both of whom championed Swadeshi values in business. Naoroji was a visionary who advanced progressive ideas, many of which have only become commonplace in recent years.
Pioneers of Progress
Naval Godrej was a self-taught engineer with an inventive mind who liked solving mechanical challenges. He began working at the factory when he was 17 and learned his craft by observing other workers. Naval played a key role in all aspects of the manufacturing process and helped them grow their business using his innovative ideas. He was the driving force behind Godrej's development of India's first domestically manufactured typewriter, refrigerator, and forklift trucks.
He worked hard to make his father's dream come true, making Pirojshanagar an ideal garden city. Godrej's success in making components for the Indian space program is commendable, given the international competition. Naval Godrej spearheaded efforts to establish the Indian Machine Tools Association, an organization for manufacturers and suppliers. He also created IMTEX, a trade show celebrating advances in manufacturing technology worldwide. Like his uncle and father before him, Naval devoted himself to helping others through charitable work.
Leaving a mark
Naval Godrej was a man of vision; he was a man who transformed ideologies into action. His philosophy of responsible corporate behavior and worker's welfare far predated the modern human rights movement. His quiet leadership style and devotion to the Godrej family will always remain and is admired by one and all, now and in future too. Even today we had his co-workers who and subordinates who fondly remembered Naoroji on stage. I was happy to carry home some memories of the event in the form of the book. Nyrika Holkar- Executive Director Godrej & Boyce, the granddaughter of Naoroji has penned a beautiful note in the ok fondly remembering her "Grandpapa". I am sure the new generation will get to know about Mr. Naval Pirojsha Godrej through this book and know about the Pioneers of Progress of India.
Utpal Khot
Copyright © Utpal K
1. If you share this post, please give due credit to the author Utpal Khot
2. Please DO NOT PLAGIARIZE. Please DO NOT Cut/Copy/Paste this post
© Utpal K., all rights reserved.
Copyright Notice: No part of this Blog may be reproduced or utilized in any form or by any means, electronic or mechanical including photocopying or by any information storage and retrieval system, without permission in writing from the Blog Author Utpal Khot who holds the copyright.