Ganesh Chaturthi, the festival celebrating the birth of Lord Ganesha, is not only a time for devotion but also a time for indulgence in delightful treats. As devotees welcome the elephant-headed god into their homes, they also welcome a variety of delectable dishes into their kitchens. Here, we'll explore some must-try Ganpati festival foods and provide you with quick recipes to recreate these flavors at home.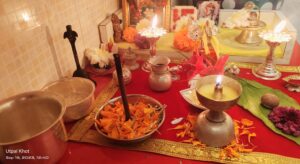 Recipes for Ganesh Festival.
Modak: The Lord's Favorite
No Ganesh Chaturthi celebration is complete without Modak, Lord Ganesha's favorite sweet. These dumplings are traditionally filled with coconut and jaggery, steamed or fried to perfection.
Recipe for Coconut-Jaggery Modak:
Ingredients:
1 cup grated coconut
1/2 cup jaggery, grated.
1/4 tsp cardamom powder
1 cup rice flour
A pinch of salt
Ghee for greasing
Instructions:
Heat the grated jaggery in a pan until it melts.
Add the grated coconut and cardamom powder to the melted jaggery.
Cook until the mixture thickens and starts to leave the sides of the pan.
Allow it to cool and shape it into Modak using greased hands.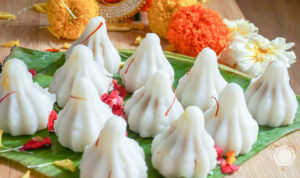 Puran Poli: A Sweet Flatbread
Puran Poli is a delicious, sweet flatbread made from chana dal (split chickpea) and jaggery filling. It's a must-serve item during Ganpati festivities.
Recipe for Puran Poli:
Ingredients:
1 cup chana dal (split chickpea)
1 cup jaggery, grated.
1 cup wheat flour
A pinch of turmeric powder
Ghee for cooking
Instructions:
Cook the chana dal until it's soft, drain any excess water, and mash it.
Add grated jaggery and cook until it thickens. Let it cool.
Make a soft dough from wheat flour, adding a pinch of turmeric powder.
Roll out small portions of the dough, place the chana dal-jaggery mixture, and fold it into a flatbread.
Cook it on a hot griddle with ghee until it's golden brown on both sides.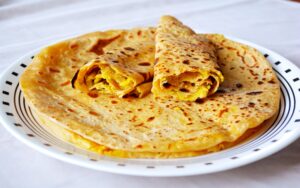 These delightful dishes are just a glimpse of the culinary wonders that Ganpati festival brings. Whether you're preparing these sweets and savories for your family or sharing them with friends and neighbors, these recipes are sure to add extra sweetness to your celebrations. Enjoy these traditional treats and immerse yourself in the festive spirit of Ganesh Chaturthi! Ganpati Bappa Morya!
Utpal Khot
Copyright © Utpal K
1. If you share this post, please give due credit to the author Utpal Khot
2. Please DO NOT PLAGIARIZE. Please DO NOT Cut/Copy/Paste this post
© Utpal K., all rights reserved.
Copyright Notice: No part of this Blog may be reproduced or utilized in any form or by any means, electronic or mechanical including photocopying or by any information storage and retrieval system, without permission in writing from the Blog Author Utpal Khot who holds the copyright.