Mumbai, the city that never sleeps, is known for its vibrant culture. It has rich traditions, and a calendar filled with exciting festivals. One such celebration that captures the essence of Mumbai's spirit is the Dahi Handi festival. This annual event, which marks Lord Krishna's playful side, is a spectacle of human pyramid formations, music, and delicious treats. If you're planning to experience the Dahi Handi festival in Mumbai, here's a guide filled with travel ideas. It has tips to make your visit memorable.
Understand the Significance
Before you immerse yourself in the festivities, it's essential to understand the significance of the Dahi Handi festival. This celebration commemorates Lord Krishna's mischievous nature as a child when he and his friends would form human pyramids to reach and break hanging pots of butter. In Mumbai, this tradition has transformed into an exhilarating sport. Teams of young enthusiasts compete to break the "handi" (pot) filled with curd, milk, and other goodies. The Dahi Handi festival represents unity, teamwork, and the indomitable spirit of Mumbai.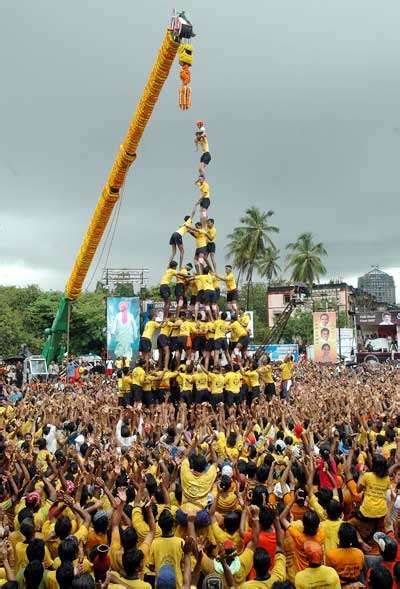 Plan Your Visit
To fully enjoy the Dahi Handi festival, you'll want to plan your trip around the festival dates. This is usually falling in August. While the main celebrations occur in the heart of Mumbai, it's a good idea to book your accommodations well in advance to ensure a comfortable stay. South Mumbai is an excellent choice for easy access to the festival venues. It is a chance to explore historical landmarks like the Gateway of India and Marine Drive.
Witness the Spectacle.
The highlight of the Dahi Handi festival is undoubtedly the formation of human pyramids. Local teams, known as "govindas," compete to break the handi suspended high above the ground. The energy and enthusiasm of the participants are infectious, and the crowd's cheers reach a fever pitch as they successfully complete the pyramid and break the pot. Some popular locations to witness this spectacle include Dadar, Worli, and Lalbaug, where the celebrations are grand and the competition fierce.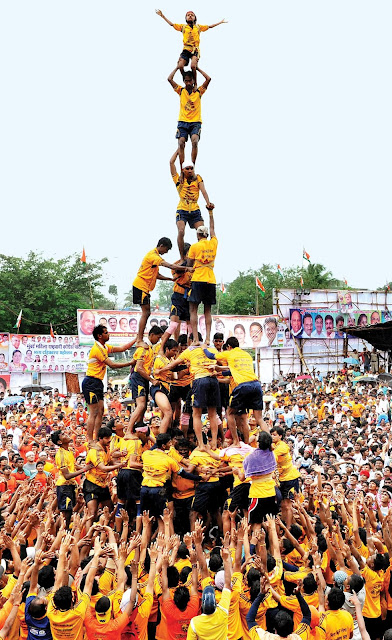 Dive into the Local Cuisine.
Mumbai is a food lover's paradise, and during the Dahi Handi festival, you can savor some special treats. Don't miss the opportunity to try "misal pav," a spicy and flavorful Maharashtrian dish, or indulge in street food like vada pav and pav bhaji. Additionally, the sweets prepared for the occasion, such as modak and shrikhand, are a must-try. You'll find these delicious delights at local sweet shops and food stalls scattered throughout the city.
Immerse in the Spirit
One of the most beautiful aspects of the Dahi Handi festival is its inclusivity. You'll find people from all walks of life coming together to celebrate, irrespective of their backgrounds. Join in the festivities, dance to the lively beats of the dhol, and feel the camaraderie as you interact with locals and fellow travelers. The spirit of unity and joy during the festival is truly heartwarming and makes for an unforgettable experience.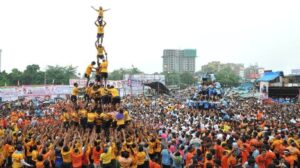 Stay Safe and Comfortable.
While celebrating the Dahi Handi festival is an exciting experience, it's essential to prioritize your safety. Be cautious of crowded areas, stay hydrated, and protect yourself from the sun. Keep your belongings secure and avoid carrying too many valuables. It's also wise to check the latest COVID-19 guidelines and restrictions to ensure a safe visit.
Conclusion
The Dahi Handi festival in Mumbai is a delightful celebration of culture, tradition, and togetherness. With its exciting pyramid formations, mouthwatering cuisine, and infectious enthusiasm, it's an event that should be on every traveler's bucket list. So, plan your visit to Mumbai during this vibrant festival, and you'll not only witness an incredible spectacle but also immerse yourself in the city's unique spirit. Mumbai's Dahi Handi festival is an experience that will leave you with cherished memories and a deeper appreciation for the rich traditions of India's financial capital.
Utpal Khot
Copyright © Utpal K
1. If you share this post, please give due credit to the author Utpal Khot
2. Please DO NOT PLAGIARIZE. Please DO NOT Cut/Copy/Paste this post
© Utpal K., all rights reserved.
Copyright Notice: No part of this Blog may be reproduced or utilized in any form or by any means, electronic or mechanical including photocopying or by any information storage and retrieval system, without permission in writing from the Blog Author Utpal Khot who holds the copyright.