Gujarati Cuisine
If you've been to Gujarat, then you must know about their rich heritage of the food culture, most commonly, defined by a complete Gujarati Thali. Despite being located along the coastal lines, Gujarat is mostly a vegetarian state, especially influenced by the Jain traditions. However, there are certain communities and groups of people who prefer including seafood, chicken, eggs, and mutton in their diet. Having said that, the legacy of a pure Gujarati cuisine lies in the all famous Gujarati Thali that comprises of a big platter containing foods of different colors, flavors, and types. Most commonly, a Gujarati Thali comprises of rotli, dal or kadhi, rice, and sabzi. In addition, there's also a place for sweets and farsan in this platter.
Types of Gujarati Cuisines
As explained above, Gujarati Thali is influenced by Jain Vegetarianism. However, Gujarati food doesn't entirely represent Jain food. The Gujarati cuisine offers wide varieties in flavors and heat, depending on the location and family tastes developed across generations.
Basically, Gujarati Cuisine is divided into four major regions: North Gujarat, Kathiawad, Kachchh, and Surat. Despite having different flavors across these regions, there's one common element that you can find in all of them. Every Gujarati cuisine is a fine blend of sweet and spice, especially in dal and sabzi. The sweet flavor via sugar or jaggery is added to neutralize the bland taste of the veggies and develop the fine taste symbolizing Gujarati cuisine.
Dishes Common on a Gujarati Thali
The true food culture of a particular region is reflected in the restaurants within the region. In Gujarat, you can find a lot of restaurants offering Gujarati Thali in every town or city. It has become a staple diet or a complete diet for a Gujarati. While you can always enjoy a Punjabi Thali, Chinese, Bombay Vada pavs, Pav Bhaji and more, the authentic taste of Gujarat lies in the finely organized Gujarati Thali.
A typical Gujarati Thali contains the following: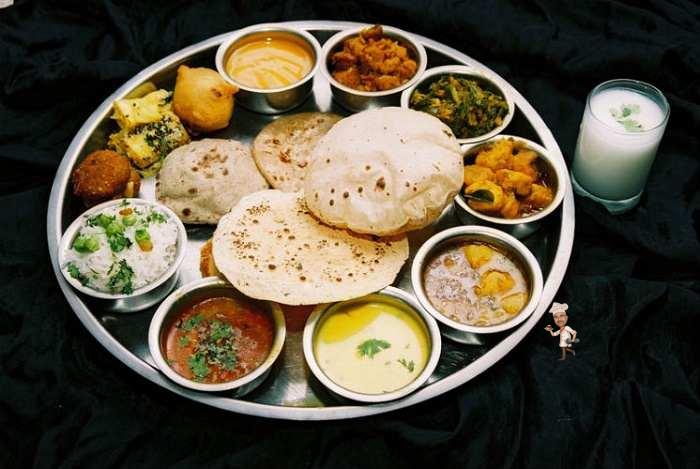 Rotli – Round bread made of different flours. Basically, wheat flour is used for rotlis or chapattis. However, Bajra (Millet), Makai (Corn), Juvar (Sorghum), etc. are heavily used to make thick chapattis called Rotlas. Typically, Phulka Rotis (thin wheat flour rotis) are more common in a Gujarati Thali. You can also find Theplas, Puran Poli, Puris, Parathas, Bhakhri as well within Gujarati Thali.
Dal or Kadhi – In Gujarati Thali, most of the times, you get the choice between dal or kadhi. Dal is basically curry prepared using lentils, whereas Kadhi is a curry prepared from chaas (butter milk) and gram flour. The common factor between dal and kadhi is the sweet, tangy flavor.
Bhaat or Khichdi – Both, Bhaat and Khichdi is prepared using rice. Like everything else, rice is also prepared in different styles in Gujarat. You can choose between bhaat, khichdi, or vegetable pulao.
Sabzi – Sabzi is actually prepared using vegetables. Gujarat is famous for adding a slightly sweet taste to the sabzi made from different veggies.
Farsan – If there's something that's the trademark in Gujarat, then it's their farsan. While you can see different variations of rice, dal, or sabzi across India, farsan is something that you will find only in Gujarat. Dabeli, Dhokhla, Khaman, Khandvi, Handva, Muthia, Kachori, Locho, etc. are some of the popular Farsans in Gujarat.
Sweets 
A typical Gujarati Thali is incomplete without the inclusion of sweets. A Gujarati is born with a sweet tooth and you must have assumed that already by now as all their dishes contain a hint of sweet flavor. Mohanthal, Magas, Ghughra, Ghari, Shrikhand, Halwa, Kaju Katri, Son Papdi, Sukhadi, etc. are few common and popular sweets that you can find across the state.
We will look at making a simple Gujrati Khandvi with a small spicy twist. Here goes:
KHANDVI RECIPE: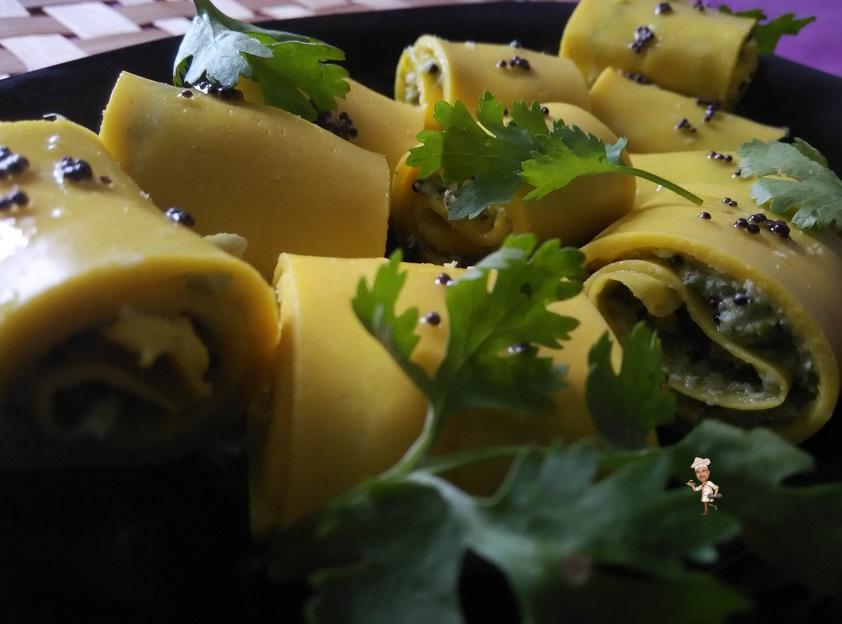 A regular khandvi is made by taking 1 cup Besan and 2 cup sour butter milk and mixing it well. Add little turmeric and salt and cook well on a low flame. Once it gets thick without lumps it is ready. Spread it flat on a steel plate roll it. That is how a normal Khandvi is made with a tadka of mustard seeds on top of it.
The Twist comes when we make a paste (chutney) of Fresh coconut, some ginger, few garlic pods, one or two green chilli, pinch of salt, 1/2 Tbsp sugar, dash of lemon and little bit of cumin seeds. Once the cooked besan is spread on the steel plate, apply a thin layer of this chutney on the besan before rolling and cutting it.
Sprinkle some coriander leaves on top as garnish along with a regular tadka of only well spluttered mustard seeds.
A final word…
If you are visiting this culturally rich state, don't forget to try Gujarati Thali from all the different food regions of the state.
Uttpal K
Copyright © Uttpal K
If you share this post, please give due credit to the author Uttpal K
2. Please DO NOT PLAGIARIZE. Please DO NOT Cut/Copy/Paste this post
© Uttpal K., all rights reserved.
Copyright Notice: No part of this Blog can be reproduced or utilized in any form. This means electronic or mechanical including photocopying or by any information storage and retrieval system. Please take permission in writing from the Blog Author Uttpal K who holds the copyright.