Kerala Cuisine 
A variety of dishes served on a banana leaf has become an identity for the food culture in Kerala. Although it is the authentic food platter of Kerala, there's a lot more the God's own country has to offer when it comes to food. Being dominated by a coastal line throughout the region, Kerala is known for fishing and coconut plantations. Hence, you can discover that the fish and coconut are two of the main ingredients in the food culture of Kerala.
Due to its hilly terrain and humid climate, Kerala is also ideal for rice plantations and that's the reason, people in Kerala are habitual to eating rice. The staple diet of a typical Malayali family consists of rice, fish, and vegetables. While the vegetarian prefer vegetable curry such as the all popular sambhar, the non-vegetarians are highly fond of seafood or meats such as chicken, mutton, and often times beef and pork against the religious taboos.
Source: https://goo.gl/qc5cgk
Being a secular state, there's no restrictions or laws against the dietary habits of people in Kerala. Besides the rice and sea food, Kerala is also famous for spices. It has been given the title as the "Land of Spices" as the state is well known for the trade of spices with the Europeans as well as ancient civilizations dating back to 3000 BCE.
Types of Food in Kerala
A typical day for people in Kerala starts with a heavy breakfast with a cup of tea or coffee, a well cooked full course lunch, snacks for the evening and concludes with an exotic dinner. Being a secular state, the food habits of Kerala is highly influenced by the various different communities residing in this nature's marvel. Hindus and Christians form the majority in Kerala, while Muslims form the minority.
While the Christians and Muslims are pure non-vegetarians, the Hindus are partly vegetarian and party non-vegetarian. Religious festivals also have great influence in Kerala and the dietary habits of the people in this region.
Sadhya or Feast in Kerala
During Onam, the Malayalis prepare Onam Sadhya as a cultural tradition and all the family members gather together, sit cross-legged on the floor to enjoy the sadhya. Sadhya in Malayalam means feast. Sadhya is basically served on a banana leaf in a very traditional style. Apart from Onam, Sadhya is also served during many other Hindu festivals and wedding ceremonies.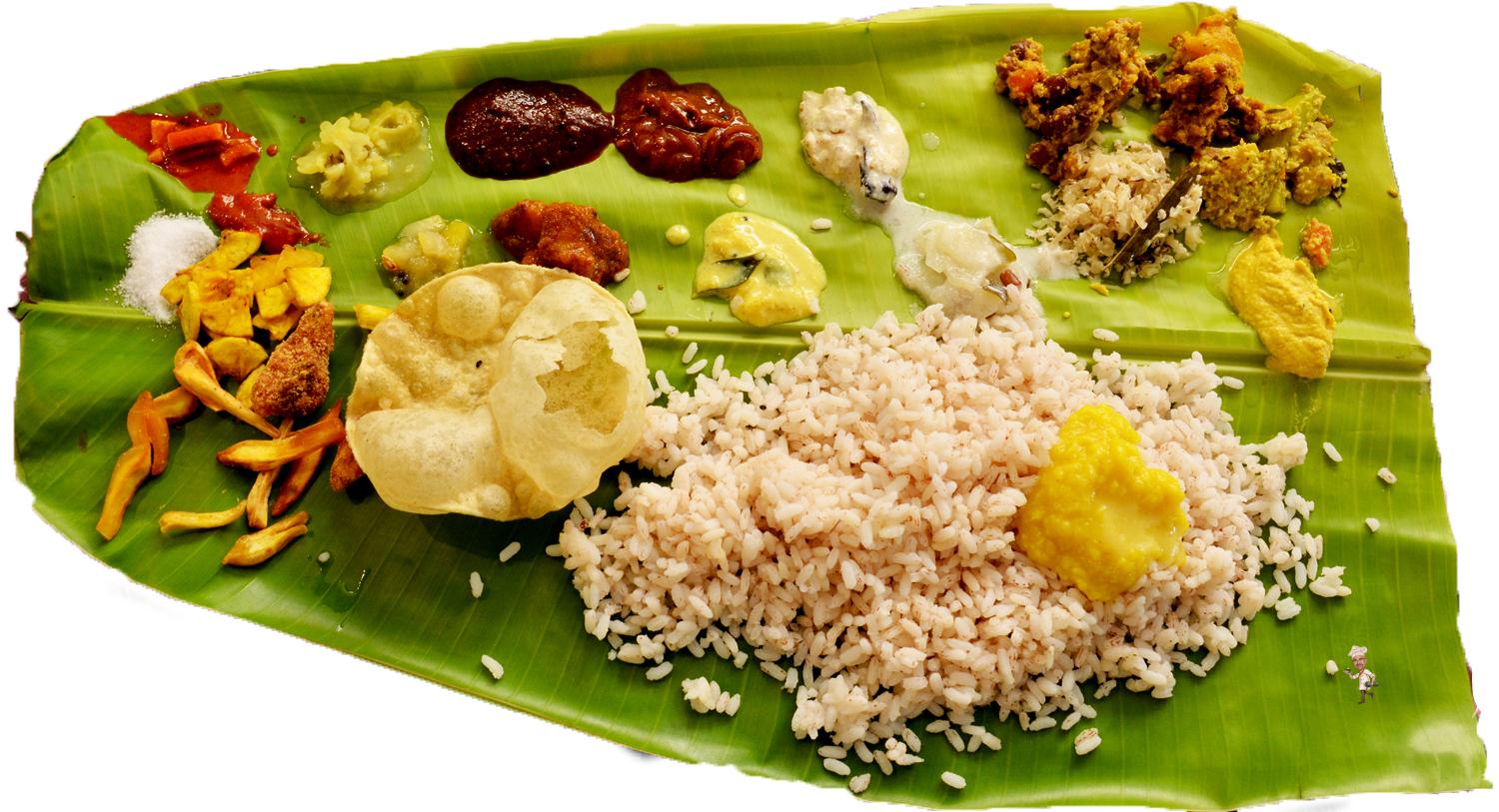 Source: https://goo.gl/edQGJT
Most important items included in a complete Sadhya include the following:
Rice: It is the most important item in the Sadhya and is often served at the center of the banana leaf.
Parippu: A thick curry prepared using lentils.
Sambar: A thick yet slurry gravy prepared using lentils, tamarind, different vegetables such as drumsticks, tomato, etc. and flavoured with asafoetida.
Rasam: A drink prepared using tamarind, tomatoes, and different spices such as black pepper, asafoetida, coriander, chili pepper, etc. It's a very spicy drink and aids in digestion. Although it is considered as a great health drink, many regions of Kerala don't include Rasam in Sadhya.
Avial: A thick blend of various vegetables, and coconut. The dish is seasoned with curry leaves and cooked in coconut oil.
Kaalan: It is made of yogurt, coconut, and any one vegetable from tuber-like yam or nendran plantain.
Olan: A dish prepared using white gourd or black-eyed peas, ginger, and coconut milk. The dish is seasoned with coconut oil.
Koottukari: Vegetables like yam or banana cooked with chickpeas, black pepper, and coconut.
Erissery: A thick curry prepared using pumpkin, black-eyed peas, and coconut.
Pachadi/Kichadi: Pachadi or Kichadi is basically raita prepared in Kerala style. While Kichadi is sour, Pachadi is sweet because of fruits such as pineapple, grapes, or pumpkin.
Other dishes served on a Sadhya are Pulisseri, Injipuli, Thoran, Achaar (pickle), Pappadum (Papad), Sharkara Upperi (Jaggery Chips), Kaaya Varuthathu (Banana Chips), a Banana, and finally a drink, known as Sambharam, which is prepared by adding green chillies, ginger, and curry leaves in salted buttermilk.
Desserts include Prathaman and Payasam (Kheer).
Non-vegetarian dishes
Kerala Christians have a great influence in the non-vegetarian dietary lifestyle of the people in Kerala. Seafood is also heavily consumed in Kerala, mainly due to maximum availability and the coastal terrain.
Source: https://goo.gl/yVZC1q
While fish, poultry, and red meat dominate the tastes of non-vegetarians in Kerala, a few communities also consume beef or pork as per their preferences. Non-vegetarian dishes of Kerala have gained fame and popularity across the globe mainly due to the fine blend of spices used in most non-vegetarian curry. The spicy flavor and distinct aroma make these dishes exotic in nature.
Source: https://goo.gl/vD12Xd
A section of Hindus is also fond of seafood and meat dishes, except the beef and pork. Chicken Biriyani is highly famous during the wedding functions, whereas fish curry or fried fish is an everyday thing in almost every Malayali households. If you visit a restaurant serving authentic Malayali non-vegetarian food, then you can also try Erachi Parotta (Chicken/Beef curry and round-shaped parathas made using Maida in laccha paratha style).
Source: https://goo.gl/CETXtd
Breakfast Delicacies
Source: https://goo.gl/sbDGgg
Like many other states in India, people of Kerala are also habitual to heavy breakfast. While the typical South India dishes such as dosa and idli rank the top list of breakfast items, there are a few new additions such as Appam, Idiyappam, puttu, and pathiri. Most of these breakfast dishes are complimented by either sambhar or kadala (brown chana) curry.
Source: https://goo.gl/9RzCmF
Snacks and Sweets
Source: https://goo.gl/knx5Y7
Besides the authentic meals, Kerala is also known for its traditional snacks such as banana chips, chakka (Jackfruit) chips, Sharakara (Jaggery) Chips as well as sweets like halwa.
Over to you!
Kerala is a lot more than just its scenic beauty. If you explore their rich traditions, culture, and dietary habits, you can relate to both the region and its people more. So, next time when you visit this God's own country, feel free to explore the rich and authentic food of Kerala.
Uttpal K
Copyright © Uttpal K
If you share this post, please give due credit to the author Uttpal K
2. Please DO NOT PLAGIARIZE. Please DO NOT Cut/Copy/Paste this post
© Uttpal K., all rights reserved.
Copyright Notice: No part of this Blog can be reproduced or utilized in any form. This means electronic or mechanical including photocopying or by any information storage and retrieval system. Please take permission in writing from the Blog Author Uttpal K who holds the copyright.
I am taking My Alexa rank to the next level with Blogchatter. #MyFriendAlexa