Mojo Pizza-Airoli was in our close vicinity when we went there last week and it has managed to pull good crowd over the weeks asking for home deliveries. They do not have any seating capacity and only deliver at home. We decided to check the food and also check the service. So after browsing through their menu I ordered a few things and this is my experience. The Mojo Pizza menu is simple yet comprehensive.
Food
We tried the Chicken Tikka Pizza which has Chicken Tikka, Chicken Kebab, Red paprika, Capsicum and some onions. We also called for the giant The Meat Eater Pizza which has Barbeque Chicken, Roast Chicken, Spicy chicken, some Chicken sausages and both these Pizza are good for about 5 people. I also ordered some Chicken Garlic Bread and Cheese garlic bread. I ordered some Choco lava cakes along with this too from the Mojo Pizza Menu.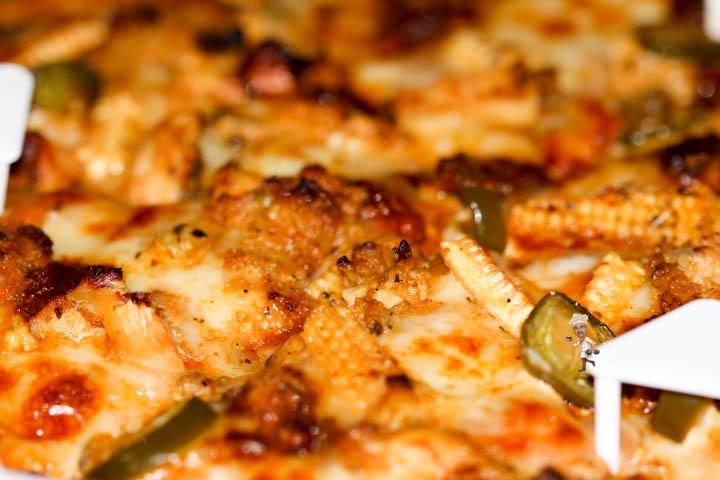 Service Time  
The order arrived before the committed time, and I was impressed with the outlets speed. The delivery boy was polite and explained what he was delivering with the customary greetings. He forgot to give the spice sachets in hurry though.
Plus and Minus
The customary greetings are very much there and you feel comfortable. While ordering the staff suggests options in case customers are confused.  This showed that the staff knows what is on the menu and what they are selling. Their suggestions are relevant to customer needs. The pizzas did not have a very thick base which we otherwise find in some places. Mojo pizza gives nice Pizza base quality. Their thin crust Pizza is awesome too though I did not try it this time. The Choco lava cake had the perfect softness combined with the crunch outside, which makes it appealing. I always order a choco lava cake from them when I order from their outlets.
Like I always say, as a Food blogger, I am choosy about the food and look at all aspects when the end product is served. So this is definitely one place I would recommend for people who need Pizza almost every other day. The only suggestion which I wanted to give to the chefs was to give some more smokey effect to the Pizza to make it more relishing. This is optional but I love Smoked aroma on a pizza when it consists Barbeque chicken. Also, if they could introduce Large Pizza along with the standard Pizza which they currently serve. Currently they are serving a Medium sized 10 inch Pizza. Overall, I liked my food experience.
Mojo Pizza – 2, Ramdas Apartment, Near Diwa Circle, Sector 9, Airoli-Mulund Link Road, Besides Mauli Sports, Airoli, Navi Mumbai.
Meal For 2: 600/-
Timings: 11.00 am to 11.00 pm
Ratings: Food 4.0 Service 4.0 Value for money 3.5
Uttpal K
Copyright Uttpal K
If you share this post, please give due credit to the author Uttpal K
Please DO NOT PLAGIARIZE. Please DO NOT Cut/Copy/Paste this post
Uttpal K., all rights reserved.
Copyright Notice:No part of this Blog may be reproduced or utilized in any form or by any means, electronic or mechanical, including photocopying or by any information storage and retrieval system, without permission in writing from the Blog Author Uttpal K who holds the copyright.
I am taking My Alexa rank to the next level with Blogchatter. #MyFriendAlexa