Karnataka Cuisine – A Food Culture of Diverse Culinary Traditions
Karnataka is one of the 6 major South Indian states in India that boasts of its rich cultural heritage and the exotic Karnataka Cuisine. Being one the oldest surviving cultures of India, the Kannada cuisine also becomes one of the oldest cooking traditions prevailing in India. Kannada cuisine traces back to the Iron Age. There are mentions about the culinary tradition of this region in the historical works by Pampa Maha Kavi, Sushrutha, etc.
Karnataka Cuisine features a variety of diverse culinary traditions. These have highly influenced the neighboring states like Kerala, Andhra Pradesh, Tamil Nadu, and Maharashtra. While Karnataka has also influenced its neighboring states with the age old rich culinary art, the people of Karnataka have also, over the years, inhibited the food habits of these states, especially Kerala, Tamil Nadu, and Andhra Pradesh.
Types of Different Cuisines in Karnataka
Karnataka cuisines are widely diverse in nature and you can find a lot of different types of dishes prepared and served across this state. However, the simple classification for Karnataka cuisine is that the Kannads are fond of both vegetarian and non-vegetarian dishes. However, the cooking style and the type of dishes vary from one place to another based on the availability of ingredients.
Ghee is also widely used in most food preparations. Formal vegetarian preparations are often served on a large leaf, either banana leaves, plantain leaves, or tendu-like leaves stapled together to form a circular plate. The full meal is served in a specific order and the final item is Ghee. Once the ghee is served to everyone, it will indicate that all the dishes are served to everyone seated and they can start the meal. A famous sweet called Mysore Pak also originated from this region.
Source: https://upload.wikimedia.org/wikipedia/commons/a/af/Lunch_from_Karnataka_on_a_plantain_leaf.jpg
A Variety of different cuisines found in Karnataka are as follows:
Northern Karnataka Cuisine
Southern Karnataka Cuisine
Udupi Cuisine
Malendu Cuisine
Kodagu Cuisine
Mangalorean Cuisine
North Canara Cuisine
Navayath Cuisine
It is quite difficult to write down all the traditional food in Karnataka. It will take more than a book or two to include each and every cuisine and its rich heritage. However, we will try to explore each one of the diverse cuisines popular in Karnataka. We will add some details to understand the culinary culture of Karnataka.
Source: https://upload.wikimedia.org/wikipedia/commons/b/b5/Steamed_idli.jpg
While the Udupi cuisine boasts of different types of dosas, the seafood delicacies dominates the coastal Mangalorean cuisines. The northern part of Karnataka uses Jowar flour to prepare Jola roti, Thallipeet, etc. To complement the Rotties, specific spicy curries such as Enne Kathirikai, Jhunka, Badane Kaayi Playa, etc. are the hot favorites among the people of Northern Karnataka. For desserts, you can also try some lip-smacking sweets such as ellu and shenga holige and Belgaum khunda, etc.
On the contrary to the North, the people of South Karnataka, especially the old Mysuru region are accustomed to foods prepared from ragi flour. One of the most popular traditional dishes in South Karnataka is Raagi mudde (Raagi ball). You can also try several popular dishes of South Karnataka such as Ragi roti, Akki roti and Benne Dosa. The variety of rice dishes such as Kesari Bath, Idli, Bisi Bele Bath, and Vangi Bath are also quite popular. The curries in this region are prepared using a fine blend of spices such as mustard, asafoetida, and curry leaves.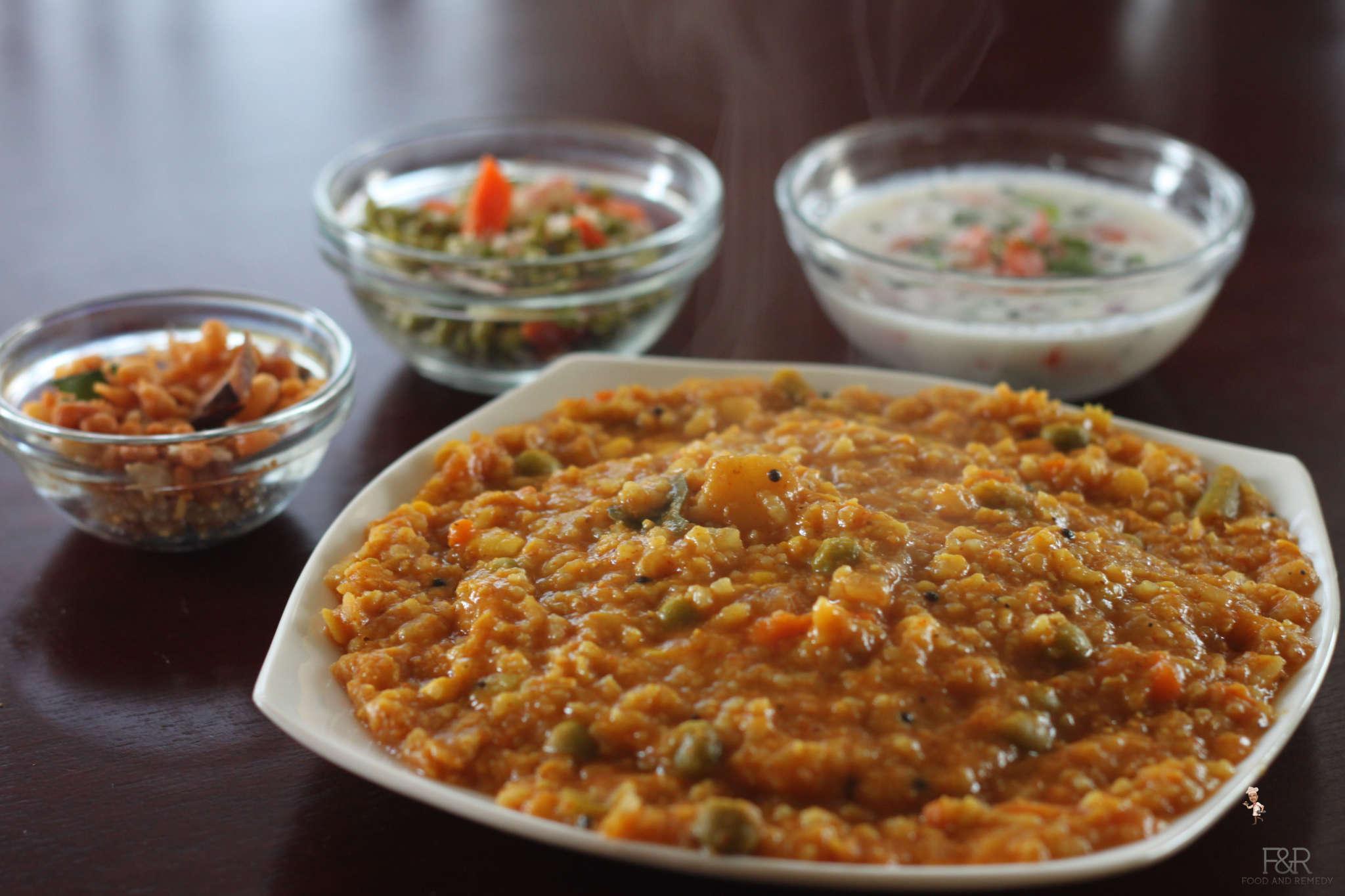 Source: https://upload.wikimedia.org/wikipedia/commons/0/04/Bisi_Bele_Bath_%28Bisibelebath%29.JPG
https://en.wikipedia.org/wiki/File:Ragi_Mudde_-_Bassaru.jpgSource: https://upload.wikimedia.org/wikipedia/commons/thumb/e/ef/A_view_of_Mysore_pa.jpg/1280px-A_view_of_Mysore_pa.jpg
The hilly region of Coorg is famous for its unique cuisine. This consists of spicy meat curries prepared either from pork, chicken, or mutton. Kokum Kachampuli is one of the common ingredients used in the curry preparations here. This offers the tangy taste to these meat dishes.
Over to you!
Even though Karnataka is a single state, you can find a lot of different regions here. All of them, with their own unique style of traditions. These diverse traditions also affect their lifestyle and cuisine. Hence, if you are ever planning to travel in the future, make sure you explore the different regions of Karnataka. This, based on their diversity and experience their unique food cultures spread across the state.
Uttpal K
Copyright © Uttpal K
If you share this post, please give due credit to the author Uttpal K
2. Please DO NOT PLAGIARIZE. Please DO NOT Cut/Copy/Paste this post
© Uttpal K., all rights reserved.
Copyright Notice: No part of this Blog can be reproduced or utilized in any form. This means electronic or mechanical including photocopying or by any information storage and retrieval system. Please take permission in writing from the Blog Author Uttpal K who holds the copyright.
I am taking My Alexa rank to the next level with Blogchatter. #MyFriendAlexa