Malvan region is known for its Sagari Meva or delicacies from the sea. The awesome and fresh fish inspire many chefs to come forward and make many types of curries/fish fry and fillets fry. As summer sets in, one gets lots of shrimps in the market. The fresh catch was so tempting that I could not resist. So here is my own version of Shrimp fritters or Kardi chi Bhaji. Enjoy the recipe and please do give credits if you use it somewhere for good old times.
️Ingredients
Small shrimp (Kardi ) peeled – 250 gms
Ginger Garlic Green chili paste – 2 Tbsp
Coriander leaves – 1/2 cup
Onions – 2 large
Turmeric – 1 tsp
Red chili powder -1tsp
Malvani Masala (optional) – 1 tsp
Garam Msala – 1tsp
Salt – Swaadanusaar
Lemon juice – 1Tbsp
Gram flour (besan) – 1 cup
Rice flour – 1/4th cup.
Egg white (optional for binding) – 1

Recipe

1) Peel & clean about 500gms of Small shrimps or Kardi/Karandi (as called in Maharashtra & Goa)
2) Add all the masala, turmeric and salt first. Mix well and allow to rest for 15 mins.
3) Add fine chopped onion and mix well.
4) Add lime juice and the flours. Dont use any additional water. Knead gently to mix well.
5) Add 2 Tbsp hot oil gently to the mixture and knead slowly. This will bring crispiness to your fritters. Also they will absorb less oil while frying.
6) Heat Groundnut oil and deep fry fritters. Fry on low to medium flame so that they are cooked properly.
7) Remove them on kitchen tissue and let excess oil drip away. Serve hot with Pudina chutney. Relish your shrimp fritters and enjoy your evening.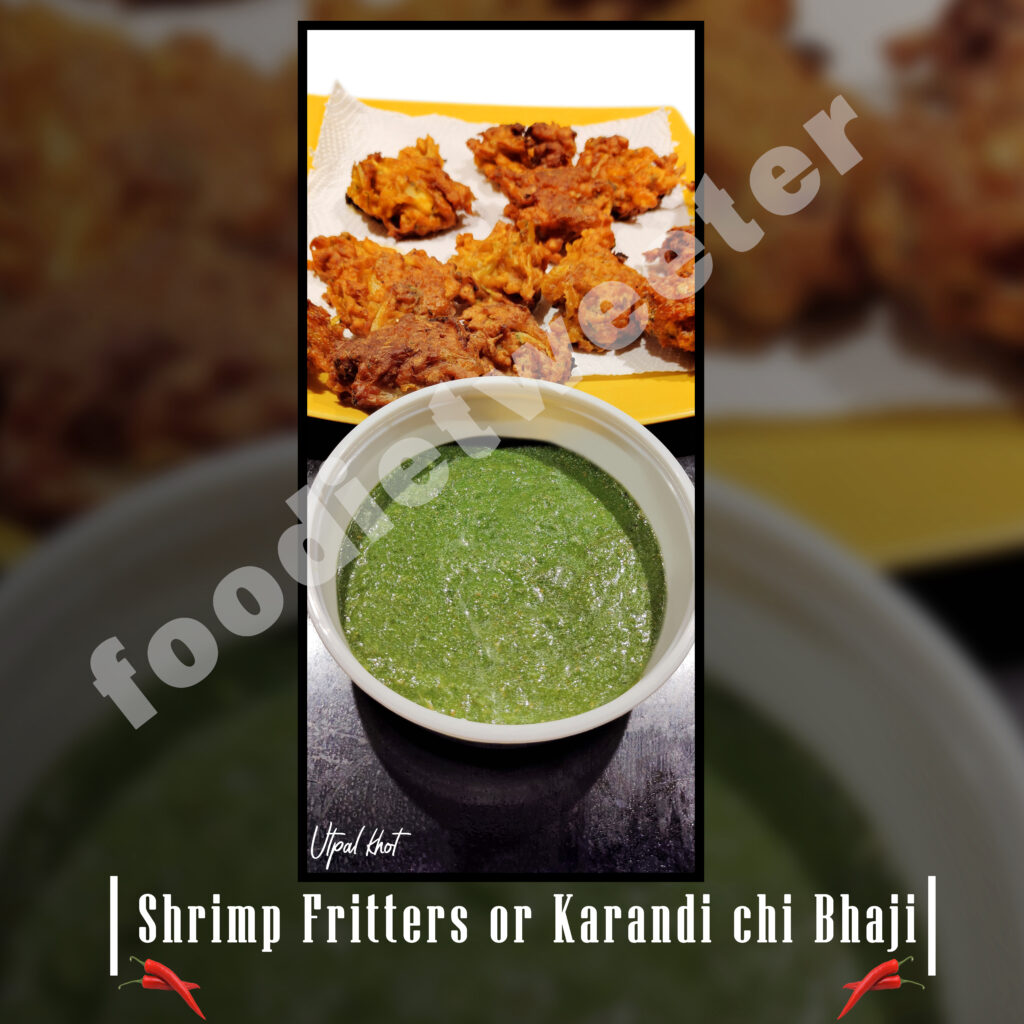 Tips:
Adding lime Juice starts the process of cooking the fish. This ensures that you don't eat anything undercooked in the process.
Using Egg white is optional and only helps in further binding. Remember not to add the yolk.
Using Hot oil in the mixture ensure better crispiness and also absorbs less oil while frying.
Utpal Khot
Copyright © Utpal K
1. If you share this post, please give due credit to the author Utpal Khot
2. Please DO NOT PLAGIARIZE. Please DO NOT Cut/Copy/Paste this post
© Utpal K., all rights reserved.
Copyright Notice: No part of this Blog may be reproduced or utilized in any form or by any means, electronic or mechanical including photocopying or by any information storage and retrieval system, without permission in writing from the Blog Author Utpal Khot who holds the copyright.