Corona has bought challenges in everyone's life. It has not only affected our work life, social life, but emotional levels also. Coronavirus has affected all of us, but on the other side, we should be thankful for corona as it's the reason due to which we can spend time with our family and pets. Everyone needs special attention in life, even pets too. Our pets hold a special place in our hearts and home. During this time, we can shower all our love and affection for our pets and make them feel special. The few simple tips here will make us better parents for our pets and will also make us aware of how we can spend quality time with our pets during Corona.
Tips
Stocking up essentials: We humans are permitted to buy essentials, so it should be with pets. Provide your pets all the essential stuff and medicines well in advance. Prepare a medical emergency kit well in advance to avoid any last moment trouble. Try to fulfill all the basic needs of your pets during this difficult time.
Emergency caregiver: During this lockdown period, you should be taking care of your pets. Be in touch with someone who can take care of your pet when you are unavailable, as emergencies are unpredictable. It should be someone who knows everything about your pet, like eating habits, medical issues, and quirks. Be in touch with a veterinarian whom you can approach easily.
Physical and Mental stimulation: It is necessary that you should include some creative ways to keep your pet's body and brain engaged. Utilize this free time by teaching them the necessary skill with the help of brainstorming activities. Use puzzle toys, tug of war, hide and seek, and some indoor exercises to keep them busy. Reward them generously for success by giving treats or kibble.
Avoid overfeeding: Overfeeding can disturb the digestive system of pets, so they must be provided food according to their age and need. Avoid overfeeding them during summers and keep them well hydrated.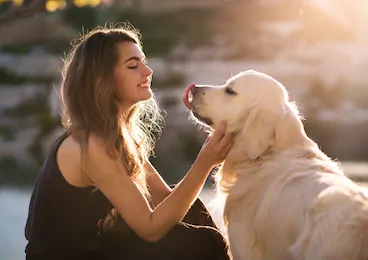 Few more Tips
Maintain a proper schedule: Usually, the schedule gets affected during holidays. Avoid disturbing the daily routine of your pets with new rituals. Maintain the same time for food and walk daily.
Avoid cuddling and kissing: Symptoms of COVID-19 are still unclear, so it is better to take care of all the necessary precautions. Limit your close contact with your loved ones. Avoid cuddling or kissing them as it increases the chance of spreading infection. Use a mask whenever you go near them and wash your hands properly before you touch or feed them.
Avoid giving them masks: As per the experts, Covid-19 can spread from person to person and not to animals. Never give your pet mask to wear, your intention is undoubtedly noble, but it can create breathing difficulties for them.
Never touch them if you are sick: Avoid close contact with your pets during corona, if you are unwell as it increases the chance of infection for pets. Viruses can stay for long on the fur of animals, so follow social distancing with all your loved ones.
Utpal Khot
Copyright © Utpal K
1. If you share this post, please give due credit to the author Utpal Khot
2. Please DO NOT PLAGIARIZE. Please DO NOT Cut/Copy/Paste this post
© Utpal K., all rights reserved.
Copyright Notice: No part of this Blog may be reproduced or utilized in any form or by any means, electronic or mechanical including photocopying or by any information storage and retrieval system, without permission in writing from the Blog Author Utpal Khot who holds the copyright.