Biryani Guru – Belapur
This place is located in the business hub of Navi Mumbai at CBD Belapur. Over the last 6 years, it has grown tremendously from a small joint serving Biryani to a front leader in serving some quality food. They have managed to pull good crowd over the years and meal times see a good crowd apart from a good number of home deliveries they do all over in Nerul, Belapur and Kharghar. The seating here is beautiful and one is tempted to have food here. They are at one end of sector 11, with the hustle bustle of nearby offices. Biryani Guru has an eye-catching frontage as soon as you come close. We decided to check the food and also check the service after its six years of completion on the 23rd March 2018.
I called some Home delivery this time and got some Murg Lasuni Tikka, Bombay Mirch Kebab, Murg Tikka Dum Biryani, Murg Dum Biryani, Shahi Tukda and some caramel custard all priced at Rs.1617/- which was ample for three in the family. I will price it at approx 1000/- per couple.
Food review of Biryani Guru:
The food eating experience: The starters on the menu are in plenty. The chef gets a lot to chance to display his skills and customers get to taste many things. They have stuck to the basics of cooking and kept the spices low and subtle so as to appeal one and all.
Murg Lasuni Tikka
The Murg Lasuni Tikka is chicken cubes marinated in crushed garlic with chosen spices for about 4-8 hours before being taken on the flame. They were soft and juicy with the freshness intact and at the same time, the garlic had penetrated deep inside the chicken cubes taking away the raw smell completely. Quantity good enough for two people. Definitely recommended if you are a Tikka lover.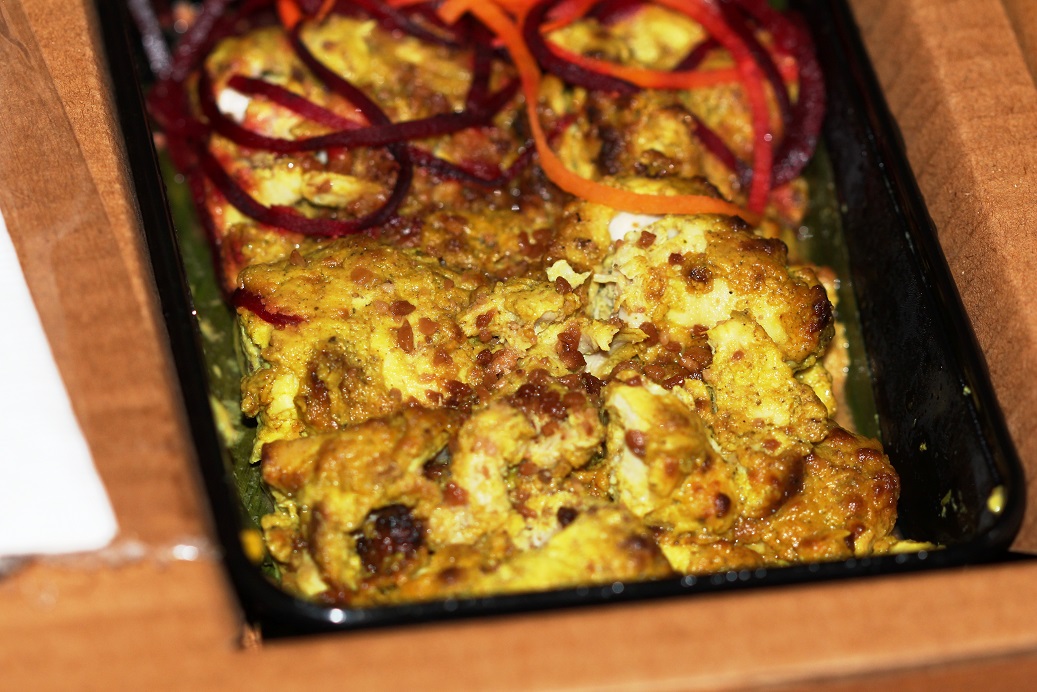 Bombay Mirch Kebab
An Attempt to make a spicy Bombay City kebab which did not work as expected. The chicken was well marinated but not as spicy as I had expected it to be. Since the dish says Bombay Mirch, we expect it to be a Treat for the spice lovers with some sweat running while eating this. Quantity good enough for two people. This dish was nowhere near the expected content of spice.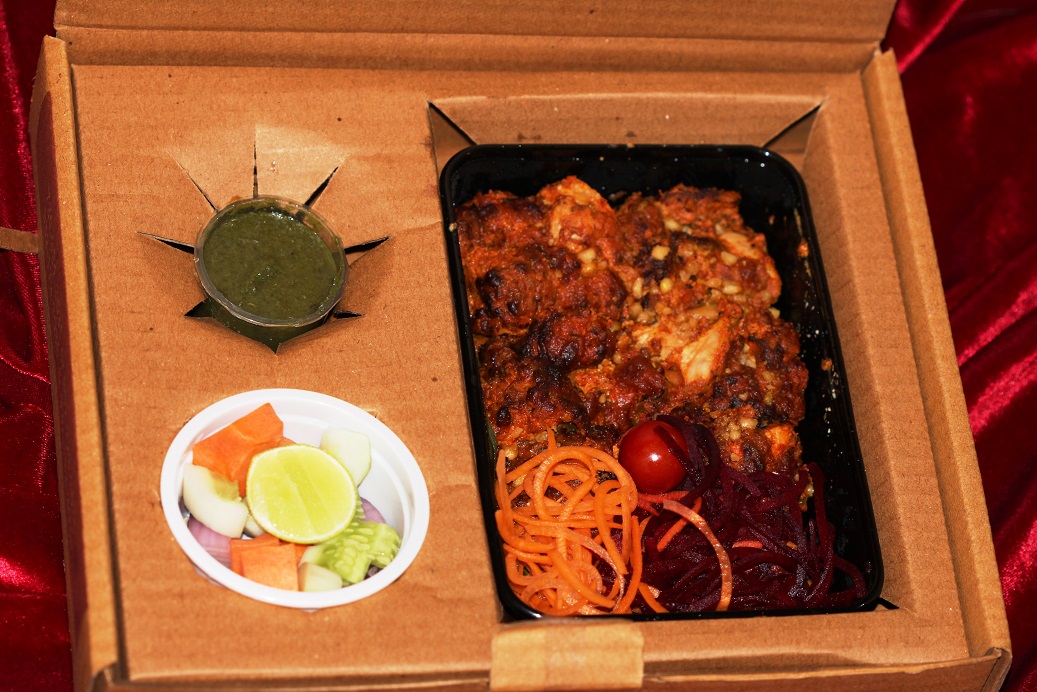 Murgh Tikka Dum Biryani
Soft pieces of chicken cooked with a Dum along with long grained rice. I loved the rice length, to be honest. I see such fine rice only at a few places. The Dum was perfect and the overall appeal of the biryani was good. I am sure all will like it though I felt it was a bit bland to my tongue. Quantity good enough for two people.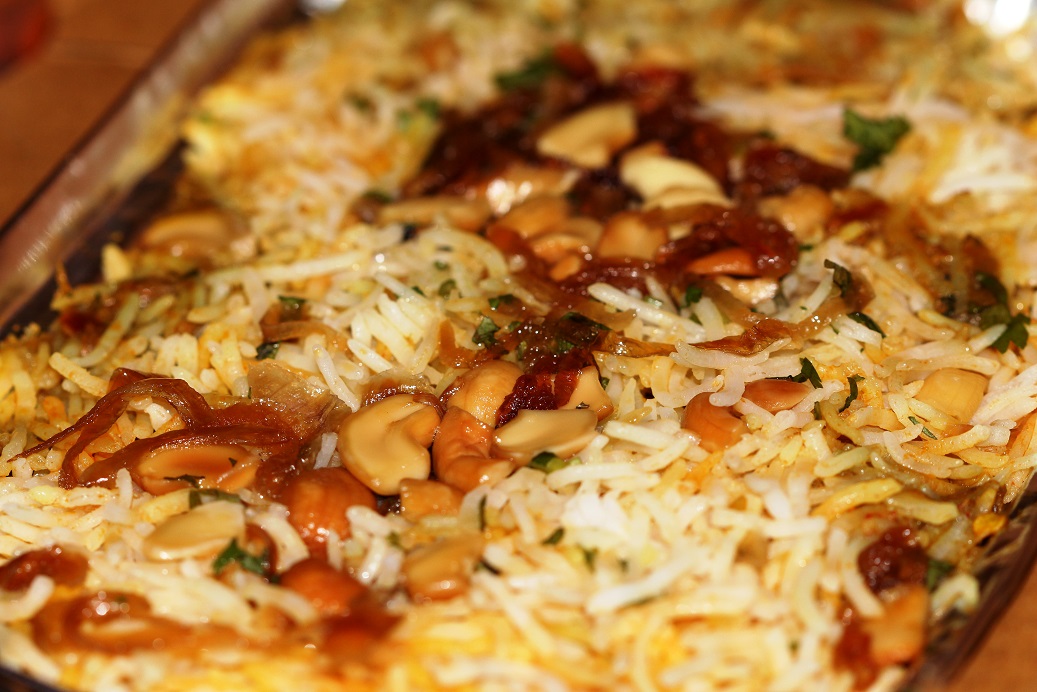 Murgh Dum Biryani
Chicken leg pieces only along with long grained basmati rice. The dish gets the rich look with only the Leg piece in the rice. The Dum given is perfect and the relatively mild spices have worked well with the chicken and brought out a very mild spiciness to the biryani which is welcome. Quantity good enough for two people. I personally loved this one. Again a recommend.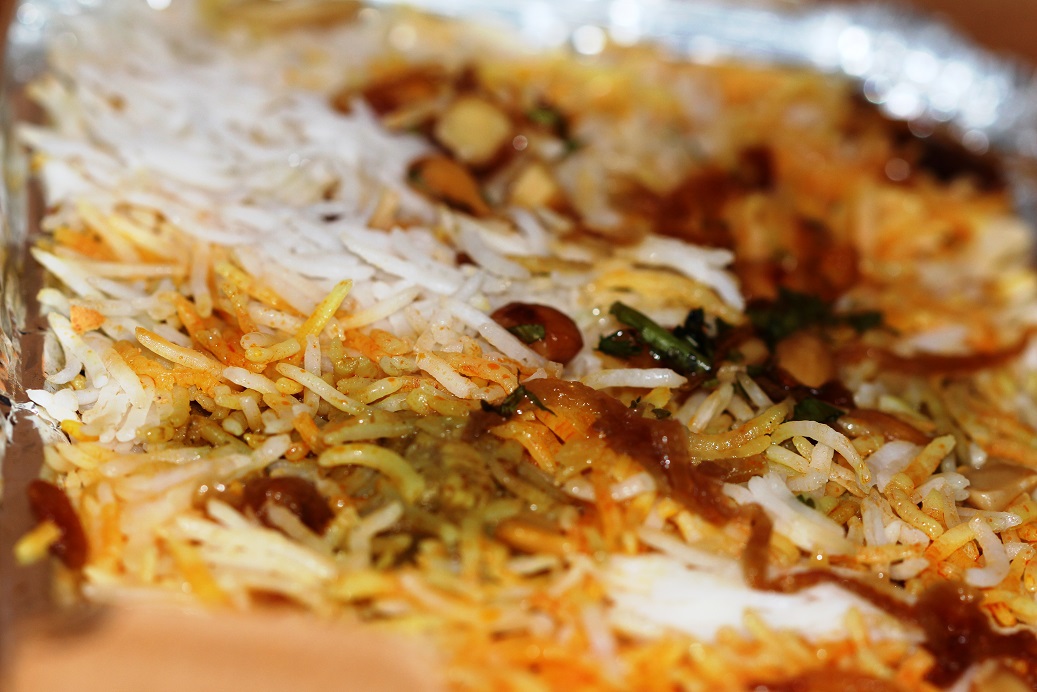 Desssert : Shahi Tukda & Caramel Custard.
This is one royal finishing to a perfect meal. Sweetness melting in the mouth this is a perfect finisher. The caramel custard is up to the mark.
Service Time of Biryani Guru
Once the order is placed the food is served in a decent time period. More staff if employed may help with deliveries though no bottleneck observed.
Plus and Minus
Like I always say, as a Food blogger and chef, I am choosy about the food and look at all aspects when the end product is served. I always look at bettering the dish and the menu further to the point of perfection. While the dishes I mentioned above were pretty good, I found the Shahi Tukda slightly expensive; The Murgh Tikka Dum Biryani definitely could do with some more spice.
I would definitely give a 4.0/5 for service and 4.5/5 for the food. I will give the extra 0.5 overall because I feel the restaurant has worked a lot to build a name and is trying hard to maintain it. The mildness in a few dishes could be because of it. The overall 0.5 is deducted because there is always scope for improvement of food quality and Hygiene/cleanliness. In fact, a 5 star says that the restaurant menu has got saturated and nothing better can happen there. I feel Biryani Guru can always improvise what they are serving and keep innovating every month. I am sure the restaurant will take my feedback positively and do the needful. Restaurant recommended.
Address:
Biryani Guru, Mermaid 1, Opp Indian Naval Canteen, Sector 11, CBD-Belapur, Navi Mumbai
Meal For 2: 1000/- approx.
Timings: 10 am to 11.00 pm (Go before 8 pm if you want to choose your choice of seat)
Ratings: Food 4.5 Service 4.0 Value for money 4.0 Overall 4.5
Uttpal K
Copyright Uttpal K
1. If you share this post, please give due credit to the author Uttpal K
2. Please DO NOT PLAGIARIZE. Please DO NOT Cut/Copy/Paste this post
Uttpal K., all rights reserved.
Copyright Notice: No part of this Blog may be reproduced or utilized in any form or by any means, electronic or mechanical, including photocopying or by any information storage and retrieval system, without permission in writing from the Blog Author Uttpal K who holds the copyright.