The love for good old Maggi never got replaced even when the government banned it because of the higher amount of MSG.  Instead of throwing our beloved yellow packet, everyone seems to be hoarding the one to relish the taste once more. Maggi appears to have become an essential part of any teenager's life, bachelor's meal, and perfect midnight snacks for everyone. There are plenty of different Maggi recipes and we all have our very own version to prepare it.
Some like plain with just tastemaker, others make it healthier by adding veggies, eggs or chicken and others throw loads of spices to make it lip-smacking.
So, take a moment to wipe out the drool and note down the best Maggi recipes we have collected just for you.
Best Maggi Recipes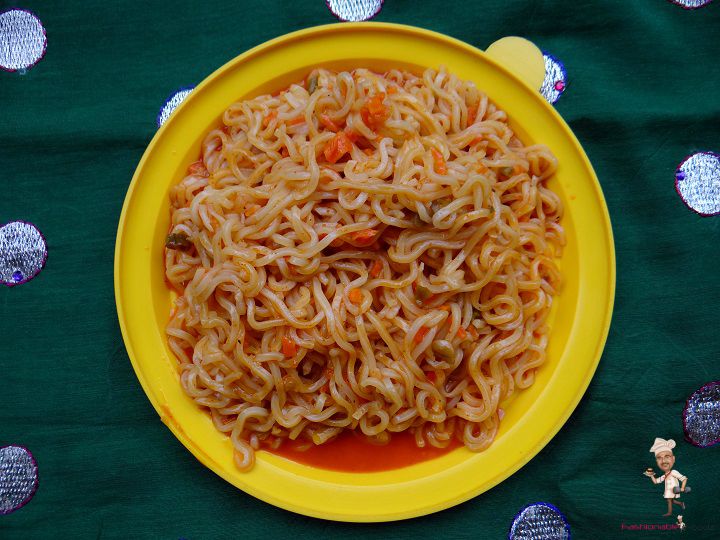 Be it hostel or home, Maggi became a staple diet for every Indian. It doesn't cook in two minutes, but the packet food is affordable and tasty. Cheap on the pocket, you can make different Maggi variations, and we promise it will never go wrong.
Maggi Recipe with Vegetables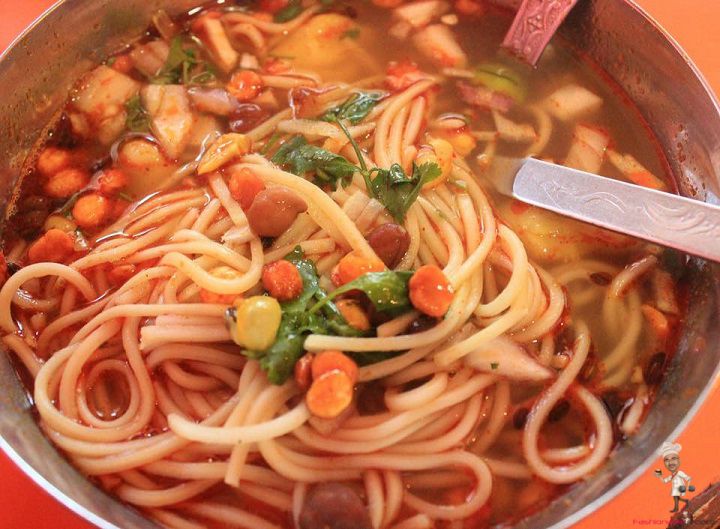 If your parents nag you for eating Maggi, then add loads of fresh vegetables to make a healthier version of this fantastic noodle. This wholesome mouthwatering meal is easy to make and too tasty to share.
Ingredients
Maggi Noodle (1 Packet)
One Small Onion
A Cup Carrot chopped into cubes
½ Cup Peas
1 Tomato Diced
A Cup of Capsicum Sliced
½ Cup French Beans
Salt to taste
Pepper
Oil
Water
How to make Maggi with Vegetables?
Heat a deep pan and add oil to it. First, add onion and cook until it gets translucent. Now add carrot, peas, French beans and capsicum and cook until 3 minutes. Now add tomatoes followed by salt and pepper. Once veggies are semi-cooked, add water, Maggi, and tastemaker. Cook it for five minutes and your healthy version of Maggi is all set to be relished. You can create different versions of Maggi Recipes with Vegetables and enjoy it guilt free.
Maggi Recipe with Egg:
For egg lovers, you can create different versions of Maggi recipes with egg. Here is a most straightforward version of Maggi egg bhurji.
Ingredients.
Maggi Noodles (1 Packet)
2 Eggs
1 Teaspoon Black Pepper Powder
Salt
Water
Oil
Coriander for garnishing
How to make Maggi with Eggs?
Boil the Maggi in a separate pan and add tastemaker. Take a new pan and heat the oil. Once the pan is heated, break the egg(s) and stir it continuously. Add salt and black pepper powder.  Turn off the heat when the egg is cooked. Mix cooked Maggi with egg and garnish with freshly chopped coriander.
Spicy Maggi Recipe: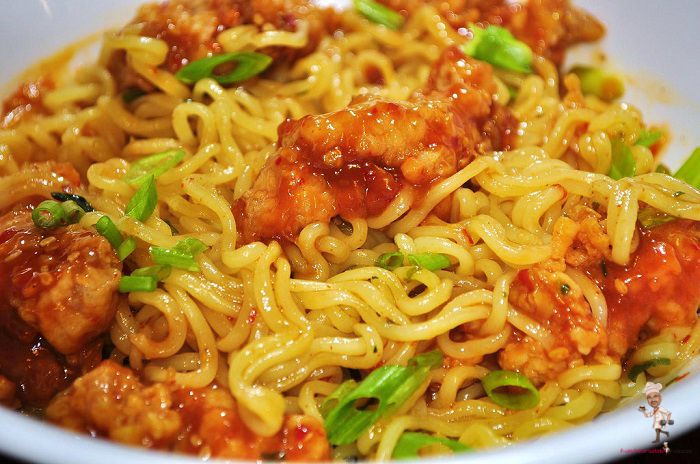 If you love spicy food, then this is one of the best version among spicy Maggi recipes. Try this when you crave for some tasty noodles.
Ingredients:
1 Packet Maggi
An Onion Sliced
1 Capsicum chopped
A Tomato Chopped
3 to 4 Garlic pods chopped
6 to 7 Green Chili's slit
Soya sauce – 1Tbsp
Chili sauce – 1 Tbsp
Tomato sauce – 2 Tbsp
Cornflour – 1 Tsp
Pepper – 1 Tsp
1 Tablespoon Oil
Salt to taste.
Oil – 1tbsp
Water
How to make Spicy Maggi Recipe?
Boil the Maggi in a pan without using the tastemaker. Once cooked, keep the Maggi aside. Heat oil in a pan and add chopped garlic, then add onion and cook until it turns translucent. Now add capsicum and sauté for a minute. Add chilies and tomato and cook until everything becomes a mushy paste. Now add all the sauces (soy, tomato, and chili) and cook for another minute. Take ¼ cup water and mix the corn flour. Pour the mixture into the pan and give it a good stir to prevent the formation of lumps. Now add cooked Maggi and tastemaker and give one or two boils. Served hot.
Paneer Masala Maggi Recipe: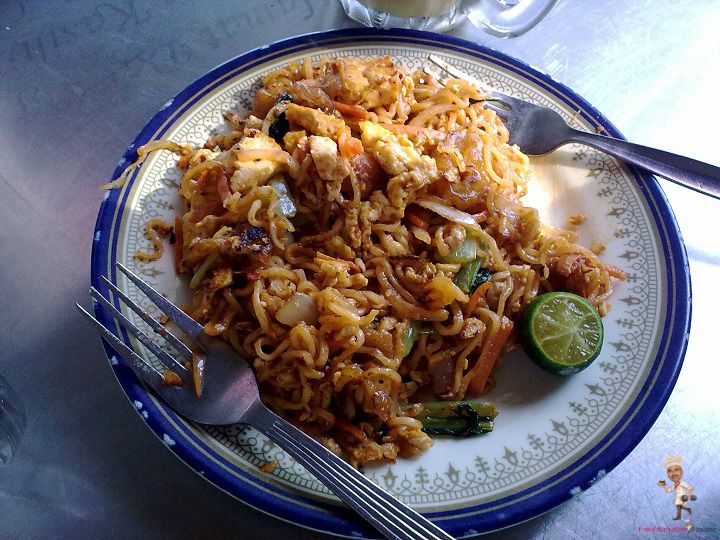 When you add paneer to regular Maggi, the whole dish becomes a power pack Punjabi cuisine instantly.
Ingredients
Maggi noodles (1 Packet)
A Cup Paneer cut into cubes
Capsicum thinly sliced (1 Capsicum)
Pepper powder – 1 Teaspoon
1 Tablespoon Oil
Salt
Water
How to make Paneer Masala Maggi Recipe?
Boil the Maggi with bit salt and tastemaker. Heat oil in a pan and add capsicum. Sauté for a minute and then add paneer cubes. Let the cubes turn golden brown. Now add the Maggi to this mixture and let it cook for a minute till paneer absorb extra water and spices. Serve hot.
Fried Maggi Recipe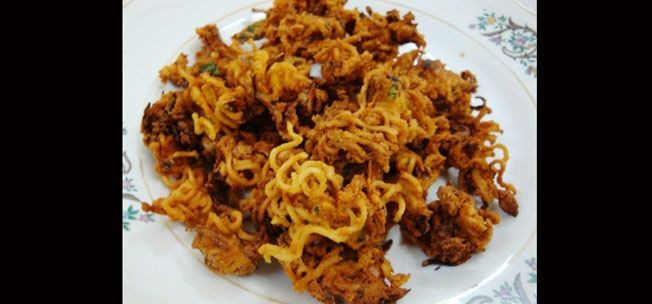 Image Source: MensXP.com 
The best version of fried Maggi recipe is the Maggi pakoras. These crispy balls are easy to make and a perfect dish for rainy days.
Ingredients
2 Packets Maggi Noodles
1 ½ cup Gram flour
1 Onion finely sliced
½ Cup Carrot grated
½ Cup cabbage finely sliced
½ Teaspoon ginger minced
½ green chili's finely chopped.
2 Tablespoon coriander chopped.
1 Teaspoon Red Chili poser
1 Teaspoon Coriander powder
½ Teaspoon Cumin
½ Teaspoon Amchur Powder
Pinch of Baking Soda
Salt
½ cup Water
Oil to Fry
How to Make Fried Maggi Recipe?
Boil the Maggi in a pan without adding tastemaker. Once cooked, keep the noodles aside. Take a bigger bowl and add gram flour, all vegetables, and spices except water and noodles. Mix everything using hands so that gram flour coats all the vegetables evenly. Now, slowly add the water until you get a thick paste. Divide the noodle into two parts and add a pinch of chili powder and salt on one section. Add other section in the dough. Now take a tablespoon of vegetable mix to form a ball and coat it with the spicy noodle to wrap everything loosely. Heat the oil and fry these fritters until golden brown. Serve these crunchy Maggi noodle balls with chutney or ketchup.
So, next time when you have a tiring day, don't just cook a Maggi, as with one packet of Maggi noodles will help create culinary wonders that will satisfy your stomach and senses.