Balcony Makeover is never a priority as balconies are often ignored spaces of our homes. Has it struck you that you can use this space to enjoy some hot tea and pakoras on a rainy day. Maybe, just enjoy a few minutes meditating here and sipping on some coffee before getting lost in the hustle- bustle of the day! Sharing with you all some pointers to make your balcony your favorite part of your home!
Declutter
First things first, purge the things that are currently serving no purpose. Balconies are notorious for becoming the second storehouse of our homes. Please, don't clutter your balcony as, this is one space which can bring you positivity, calm and let you have a rendezvous with nature, everyday.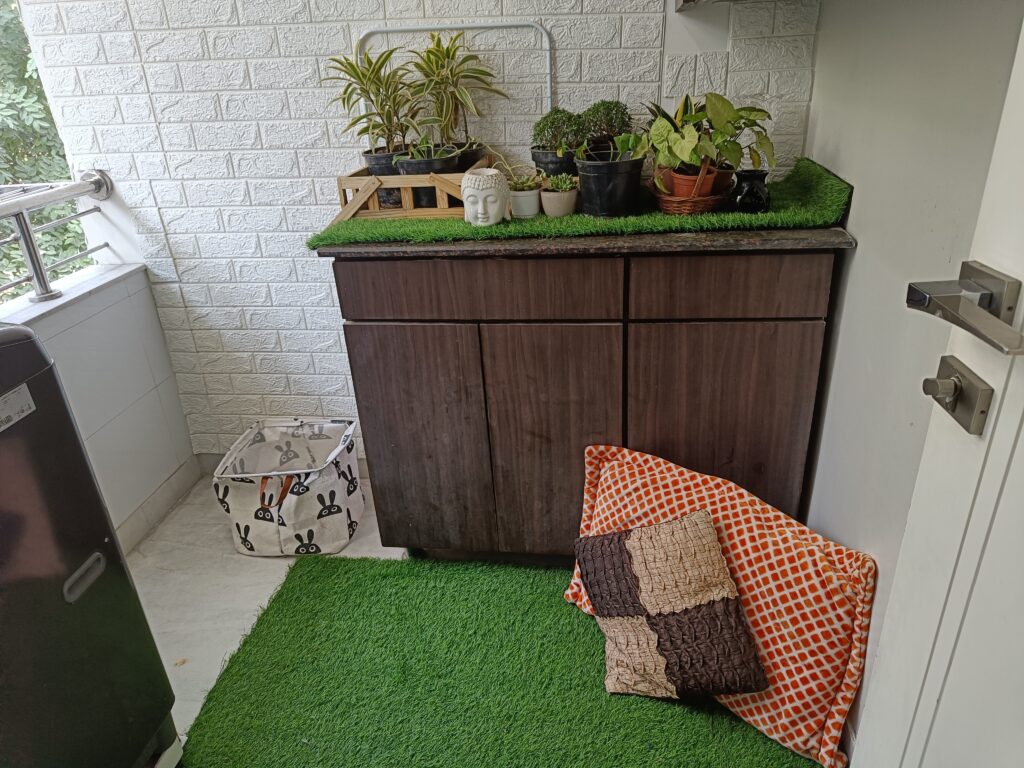 Plan and Visualize
Instead of randomly redecorating any space, it is better to take a few days to plan things out. You may search for some pictures, take measurements,chalk out your budget and then proceed accordingly.
Below, I am sharing some things that I did to give my balcony a makeover
Artificial Grass
This is the easiest way to instantly jazz up your balcony. According to color therapy, Green color provides a sense of calm, peace and promotes healing! So, take out your measuring tape, see the size of artificial grass carpet you would require and order away. Different sizes of grass carpets are available on ecommerce sites. One tip here, read the reviews and choose the varieties that have been described as soft and ditch the prickly ones.
Wall Decals, PU Foam Sheets or wallpapers.
If you are a good painter, I would suggest, you bring out the Picasso in you and paint something on your balcony walls. Else, you can opt for wall stickers, wall paper or PU foam sheets.
Pick something that reminds you of nature like: flowers, leaves, a waterfall, birds etc to decorate balcony walls. For the minimalists, PU foam sticker sheets are the best bet. These mostly come in brick pattern are super easy to install and give a cliche, neat and minimal look. If your balcony is rather stuffy, go for lighter colors to create an illusion of space. Whatever, you choose go for waterproof versions.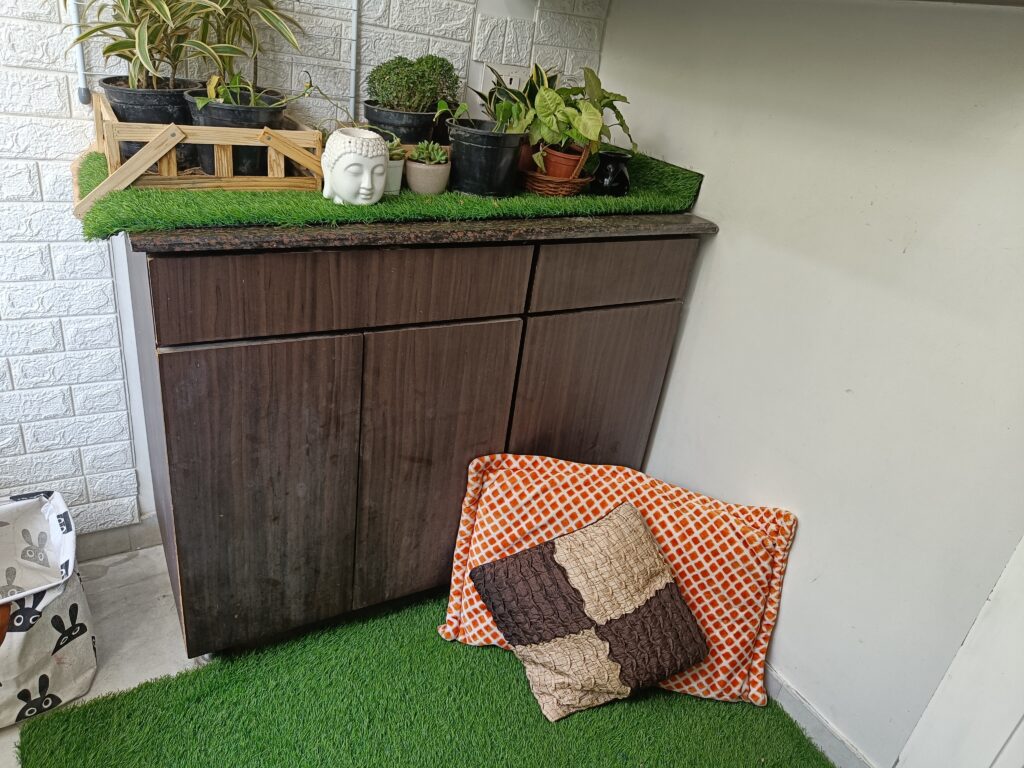 Plants Needless to say, a balcony has to have plants. If you know all about growing them, awesome! Otherwise, take help from your local gardener to choose what plants would thrive best in your balcony. Usually, gardeners suggest the plant varieties as per the sunlight that falls in your balcony and the season of course. For instance, my balcony gets very less Sun. I had no option but to go for indoor plants since they survive pretty well in shady areas. For those who love flowering plants, a sunny balcony would be a good bet.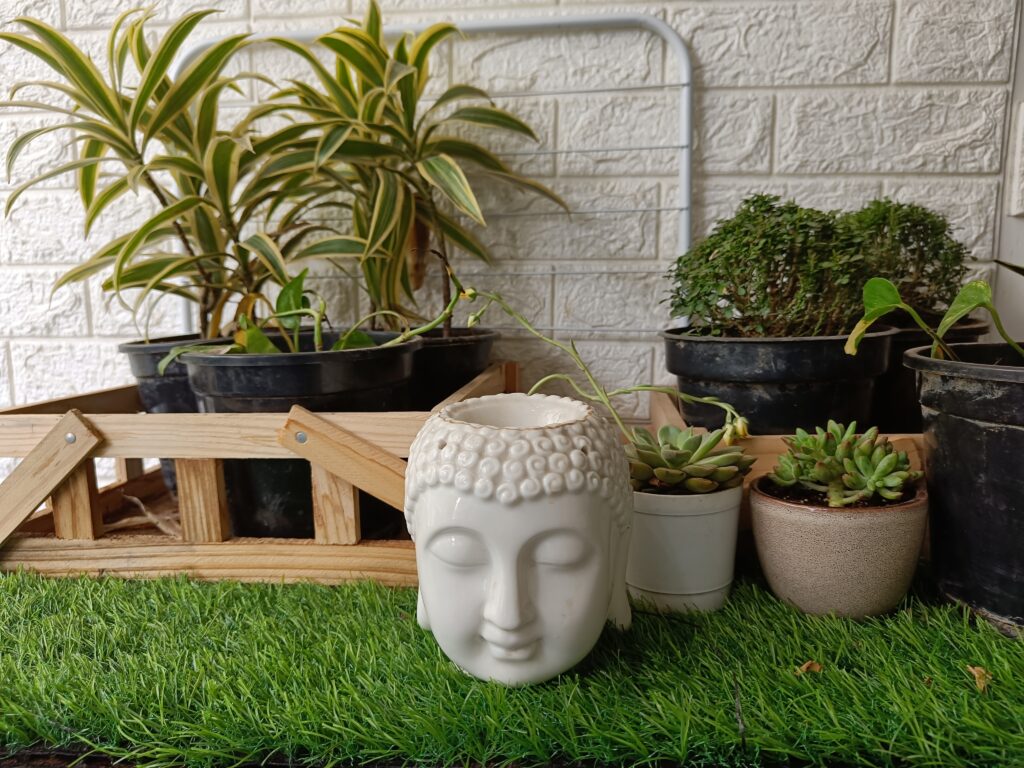 Colorful Planters You may buy decorative planters or spruce up the regular ones with the help of paints. Smaller succulents, Cacti and herbs may even be propagated in old coffee mugs.
Add some Accents.
Little accents like wind chimes, a Buddha figurine, a water-feature, small aroma diffusers, garden gnomes, pebbles, fairy lights etc would be great. You know what the best part is? You do not even have to buy them! Just search around your house, I am pretty sure you will find random things around the house that can be repurposed as decorations for your balcony.
Some seating Throw in a couple of cushions, a foldable table or even an old trunk. Use your imagination and see what meets your needs.
So, would you like to try some of these? Do have some more balcony makeover ideas to share with us? Do leave a comment!
Utpal Khot
Copyright © Utpal K
1. If you share this post, please give due credit to the author Utpal Khot
2. Please DO NOT PLAGIARIZE. Please DO NOT Cut/Copy/Paste this post
© Utpal K., all rights reserved.
Copyright Notice: No part of this Blog may be reproduced or utilized in any form or by any means, electronic or mechanical including photocopying or by any information storage and retrieval system, without permission in writing from the Blog Author Utpal Khot who holds the copyright.