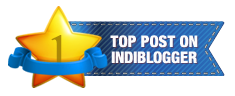 I generally refrain myself from writing Movie reviews purely because readers tend to take sides and label the Blogger as "Being Partial", but I am doing "Bajrangi Bhaijaan" Review (BB as its called) purely because it was getting compared to the last week release blockbuster "Bahubali" in terms of Box-office collections and speculations for the same. Let me clear at the outset that both the movies have no comparison whatsoever in terms of Story, Making, Star cast, Era depicted along with other factors and so the Box office collections can't be compared like an apple to apple.
PLOT
The story revolves around a speech-impaired girl (Harshali Malhotra) who is just about 5-6 years of age and a staunch Pakistan Cricket fan. Her mother takes her to Hazrath Nizamuddin Auliya's Dargah in the hope of getting her speech back. Unfortunately the child Shahida is lost and boards a wrong train to reach Kurukshetra where she is destined to meet a Brahmin Pavan Kumar Chaturvedi  (Salman Khan) who is a staunch Hanuman Devotee. As circumstances would have it Pavan Kumar takes it upon him to reach the child safely to her home not knowing she is from Pakistan and vows to do so. Slowly he realizes that the child belongs to Sultanpur –Pakistan and ends up handing over the child to her parents. On his way to Pakistan he makes sure he does not lie about him or the child not having a valid passport or a Visa and still manages to win hearts and is fondly called Bajrangi Bhaijaan (meaning Brother Bajrangi) by the crowds when he leaves Pakistan.
Cast
Salman Khan, Kareena Kappor, Harshali Malhotra, Nawazuddin Siddiqui, Om Puri, Sharat Saxena and Adnan Sami in a very special appearance.
Production
The movie is produced by Rockline Venkatesh and Salman Khan jointly, directed by Kabir Khan and cinematography by Aseem Mishra. It has been distributed by Eros International on 17th July 2015 and has a run-time of 159 minutes. It was budgeted and completed in approximately 60 Crores mostly shot in New Delhi, ND Studio-Karjat, Mandwa-Rajasthan, Salman's Panvel Farmhouse and a few shots are from the Kashmir valley.
Review
The movie is well balanced with a good mix of story, cinematography, some real good editing which does not let us lose the story and songs. Except for a song or two the Music tracks are not very impressive and will be forgotten in two weeks. Coming to Acting Nawazuddin has stolen the show in spite of coming in the movie at the tail-end. Salman has downplayed the character he has played which is a pleasant and welcome surprise. Somehow his fans too had an overdose of his hurling 100-200 goons out of the windows and doors. Kareena is there in the movie for the sake of it and would not have made any difference if there would be no heroine in the film. Sharat Saxena and Om Puri have done justice to their small roles. The little wonder Harshali Malhotra is adorable across the movie and shows promise.
Ignoring the fact that it is not so easy to get inside Pakistan Border speaking truth and not getting killed or landing in jail for a lifetime, the movie is watchable especially when one shows "Aman ki Asha" instead of the typical "Dushmani" and hurling of abuses. One thing's for sure that this Khan can give you a  200 Crore plus collection film single handedly without a heavy star-cast any day and he enjoys a fan-following which probably no other Mega star of this Era in Bollywood enjoy, so he can do anything and get away with it.
Verdict
Released on more than 5000 screens in 50 countries, This is a "HIT" (not a Super-hit) and will cross 200 Crores collection mark overall and may just fall short of the 300 Crores mark. The movie could have collected more had it not been for "Bahubali" who is is still doing strong in the south and is gunning towards 300 Crores and may even touch 500 Crores before losing out its steam worldwide. So "Bajrangi Bhaijaan" will have to settle with what comes its way. Salman himself has admitted that Bajrangi is no competition for Bahubali, so there should be no false hopes with fans. I rate this Film 3.5 / 5.0.
(Movie Trailer Source:EROS NOW)
Uttpal K
Copyright © Uttpal K
1. If you share this post, please give due credit to the author Uttpal K
2. Please DO NOT PLAGIARIZE. Please DO NOT Cut/Copy/Paste this post
© Uttpal K., all rights reserved.
Disclaimer: Stories in this Blog are a work of fiction. Events, Places, Settings and Incidents narrated in the stories are a figment of my imagination. The characters do not exist and are purely imaginary. Any resemblance to persons, living or dead, is purely coincidental.
Copyright Notice:No part of this Blog may be reproduced or utilized in any form or by any means, electronic or mechanical including photocopying or by any information storage and retrieval system, without permission in writing from the Blog Author Uttpal K who holds the copyright.