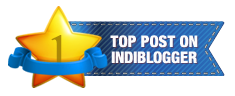 Location: Inorbit Mall, 1st Floor, Vashi, Navi Mumbai.
Seating: Approx 50 people.
Lunch Hours: 12 noon to 4pm.
Review: There was less crowd and more authentic taste when it had started. Now the crowd has swelled but the taste has gone haywire. The ambience is great and the staff is helpful. The owner keeps coming over and has a casual chat at each table adding the personalised touch and customers really feel they are taken care of. Overall a good place to visit if you are a foodie and want to try many things under one roof under a single buffet. Price starts Rs.445/- on week days and Rs.545/- on weekends. Choice of a Cocktail/Mocktail/ Ice tea is served. 2 Veg and 2 Non veg starters followed by choice of soups from Veg/Chicken/Fish. Then the main course has a wide range of dishes along with make your own dish with a live counter having all veg and non-veg stuff which can be worked out in a combo and the chef obliges to whatever you choose to make. I was allowed to make my own dish after I introduced myself and it was great fun to make one. Other small tit bits to keep you engrossed. The chef also keeps Sushi at times though it was a regular dish earlier. The dessert is great with many options and you end up spending a good 4 hours with family and friends.
You need to book a table in order to avoid the waiting time or reach sharp at 12 noon to take up a Table. A good place for people who love adventure with food.
Ambience: 4 Star
Service: 3 Star
Food: 3 Star

Uttpal K
(image source: www.groupon.co.in)