We can expect radiating and healthy skin post lockdown as we are away from all pollutants and are giving time to update ourselves. It is a blissful time as we all are at home and can change our unwanted habits and lifestyle. The reality is the opposite as we are using screens all day. Using electronic gadgets 24 X7 has disturbed our lives. It has affected our working, sleeping schedule and has invited many other problems. Acne, swollen eyes, and dark circles are a few of the common issues. Skin problems, especially dark circles pull down our personality and confidence levels. It is necessary to identify its cause and remedies. Let us know how some home remedies can be used to get rid of this problem.
Home Remedies
Limit Screen time: Too much use of artificial light takes away all the moisture from our skin. Due to overexposure to electronic gadget collagen in our skin breakdown. It's breakdown results in skin loosening and wrinkles. It is necessary for all of us who are working from home, especially to take breaks from digital gadgets. You can set a reminder on your gadgets for the same. One of the other reasons is we work late till night and so our sleep cycle is disturbed. It is essential to set your working hours to get a sound sleep.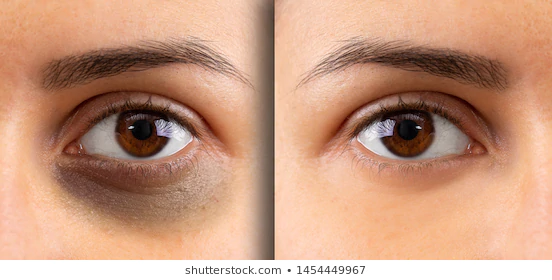 Green tea bags: Use a chilled tea bag on each eye for 15-20 minutes and rinse it off with normal water. Use this at least twice a week to diminish the appearance of dark circles. The tannins in the tea reduce discoloration. It also improves the appearance of under-eye circles.
Use gentle products: Eyes are a delicate part of our body and so need special care too. Use gentle products as the skin around your eyes is very sensitive. Make sure that you remove all the makeup from your eyes and face before going to bed.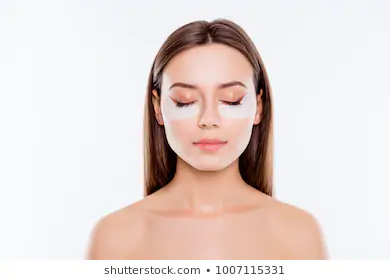 Cold compress: Soak cotton pads or clean towels in ice-cold water and place it on the affected area. Lie down and take rest for 10-15 minutes. Repeat the process at least thrice a day to get the quick results.
Cucumber/ Potato slices: The healing properties of cucumber and potato fight against wrinkles and pigmentation. Place slices of chilled cucumber or potato under your eye and remove it after 15-20 minutes. Using this daily will give you the desired results.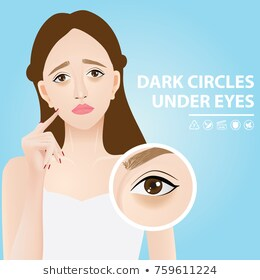 Some more self care
Change in lifestyle: Minor changes in lifestyle is essential for you. Drink juices, increase intake of iron, calcium, and food rich in antioxidants in your diet. Take sound sleep for 7-8 hours to avoid premature aging.
Avoid using alcohol: Alcohol makes your skin thin and takes away all the moisture. Consuming alcohol daily causes puffiness and water retention. It leads to pigmentation so ensure that you stay well hydrated.
Milk and almond: Milk and almond have properties that help the skin to rejuvenate. The anti-inflammatory properties of almond and milk give you the desired results within 15 days. Blend milk and almond to make a smooth paste. Apply it for 10-15 mins under your eyes. Take a rest and wipe out using cotton pads and water.
Avoid allergens: In some of the cases, skin gets pigmented due to the intake of allergens such as curd, mushrooms, or certain fruits. It is recommended to consult your dermatologist before you try any medications or home remedies.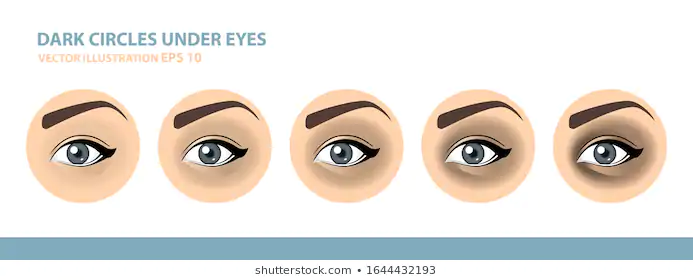 Conclusion: If home remedies are not giving you results it is better to contact your dermatologist. It can be solved with laser treatment or chemical peeling. Diagnose the reason for before treating the not so attractive panda eye look.
Utpal Khot
Copyright © Utpal K
1. If you share this post, please give due credit to the author Utpal Khot
2. Please DO NOT PLAGIARIZE. Please DO NOT Cut/Copy/Paste this post
© Utpal K., all rights reserved.
Copyright Notice: No part of this Blog may be reproduced or utilized in any form or by any means, electronic or mechanical including photocopying or by any information storage and retrieval system, without permission in writing from the Blog Author Utpal Khot who holds the copyright.