Foods that help you tolerate cold
As the winter approaches and the temperature drops too low, you would want to change your diet to better allow your body to tolerate cold. Here are some superfoods that would make you feel, warm and toasty. These are loaded with lots of vital nutrients including antioxidants, vitamins and minerals. These also have excellent immunity-boosting properties that protect you from the most common cold-related infections. Read on below to know in further detail about why these foods are your best bet to beat the biting cold. Read to know how they can free you from the clutches of severe cold give you Independence.
Oatmeal
Oatmeal is a great way to start your day on a freezing Winter morning. It is much more than a convenient, quick to make a breakfast option. Let us explain why. Oats are a part of the whole-grain food family. These are rich in soluble fibre, complex carbohydrates like Beta-Glucans and plant-based proteins. After having a bowl full of Oatmeal for your breakfast, you would feel a sense of satiety for several hours and improves your blood Lipid profile. The level of bad Cholesterol in your body is reduced with regular consumption of Oatmeal. The Zinc present in Oatmeal helps to boost immunity. Top up the warm Oatmeal with chunks of Almonds, Walnuts, some fruits and plant seeds to improve the nutrient value. Go for old-fashioned rolled Oats instead of instant Oats.
Hot Chocolate
Hot Chocolate is one tasty, aromatic thing you can have during the chilly Winters to feel warm and snug. You can enjoy it at any time of the day but usually, people like to enjoy it just before bedtime. To make it healthier, add two squares of dark chocolate or unsweetened Cocoa powder in warm milk to dairy milk. Dark Chocolate is rich in antioxidants, especially Flavonoids, that reduce the free radicals damage. This oxidative damage is responsible for premature ageing, certain types of cancers and cardiac diseases. It is also rich in fibre and Iron. To make your regular cup even more enriched in taste and health, add a tablespoon of Pumpkin puree or a tablespoon of Peanut butter.
Walnuts
Soaked or roasted Walnuts are a great snack to munch on at any time of the year but they make for an especially, healthy snacking option during winters. Walnuts are packed with Alpha-linolenic acid (ALA), a type of Omega-3 fatty acid that improves lipid profile, regulates blood pressure and maintains the integrity of arterial walls. The good fats present in Walnuts help your system to absorb the fat-soluble Vitamins like A, D, E and K. So, enjoy a handful of roasted, unsalted nuts with your favourite warm, winter beverage each day to feel the warmth.
Honey-Ginger tea
If you have an option to enjoy a hot cup during winters, you must try Honey-Ginger tea. Ginger has natural thermogenic action in your body. It helps to keep you tolerate cold and keep you warm. Ginger helps to improve your body's metabolism and improve blood circulation.
There are some studies which suggest that those who consumed Ginger tea felt fewer hunger pangs in the Winter months. Honey does more than adding sweetness to your tea. It has high body-warming properties and is loaded with lots of powerful antioxidants that boost immunity.
Staying hydrated in winters is as important as it is in Summers. Drinking tea helps you reach your goal of consuming those eight glasses of water per day.
Soups
Soups fall in the category of ideal Winter foods. You can enjoy bowls of hot Tomato soup, Chicken broth and mixed vegetable soups to get a healthy dose of Vitamins and minerals. Hold off the salt and cream to make the soup healthier. Instead of fried bread, try to have your soup with whole grain crackers. Your body does need a good dose of carbs to feel warm and to avoid feeling depressed in winter. It is always better to go for complex carbohydrates present in whole grain foods in order to stay healthy. Soups add to your daily water/ fluid intake, as well.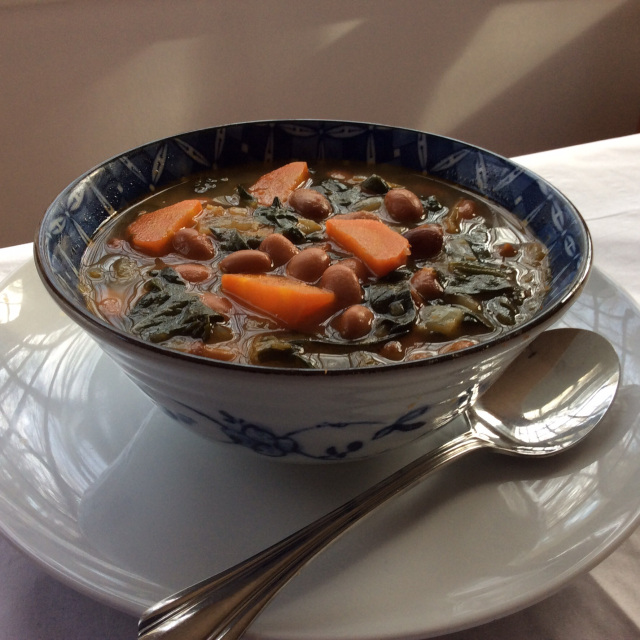 These were 5 superfoods that you can enjoy on chilly days of the Winter months. These are comforting and healthy. In general, you are supposed to eat a little more during Winters than in Summers to allow your body to generate enough heat and keep you happier by preventing winter depression. Are you aware of certain other foods to consume in cold temperatures to beat the chill and the blues? How do they help tolerate cold?
This post is a part of the Independence Blog Train and I nominate my old friend and colleague Neha Tambe to do the next post and take this Train ahead.
"This post is a part of The Independence Blog Train hosted by Foodietweeter and Prettylilthingss1  and should not be repurposed, republished or used otherwise. The content herein is owned by the blogger. Fashionablefoodz and Prettylilthings are not responsible for any kind of Infringement caused."
Uttpal K
Copyright © Uttpal K
1. If you share this post, please give due credit to the author Uttpal K
2. Please DO NOT PLAGIARIZE. Please DO NOT Cut/Copy/Paste this post
© Uttpal K., all rights reserved.
Copyright Notice: No part of this Blog may be reproduced or utilized in any form or by any means, electronic or mechanical including photocopying or by any information storage and retrieval system, without permission in writing from the Blog Author Uttpal K who holds the copyright.