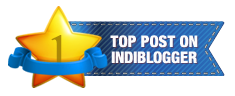 Wishing all my fellow bloggers, friends and relatives a very Happy Makar Sankranti. Hope we all have a very good ahead and praying for everyone to have their best health. May the new sunrise bring you all the joys and happiness of the world.
2014 was a not so good year for me. Lost my Mom to cancer during Ganpati Festival few months back.. Something which will remain forever in my heart and mind. Hope she finds peace and solace up there.
On a brighter side, made many new friends and some have become family. I thank God for giving them to me. Work wise things are improving and looking forward for a brighter side on the career front in 2015.
I have been given this award by my friends and fellow Bloggers Shweta Dave and Abhijit Bangal. They themselves are magnetic personalities with immense knowledge and a knack for writing. Their command over the language is enviable and they always inspire me.
Stating 7 things about me was a difficult task being an Arien. We Ariens have an air around ourselves that we are the Jack of all trades (we forget we are Master of none conveniently)
So I will start with it:
I consider myself the Jack of all trades and jump on to learn anything new.
I can work out in the gym for hours without getting bored.
I can wake up at 3am and cook (it's a passion I was born with/ Chef by birth)
I dream travelling around the world (Leisure trip of course)
I love the latest gadgets (Phones especially)
I can stare into anyones eyes and make him/her feel nervous (been a habit from office days)
I believe in God.
Now to nominate only 15 blogger friends for this award, though most of you inspire me: