Diwali celebrations, the Festival of Lights, marks the victory of light over darkness. It is also a gastronomic delight in India. The festival, which symbolizes the triumph of good over evil, is marked by an array of delectable and special dishes. In 2023, as the country gears up for Diwali, the culinary landscape is once again set to dazzle all. This time with a cornucopia of flavors, aromas, and textures. Two standout dishes that grace the Diwali table are 'Paneer Tikka' and 'Gulab Jamun'. Both represent a unique aspect of the festive feast.
Paneer Tikka – The Epitome of Savory Delight
Paneer Tikka is a beloved vegetarian delicacy that takes center stage during Diwali celebrations. The dish is a perfect blend of succulent paneer (Indian cottage cheese), marinated in a spicy and tangy mixture of yogurt and spices, and grilled to perfection. What makes Paneer Tikka a Diwali favorite is its versatility. It can be served as an appetizer, snack, or even a main course. The rich marinade, often featuring flavors like ginger, garlic, red chili, and garam masala, infuses the paneer with an irresistible aroma and taste. Served hot, garnished with mint chutney and lemon wedges, it's a perfect way to kick off the festive feast.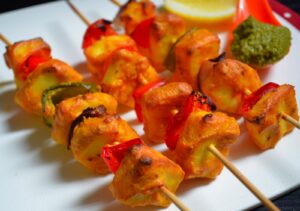 The Irresistible Charm of Gulab Jamun
While Paneer Tikka reigns as the savory star of Diwali, Gulab Jamun, a quintessential Indian dessert, claims its sweet spotlight. This deep-fried, golden brown delicacy is made from khoya (dried milk solids) and soaked in a sugary syrup, making it irresistibly sweet and indulgent. The name "Gulab Jamun" itself translates to "rose-colored sweet". It is not just a treat for the taste buds but also for the eyes. The soft, melt-in-the-mouth texture of Gulab Jamun, coupled with the aromatic syrup, is a culinary indulgence that embodies the essence of Diwali – sweetness, warmth, and joy. Served warm, it is the perfect way to conclude a festive meal. It is often accompanied by a scoop of vanilla ice cream or a dollop of rabri (sweet condensed milk).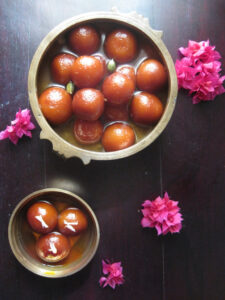 The Culinary Significance of Diwali
Diwali celebrations is not only a festival of lights but also a festival of flavors. The culinary choices during Diwali reflect the rich cultural diversity of India. While Paneer Tikka and Gulab Jamun have been highlighted as Diwali favorites, the festive menu is a treasure trove of regional specialties. Families prepare an assortment of snacks and sweets, each with its own unique flavor and preparation method. From savory samosas and crunchy mathri to sweet jalebi and aromatic biryani, every dish has its place on the Diwali platter. Diwali signifies the coming together of loved ones and the sharing of love and joy through food. It's a time when kitchens are abuzz with activity, and the aroma of spices and sweets fills the air.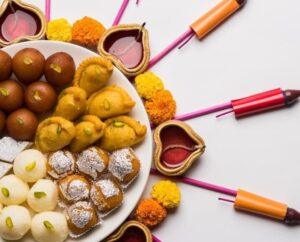 In conclusion, Diwali celebrations in India is not just a visual spectacle with its radiant lamps and fireworks but also a gastronomic delight. Paneer Tikka and Gulab Jamun, among many other dishes, capture the essence of this festive occasion. The savory and sweet offerings reflect the diverse culinary traditions of India and signify the warmth and togetherness that Diwali brings. As 2023 approaches, the anticipation of these delectable treats is building, and the country is all set to savor the culinary magic of Diwali once more.
Utpal Khot
Copyright © Utpal K
1. If you share this post, please give due credit to the author Utpal Khot
2. Please DO NOT PLAGIARIZE. Please DO NOT Cut/Copy/Paste this post
© Utpal K., all rights reserved.
Copyright Notice: No part of this Blog may be reproduced or utilized in any form or by any means, electronic or mechanical including photocopying or by any information storage and retrieval system, without permission in writing from the Blog Author Utpal Khot who holds the copyright. #Ad #SponPost for Amazon India.