Healthy Eating with Shredded Chicken:
When it comes to healthy eating, what better could it be than eating all stir fry vegetables, which are rich sources of Vitamins and essential nutrients. Add some boiled shredded chicken to it and your complete meal is done. This takes care of your day nutrition post Lunch/Brunch. So let us see a simple healthy recipe which vegetarians can use minus the chicken and non-vegetarians can use along with the chicken for a Fit body.
Ingredients:
Bell pepper Red – 1
Bell Pepper Yellow – 1
Green Capsicum – 1
Red carrot, medium – 1
Zucchini – 1/2
Garlic pods, sliced – 8-10
Cherry Tomatoes – 8-10
Baby Corns – 4-5
Onions, Medium -2
Boiled chicken shreds – 1 cup
Olive Oil – 2 Tbsp
Green chili sauce – 1 tsp
Red chili sauce – 1 tsp
Dark Soya Sauce – 1 Tbsp
Mixed Herbs -1 tsp
Black pepper – ½ tsp
Red chili flakes -1/2 tsp
Salt – as needed
RiteBite Chips(Cheese and Jalapeno) – 1 pack
Recipe:
Wash and Chop all vegetables. Keep aside. Heat some Olive oil in a pan and add the garlic and onions. Saute for two minutes and add the carrots and Zucchini. Saute these for some more while, say for about a minute or two then before adding the sauces. Stir well and add the chicken shreds. Fold gently for a few times and add the Black pepper, salt and red chili flakes. Stir and add the Bell peppers, capsicum, baby corns and the cherry tomatoes. Stir very gently and cover with a lid. Cook on a low flame for a minute and shut off the gas stove. Crush some RiteBite chips to sprinkle over the stir fry, this will add a crunch to the dish while serving. Use some more chips along with every bite to make it the RiteBite.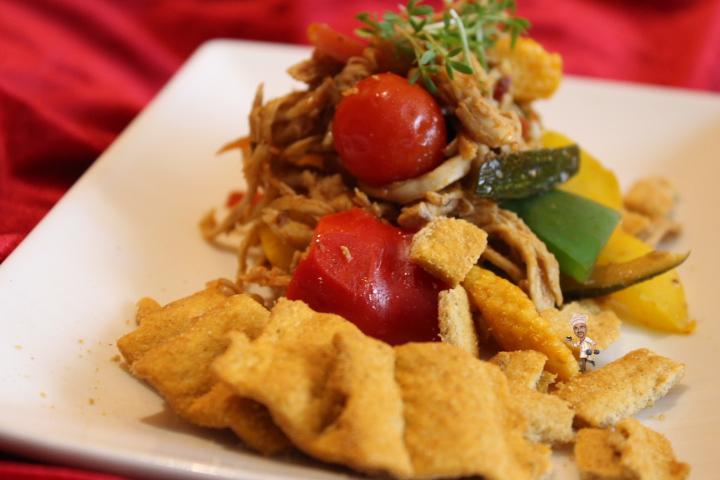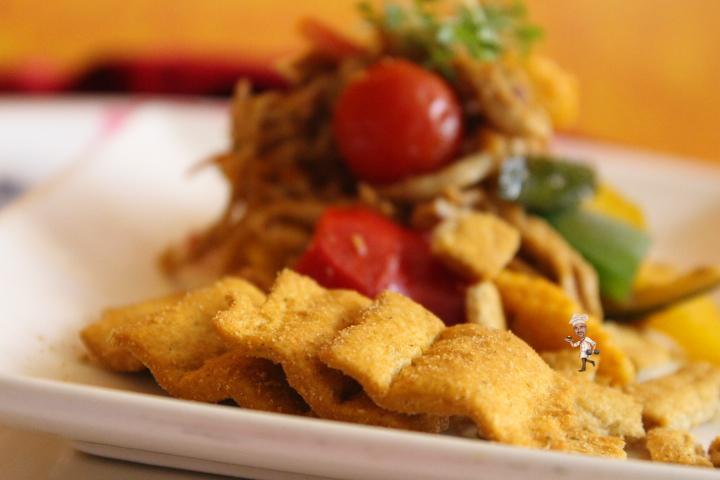 The Nutritional facts about the shredded chicken and other ingredients used are given below for your reference. This is only for reference and should be used purely for reference.