Almost all cities in India have been in the Grip of Malaria and even dangerous DENGUE. The whole process starts when we are bitten by female carrier Tropical mosquitos who lay eggs on water surfaces or spread this through bites. There is immense body pain accompanied with fever and vomiting. Other symptoms are pain behind the eyes, Oversleeping, skin rashes and nausea. Eventually this develops in Dengue hemorrhagic fever resulting in bleeding, low level of platelets, blood plasma leakage and dangerously low blood pressures. Dengue has become a global problem after the Second World War and is common in more than 110 countries, but the last few years its on an alarming rise in India resulting in many deaths primarily due to negligence.
The incubation period is typically 4-7 days. It starts with fever and body ache in most cases with cold and shivering at times. It is advised to rush to a doctor immediately and do a blood test after 72 hours for confirming Dengue. It is also advisable to drink plenty of water and ORS to fight off the loss of vitamins. As of today there is no vaccine to cure Dengue fever and it is only the loss of platelets through Transfusion and IV is what hospitals and clinics can do to help the infected. There are of course some home remedies which we all must have handy to fight off such problems. One major amongst them is to have fresh fruit juice.
Since I had experienced this issue in family, I had a long conversation with Doctors and dieticians to look at it from a nutritional point of view and being a certified Nutritionist, I have made the following recipe which can be used as a filler to increase Platelet count drastically in the infected person (two glasses a day) and otherwise also can be consumed by healthy Humans (one glass every three days) to keep oneself healthy.
Ingredients of the Juice
Dragon Fruit – ½
Kiwi Fruit -2 to3
Orange – 1
Chickoo – 2
Small Papaya – ½
Pomegranate – 1
Elaichi Banana – 2
Glucose D – 4 Tbsp
Date Sauce – 2 Tbsp
Yogurt – 2 Tbsp
Almonds -15 nos
Milk – (as per need and Optional)
Cut all the fruits and make a Thick Smoothie. This would typically give two large glasses of juice, which should suffice for a full day need of the lost platelets during dengue and to add up to the count too. People suffering from Type 1 and Type 2 Diabetes can adjust the fruits accordingly and use fresh dates instead of Date sauce. This is a Low fat , High sugar diet.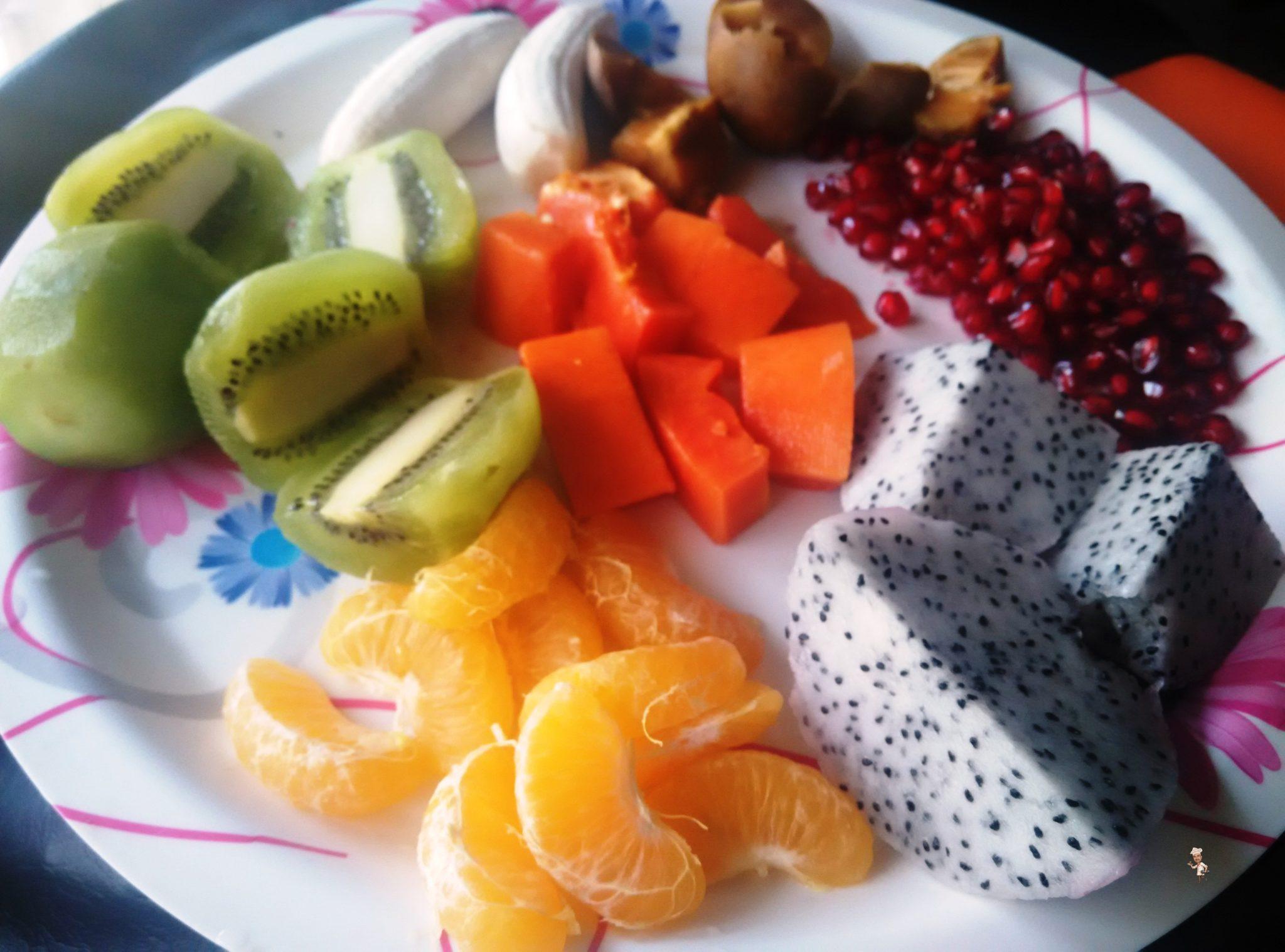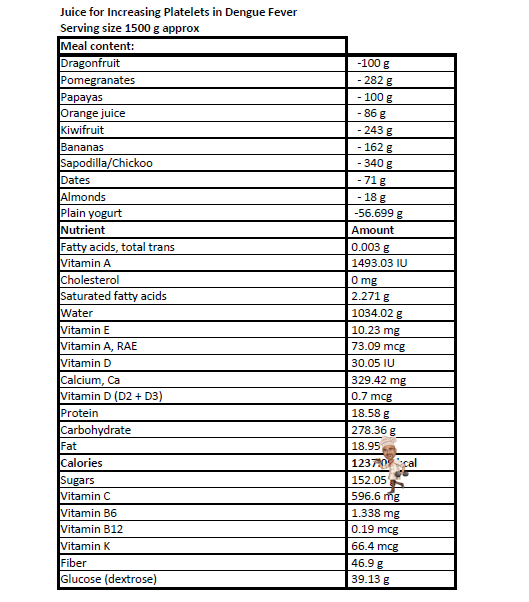 Uttpal K
Copyright © Uttpal K
If you share this post, please give due credit to the author Uttpal K
2. Please DO NOT PLAGIARIZE. Please DO NOT Cut/Copy/Paste this post
© Uttpal K., all rights reserved.
Copyright Notice:No part of this Blog may be reproduced or utilized in any form or by any means, electronic or mechanical including photocopying or by any information storage and retrieval system, without permission in writing from the Blog Author Uttpal K who holds the copyright.