Okay, so here I am writing my experience about Indiblogger meet, about JW Marriott, about Vikas Khanna and about Quaker Oats and #QuakerBowl…all of which happened on one day .. April 10th, 2016.
Yours faithfully UK reached the venue like always much before time and surprised IB warriors Anoop and Vineet and Nihaal for a change. JW Marriott was still unaware about what was going to happen to them in a couple of hours. The few Bloggers who had assembled along with me quickly became friends and soon the numbers increased, they swelled and Vineet had to hurry up to make the final arrangements before letting all in. We in the meanwhile, had some cutting chai – Mumbai style ignoring the Green Tea as we knew we had come for some health tips from the Quaker management.
We were ushered into the room and took our seats, expecting some serious business. What came eventually was Anoop, with all his wits intact. We torture him on the IB forum asking all silly questions and little did we realise that he will come packed with all of it inside him and that he would to give it back to us ……the bad Bad BAD way.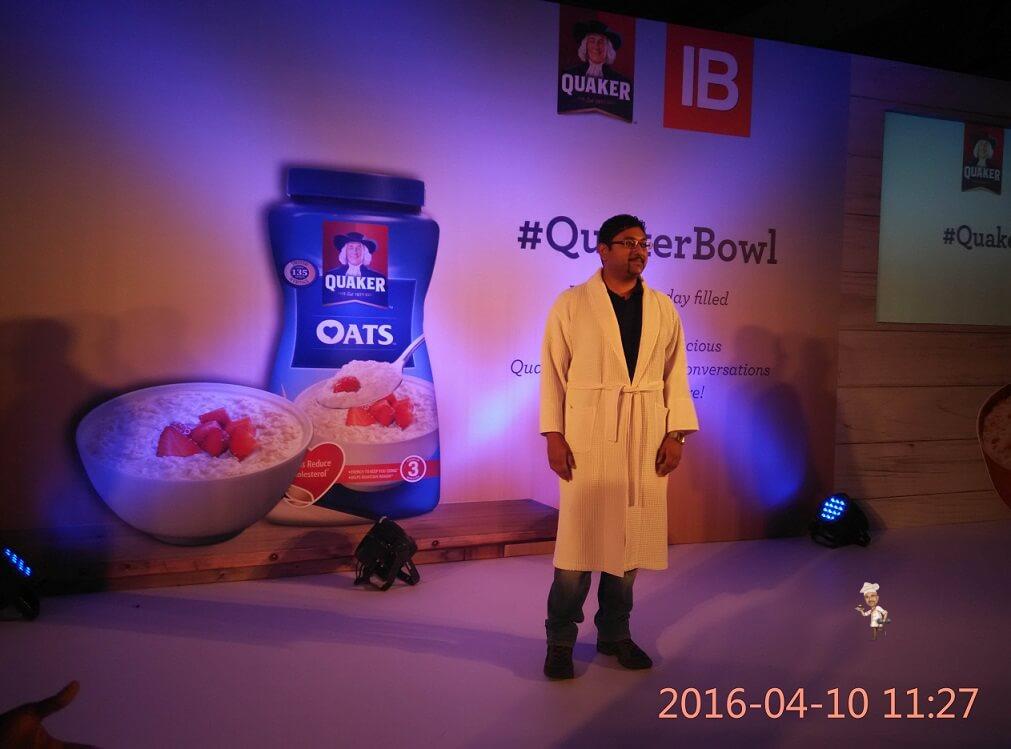 So he started with making us watch that awful video of Tahir Shah called "Angels", and went ahead with his torture and made us watch an even more awful Vineet Ranjan dressed in a bathrobe.  OMG!! Two shocks one after the other!! Too much.!!! Thank God he had put the robe over his clothes and was not a full monty, else I don't know what could have happened. In spite of that, some girls fainted at that sight….this time with fear crying "Eeks!!" The managers and the staff of J W Marriott also could not take it anymore and jumped over tables and chairs and escaped from wherever they could.. The whole of J W Marriott woke up finally!! The world came to know…The IB meet had started. Someone had already called up Renie and I am told he switched off his phone and shut his social media presence for the whole day. Rumours played the whole day that he had quit IB and had gone to the Himalayas. We were in splits.!! 😀 Vineet was a pleasant surprise in the funny way given his stern face look which is by now famous across the blogosphere. Anoop was his usual self who laughs first at his own witty ones before others can laugh. So somehow I have a feeling that Vineet and Anoop are slowly turning a deadly combo..Bloggers beware.. 🙂
Suddenly the whole air, in the hall changed and I felt a sudden spur of adrenaline rush. Someone was coming as announced and I could see a few curious faces, some moved fast from one end to the other (even the hotel staff who had run away came back). I knew we had something big in store, but was not expecting what came in the next from the main door. What I saw made my jaws drop.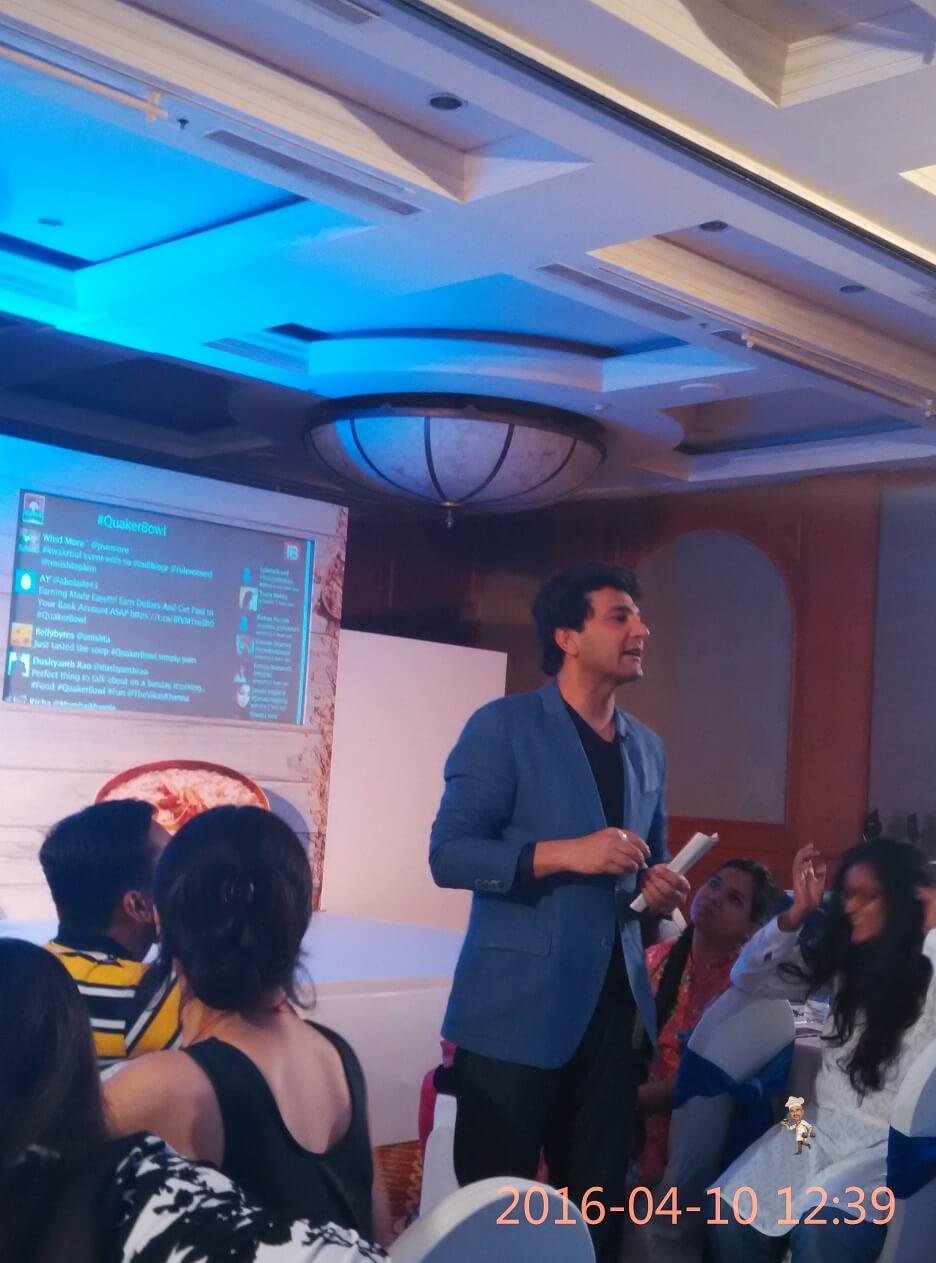 It was the "Hottest Chef of America" as referred by Peoples Magazine who featured him in the list of "Sexiest Men Alive", cookbook writer, restaurateur, humanitarian, filmmaker, Judge of the famous TV show Masterchef, the award winning Michelin starred Indian Chef VIKAS KHANNA. The man of the moment walked amidst crazy cheering and clapping from 200 bloggers present in the hall. Again a few girls swooned reportedly at his presence, this time with the killer looks the Chef has and the electrifying aura he builds around himself instantly and had to be taken out for getting their heartbeat to normal. Food bloggers like me lost what we had learned over the years and could not tell whether a Lettuce belonged to the family of a sunflower or a cauliflower. Had the chef not given me options during the question answer session, I could have put lettuce as a fruit from Mars or I could have even called it an archeological find…reason? I was just not able to focus on what knowledge I had and what I knew about my favorite subject cooking, looking at the young man in admiration who had achieved so much fame at such young age. He has appeared as a Guest judge on Throwdown! With Bobby flay, Hell's Kitchen by Legendary Gordon Ramsay, Martha Stewart show and many others. OMG, it was a few of those moments in life when I know I am doing things the wrong way and I knew this was the day. Did I care? Hell…no. I was busy listening to the master of cooking and admiring his style. He must have realised what had happened to me and forgave me instantly to click a selfie with me. I was already a winner of the day.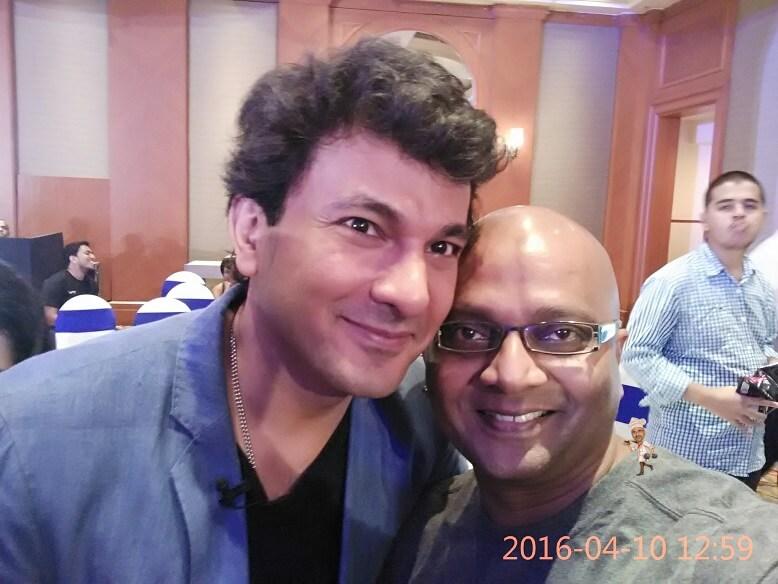 What came next was again a surprise..much suited to IB events. Vikas Khanna turned out to be a fine orator who spoke ardently about the NGO he works with, his life and struggle as a Chef in the initial days of his career and is humble enough to admit that his mom drives the car and he can't (just like me). I was amazed to see his down to earth attitude and the fun and masti, he did with one and all. He is a true inspiration and we all must learn from him. Success has not made him egoist, he tried his level best to spend time with all who spoke to him.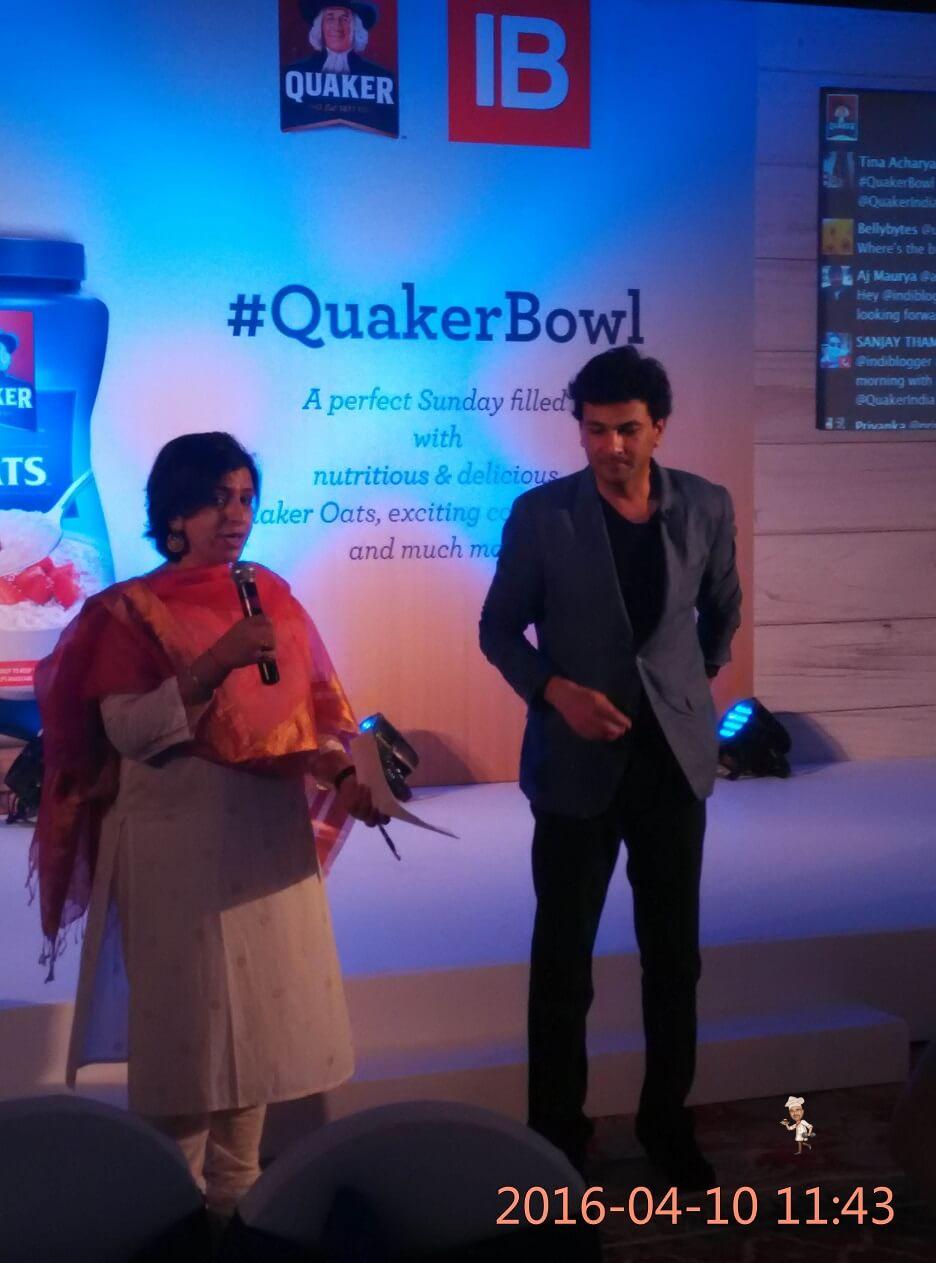 After a fun and informative session on the subject of the day.. OATS, we were directed to cooking tables where we were asked to cook a dish of our choice. We were divided into batches of 10-12 members and we all got to work. We cooked what we could and some teams had self trained and professional chefs and some teams had all novices.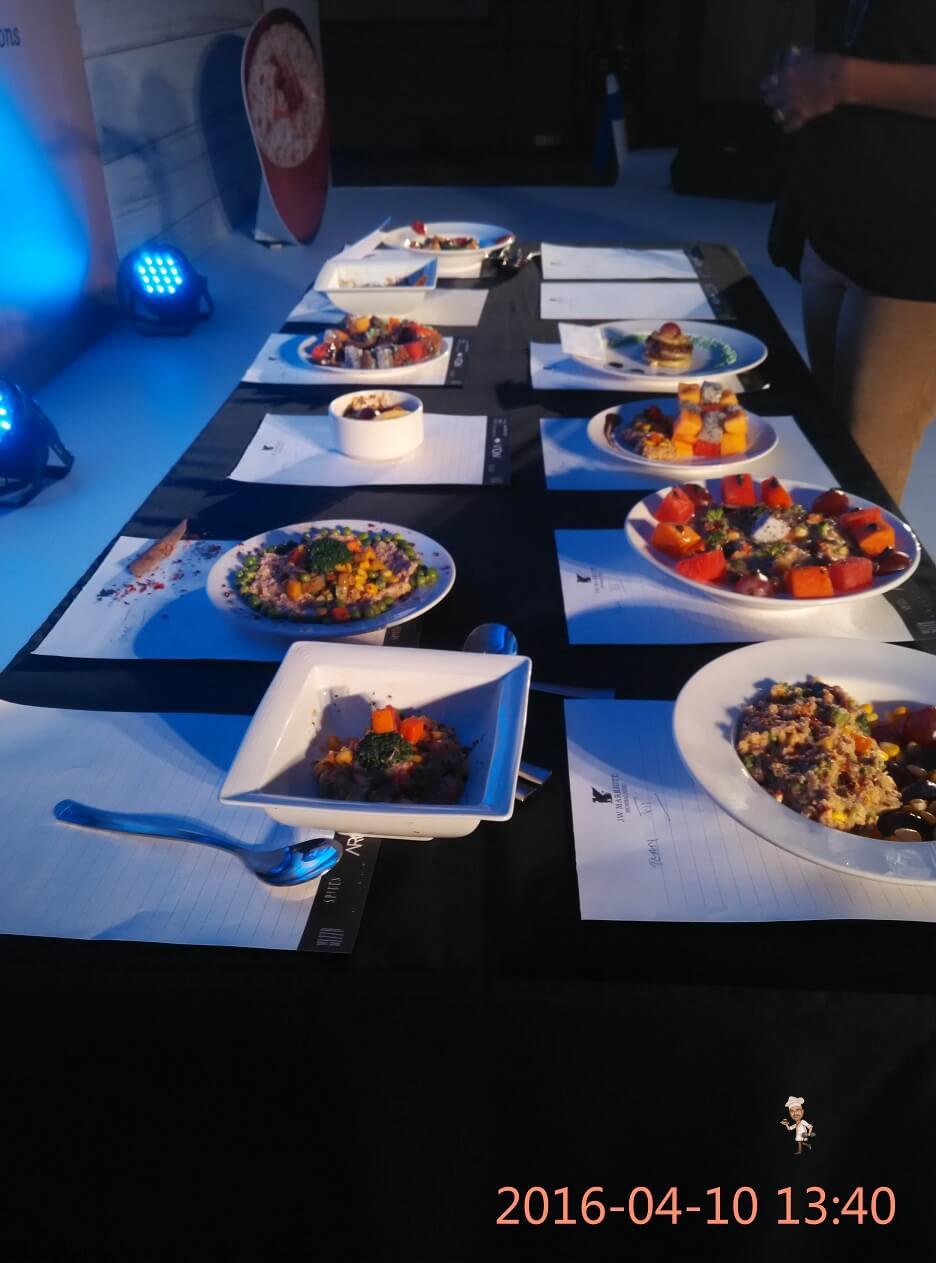 What was cooked in 10 mins was nowhere near to the standards Chef Vikas would expect, but the sport that he is he tasted all the food with a smile. He gulped it with a smile and asked the resident chef to rate the recipes and even declare a prize. I can only imagine what he must have gone through the next morning and sighed "what a Potty!"..oops I meant Pity…seriously..I meant Pity.
We had a neat Buffet Lunch which was non vegetarian along with some Roti and something playing on my mind while I ate it. As we left, we were gifted a cook book by Ouakers and a pack of Quaker Oats to cook all by ourselves at home. We all bid goodbye to each other. We thanked the IB team and Chef Vikas. The meet came to an end.
I reached home and told myself that I need to make a fusion food with Oats soon. On 13th I decided to give it a try and what came out was this:
Masala Oats in Stir fried vegetables and chicken (serves 2)
Ingredients
1 Capsicum – Juliennes
1Carrot – Juliennes
1 Large Onion- Thin sliced
100 gms Boiled Chicken –Juliennes
Instant wheat noodles – half cup crushed
Quaker Oats – 2 Cups
Turmeric powder – 1 tsp
Mustard seeds – 1 tsp
Ginger garlic paste – 1 Tbsp
Salt – as needed
Pepper – as needed
Chili flakes – as needed
Chicken masala powder – 2 Tablespoons
Olive pomace oil – as needed
Recipe:
Boil chicken and keep the stock separately. Cut the chicken in Juliennes and keep aside. In a pan take some olive oil and add mustard seeds once the oil heats up. As the seeds splutter, add onion and reduce flame. Add some salt and stir till the onions become pink. Add the Capsicum and carrot juliennes and stir fry for a minute. Add the ginger garlic paste and mix well. Finally add the chicken juliennes and the chicken masala. Stir well and cover and cook for a few minutes. Remove the lid and add the chicken stock. Stir well and cook for a minute.  Add about 4 cups additional water and let it come to a boil. Add the crushed noodles and oats to the pan and let it cook for another 4 minutes. Close the stove and sprinkle chili flakes and black pepper on top for that extra spice while you relish this dish. Enjoy a healthy meal, having all needed.
Calorie chart for reference (based on approx values)  (meal for 2)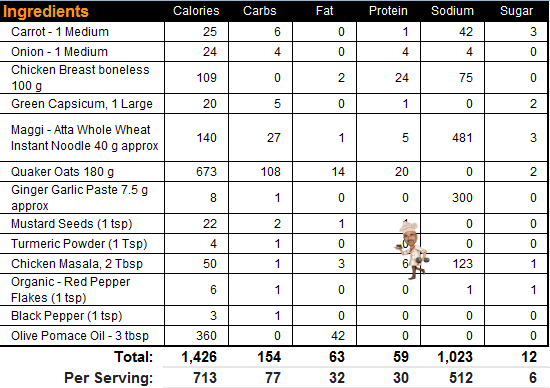 Food Nutrition:
1. On an average a healthy female body needs 650- 700 calories a meal (presuming 3 meals a day) and a healthy male body needs 750-800 calories per day.
2. As a certified food nutritionist, I recommend this combination of Oats with vegetables and chicken as a complete meal.
3. You can add some more Oats or chicken in case you want to increase the calorie count slightly.
4. Vegetarians can add some beans and broccoli instead of the chicken and enjoy the recipe.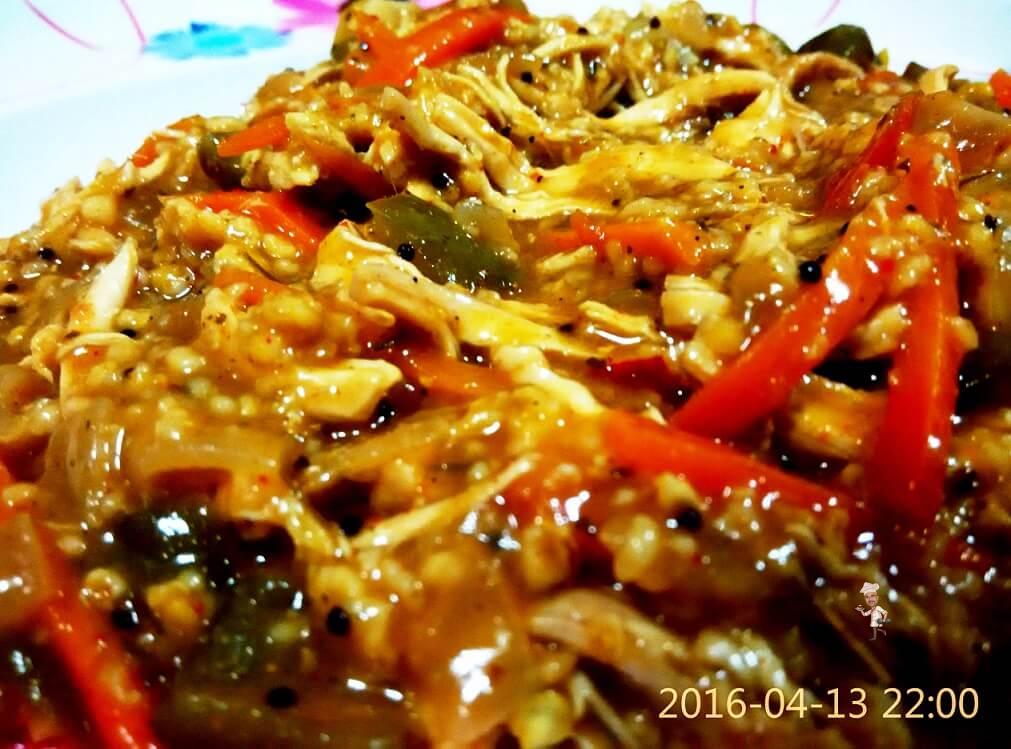 Enjoy your #QuakerBowl and share your #QuakerBowl experience with all.
U K
Copyright © Uttpal K
If you share this post, please give due credit to the author U K
Please DO NOT PLAGIARIZE. Please DO NOT Cut/Copy/Paste this post
© Uttpal K., all rights reserved.
Copyright Notice:No part of this Blog may be reproduced or utilized in any form or by any means, electronic or mechanical, including photocopying or by any information storage and retrieval system, without permission in writing from the Blog Author Uttpal K who holds the copyright.