We always want something sweet and pleasant to eat. The craving, the want for sweet is always there, be it a kid or an elderly person. Life in Metro has become so hectic and stressful that our sugar levels are high in normal conditions. So when it comes to eat sweet things, a person is always skeptical. What a person will prefer is a healthy dessert/sweet. A person will want something which is light and mouth melting. The same person will want to have a Tiramisu. He would prefer to have a healthy Tiramisu. So when I got my hands on the hamper given by DANONE, I was happy.  This hamper had Blueberry Greek yoghurt which would make a brilliant Tiramisu combo. The idea hit the chef in me and I got to work. I will call this the Blueberry Greek Tiramisu.
Let us first understand the ingredients and availability of it. The reason I am doing this to simplify the whole process. A person who has never entered the kitchen can also prepare this with little focus. All ingredients are available in the market. A whipping cream with butter fat content will allow it to be whipped in a nice whipped cream. The Jelly is also easily available in the market.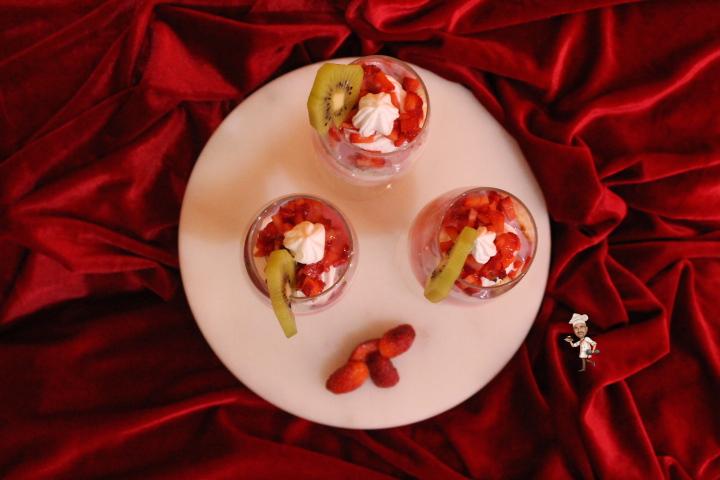 Ingredients for Blueberry Greek Tiramisu:
Vanilla Sponge cake (I made it, you can buy ready made from Market) –  250 gms
Strawberry Jelly  (I make my own jelly, but ready made is available in the Market) – 100 gms
Half Ripe Fresh Strawberry  (Available in market) 15-20 piece
Blueberry Greek Yoghurt   – 2 pack
Vanilla Yoghurt – 1 pack
Strawberry Yoghurt -1 pack
Whipped cream – 100 gms
Kiwi Fruit slices – Optional
Recipe Blueberry Greek Tiramisu:
Make sponge cake crumbs.
Take a wine glass/ Shot glass/ Tiramisu cup (whatever available)
First put cake crumbs. Then put a thin layer of  Strawberry yoghurt.
Add a layer of whipped cream on it.
Put a thin layer of vanilla Yoghurt on it.
Again add the sponge cake crumbs on top of this.
Add a thin layer of strawberry Jelly on it.
Then add Blueberry Yoghurt thick layer on it.
After that again add the whipped cream.
Top it up with fresh Strawberry or Blueberries. ( I used strawberries for a sweet taste with extra acid in it)
I used additional slices of Kiwi from Nutrition point of view.
Serve chilled. #SnackOnYoghurt is good at times.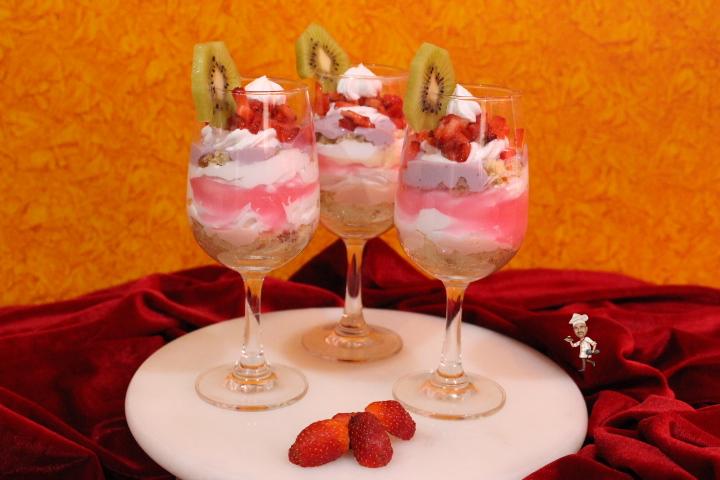 Tips: You can have any layer as per your wish. Remember to keep the Sponge cake quantity to 30-40% of the Tiramisu size. Since we have added so much sweetness from Vanilla yoghurt and the sponge cake itself, we chose Blueberry and strawberry. These are sweet with acidic taste and hence the little acidic bursts in the mouth while eating balance out the taste. Also DANONE Yoghurt are famous for their Nutritional value and hence can be used in healthy eating.
Uttpal K
Copyright © Uttpal K
If you share this post, please give due credit to the author Uttpal K
2. Please DO NOT PLAGIARIZE. Please DO NOT Cut/Copy/Paste this post
© Uttpal K., all rights reserved.
Copyright Notice: No part of this Blog can be reproduced or utilized in any form. This means electronic or mechanical including photocopying or by any information storage and retrieval system. Please take permission in writing from the Blog Author Uttpal K who holds the copyright.