The idea of using Mango Greek Yoghurt on a Chicken Drumstick? How does it sound? We can call it Greek Yoghurt Garlic Chicken. How does that sound. We Indians are used to eat chicken in the spicy form. Our exploring non-veg food (chicken per say here ) is not thought of. So the idea of a completely sweet chicken drumsticks is straightaway ruled out by family and friends when you discuss with them. Then you have to cleverly think of adding some spice quotient to the recipe ensuring that the idea of Yoghurt chicken stays intact. So lets #SnackOnYoghurt in a unique way.
Detailed recipe with Ingredients
Greek Yoghurt Garlic Chicken
Using Greek Yoghurt on a Drumstick was playing on my mind for a while. DanOne launched the new Mango Greek Yoghurt last week. The first thing which came to my mind was making the Greek Yoghurt Garlic Chicken. This requires some marination and plenty of precision since you are playing with lemon Zest. This is used to add Citrus flavor infusion to balance the sweetness of the Greek Yoghurt. So yes, It is a balancing act till the end. You would not want to end up with bitter tasting chicken with excess Citrus flavor.
4 Piece Chicken Drumsticks (Cleaned and washed)
2 Tbsp Fresh Lemon Juice (Use more if needed)
1 tsp Lemon zest (Fine shreds)
4 cloves garlic fine chopped/minced (If you are not comfortable, use 2-3 cloves)
1 Cup Mango Greek Yoghurt
3/4 Tbsp Salt (OR as needed)
1 Tbsp Black pepper fresh ground (OR as needed)
1 tsp Red chili flakes (Optional)
1 Tbsp Olive oil (For brushing) (Extra Virgin)
Make deep cuts 2-3 in the Drumsticks. Keep aside

In a small bowl, mix the lemon juice with the lemon zest. Add salt and pepper in the same and mix well. Let it rest for 2 mins.

Add the Garlic to this premix and put 3/4th cup yoghurt in it.

Stir well to make a paste. Apply this paste on the chicken and ensure it is applied all over including the cuts/slits.

Keep it in refrigerator for 8 hours/ Overnight.

Preheat an oven on 200 Degrees for 5 mins

Place a butter paper on the baking tray and place the drumsticks. Ensure that they are not dripping. Remove all excess marinade and keep aside.

Keep the Oven on 180 degrees and set the timer for 10 mins.

Apply the remaining marinade and turn sides. Brush some olive oil on it.

Keep at the same temperature for 10 mins. Remove.

Check on the basis of tenderness of the chicken and flip again if needed and brush some more oil. Keep for another 10 mins at the same temperature.

The reason for flipping every 10 mins is that the chicken will remain tender and juicy. Keeping it flat for 30 mins on one side makes it hard in spite of the yoghurt.

On a serving plate, use the remaining 1/4the Mango Greek Yoghurt to draw a pattern, keep it in a bowl if that's difficult.

Place the drumsticks on the platter and serve hot.
Please remember that the juiciness of the drumsticks will depend largely on the Marination time and the style of baking. keep flipping sides every 10 mins for best results.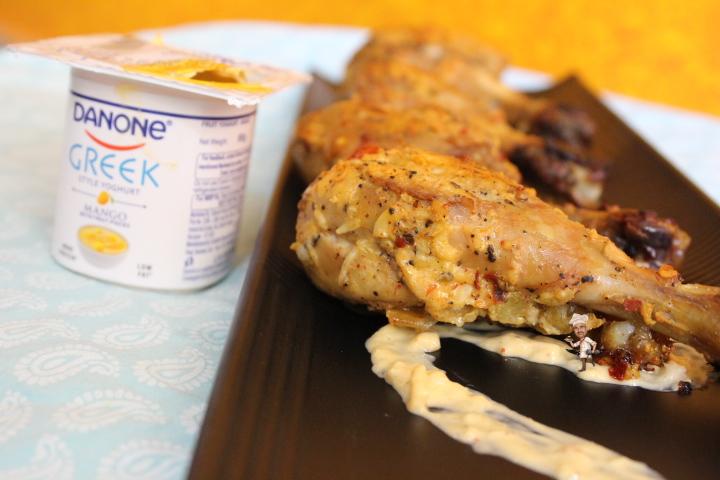 Uttpal K
Copyright © Uttpal K
If you share this post, please give due credit to the author Uttpal K
2. Please DO NOT PLAGIARIZE. Please DO NOT Cut/Copy/Paste this post
© Uttpal K., all rights reserved.
Copyright Notice: No part of this Blog can be reproduced or utilized in any form. This means electronic or mechanical including photocopying or by any information storage and retrieval system. Please take permission in writing from the Blog Author Uttpal K who holds the copyright.