The famous Vishwa Kamal Restaurant – Belapur started many years back and is a Landmark in Belapur near the station. It was once a highly crowded and popular joint for all office going, working and Belapur visiting crowd. Over the years, the focus of the restaurant shifted  to being a Bar and is more popularly known as a Bar rather than a Restaurant. Recently I had the opportunity to visit this place when some friends came over who were wanting to have a few quick drinks while passing Belapur. The Restaurant and Bar welcome you from 10am to 12 midnight.
Decor
The joint is on the ground floor of Vishwa Kamal needs a new look for sure. The whole place is now dimly lit and the ambiance is not so pleasant. The First floor too is in similar condition. We walked up to the AC room on a Saturday night and it was empty. We took a table which was the best amongst the available ones and the Table cloth had cigarette spark holes in it. Since smoking is allowed in there, the sparks are bound to fall on the cloth and spoil it. The management should remove such cloths and replace them with new ones. Overall the décor is not appealing except over exposure to light which is not needed.
Food
The food is not that great. We ordered a lot of starters along with the drinks. Veg Crispy and Veg Manchurian were a complete turn off. They were overcooked to the point of making them dry and hard. The use of corn flour was excess which made them actually hard to chew. We did not feel like having a meal after checking the starters. Maybe some other time I would have courage to check out the regular food.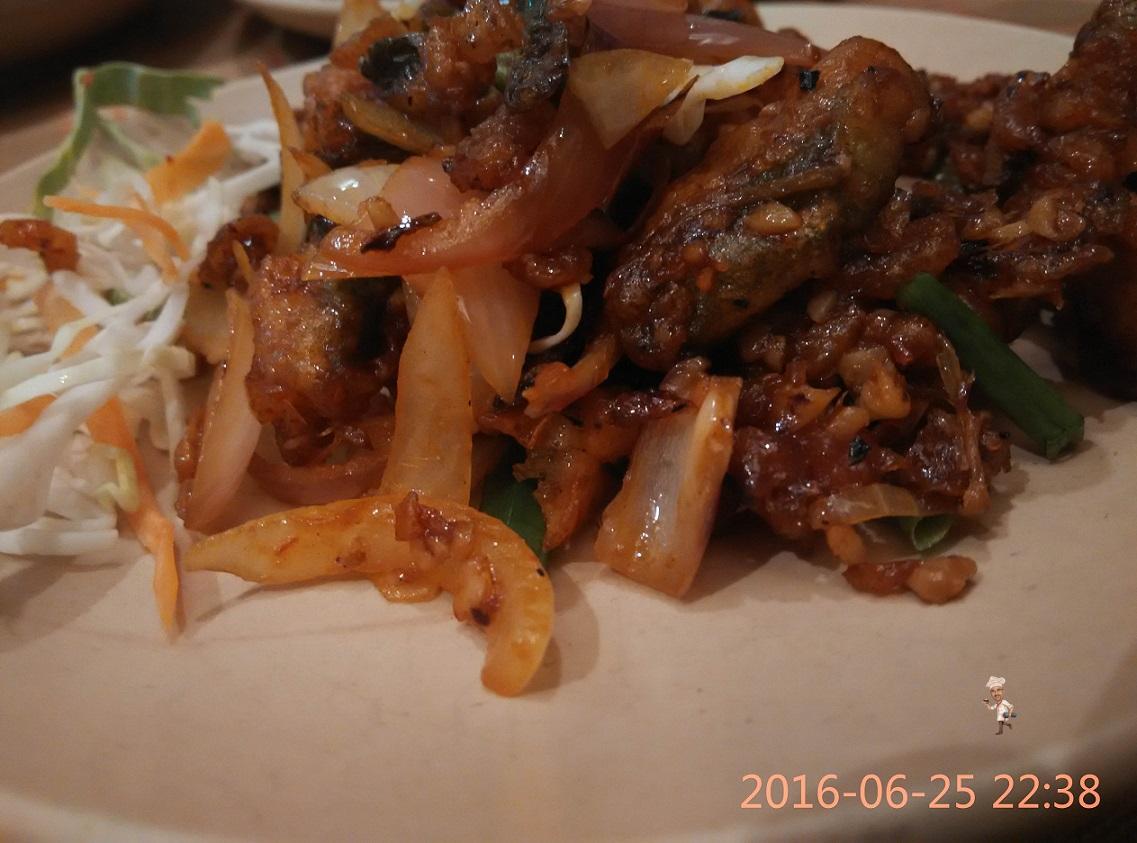 Plus and Minus
To start with the Plus, they are still surviving in an area like Belapur which has now become a business hub with plenty of other food joints and options for foodies like me.
The Minus are quite a few. The menu card presentation and the arrangement of cutlery and crockery has been left to the staff and no manager is bothered to look into it. The staff served and arranged the cutlery as per their mood while watching the LED screen and hence forgot to give me a spoon or fork even as the starters arrived. When I asked for one, the staff actually looked here and there to find one from another table to give it to me rather than apologizing for his mistake. The captain looked on as if he was from some other planet. The place, staff and the Manager came into action only when I called them all to my table and gave my Food blogger card and introduced myself. Suddenly they all became alert and served well till the end. The point is will good service and attention be given to only food bloggers out of the fear of getting negative ratings? Will normal customers have to wait for several minutes without proper response from the serving staff? Will the management take a note of this and improve the service and quality levels back to the old days?
Vishwa Kamal Restaurant & Bar: 31, Hemraj Building, Sector 11, Belapur Railway Station, CBD-Belapur, Navi Mumbai 410210.
Cuisines : North Indian, Chinese, Fast Food
Cost For 2: 600/-
Timings: 10.00 am to 12.00 midnight.
Ratings: Food 3.0 Service 2.0 Decor 3.0
Uttpal K
Copyright Uttpal K
If you share this post, please give due credit to the author Uttpal K
Please DO NOT PLAGIARIZE. Please DO NOT Cut/Copy/Paste this post
Uttpal K., all rights reserved.
Copyright Notice:No part of this Blog may be reproduced or utilized in any form or by any means, electronic or mechanical including photocopying or by any information storage and retrieval system, without permission in writing from the Blog Author Uttpal K who holds the copyright.