Cuisines of Rajasthan and the Royal Legacy
Rajasthan is the most vegetarian state in the country as 70% of the total population in the state prefer vegetarian food. The food culture of this royal state of India is highly influenced by war-like lifestyles of the Rajputs. The non-availability of fresh green vegetables and water has also influenced the dietary habits of the Rajasthanis. My travel routine those days has helped me know a lot about many states and their cuisines and construct this series.
Most of the Rajasthani cuisines are completely unique from what you find in other states of India. These cuisines are prepared by making use of the available ingredients of this dry region. You can find a lot of different dishes as the trademark of Rajasthan. These can last for several days and could be eaten without heating. Some of these popular dishes which are popular all over India are Bikaneri Bhujia, Mirchi Bada, and Pyaaj Ki Kachori.
Food Culture of Rajasthan
Although Rajasthan is the most vegetarian state of India, the lack of vegetables and war-like lifestyles has developed non-vegetarianism among Rajputs. Due to its arid condition, the region wasn't great for animal habitation. Hence, the people had to depend on the meat that was available.
Unlike the neighbouring state of Gujarat, Rajasthani cuisine is more inclined towards spicy dishes. They prefer the fine blend of spices that are hot and enhance the rich taste of every dish. This is also the reason why this state is also known for their variety of chutneys. Rajasthan is highly famous across the globe for its spicy variety of chutneys prepared from turmeric, garlic, mint, and coriander.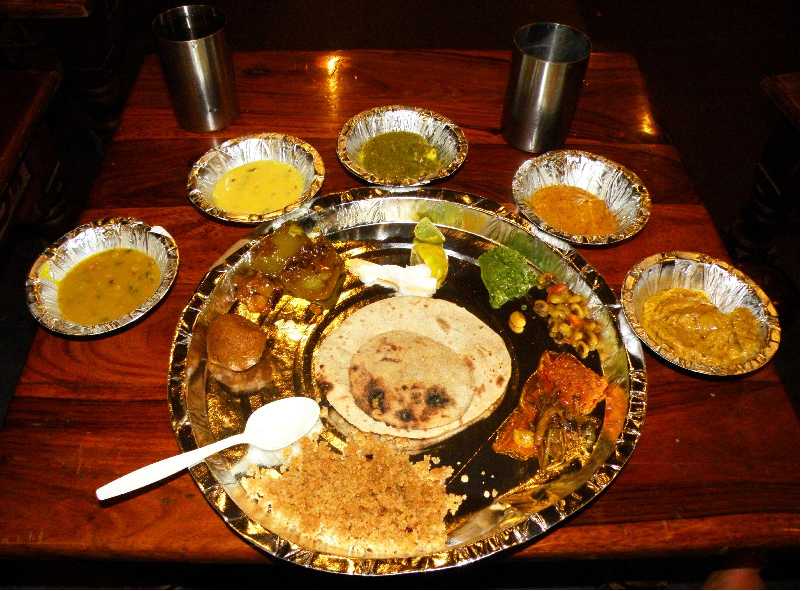 Being a region formed by combining different kingdoms of the pre-Independence era, every different city of Rajasthan has something pretty much unique and different to offer. Hence, you can find a lot of different cuisines from Rajasthan linked to a particular city.
Some of these famous dishes are:
Paniya and Gheriya from Mewar
Malpauas from Pushkar
Rassgollas from Bikaner
Mawa from Alwar
Kachori from Jodhpur
Bhujia from Bikaner
Today, these dishes have found worldwide fame. Although the roots remain in Rajasthan, the secret recipes for these dishes have today spread worldwide. Another such trademark Rajasthani food culture spread across the country is the concept of Marwari Bhojnalaya (restaurants). These restaurants serve vegetarian food of the Marwari people.
The most popular traditional dish of Rajasthan is Bajre ka Rotla (millet bread). It's a thick chapatti made by hands. It is often complimented with Garlic chutney and is considered to be the most authentic meal of Rajasthan.
Types of Popular Rajasthani Dishes
Rajasthani food offers a wide variety of cuisines ranging from exotic main dishes to delicious sweets which are well complemented by some spicy snacks.
Here's a list of appetizing food that you must try during your next visit to Rajasthan:
Vegetarian Dishes of Rajasthan:
Dal Bati Churma
Rajasthani food is incomplete without Dal Bati Churma. It is a perfect blend of round batis dipped in pure ghee, Panchkuti dal, and Churma. Try it once and you will long for more.
Gatte Ki Khichdi
Khichdi gets real in Rajasthan. Popularly known as Gatte Ki Khichdi, this exotic dish prepared with rice and soft besan dumplings. It serves as the best main dish when you are looking for something light and healthy. Blend it with some Rajasthani kadhi and you will treat yourself to some rich delicacies.
Ghevar
It's time for some Rajasthani sweet dish and the first name that comes to mind is Ghevar. It is prepared with flour, paneer, sugar syrup, and pure ghee. You can try different varieties of Ghevar such as Malai Ghevar, Plain Ghevar, and Mava Ghevar.
Non-Vegetarian Food of Rajasthan:
Laal Maas
Laal Maas is a mutton curry made with the sauce of curd. It has lots of hot spices such as red chillies. Garlic is also the main ingredient of this exotic non-vegetarian dish of Rajasthan.
Mohan Maas
Mohan Maas is a royal meat curry especially served to the Maharajas. This meat curry is cooked using dry fruits, milk, and a lot of cream for its rich and royal taste. To make it a bit more exotic and taste enhancements, this dish is garnished with cardamom and cinnamon.
Other foods:
This is the just the tip of Rajasthani cuisine. You can also find some shades of North Indian food in this royal Indian State among dishes like Besan ki Barfi or Mohanthaal, Boondi Raita, Badam Ka Halwa, Churma Ladoo, Gujia, Balushahi, Pyaj Ki Kachori, Mawa Kachori and more. The most important point to note here is that this region has not been influenced by the imported superfoods and other exotic vegetables in their recipes. All the recipes are still made with the local produce. Be it home kitchen or in restaurants, you will find the #maximallocalinfoodandmenuofferings all over. So what will you go in for when in Rajasthan? Do let me know in the comments section below.
This article is written as a part of #SuperBloggerChallenge2018 conducted by Healthwealthbridge.com, Fashionablefoodz.com & Allaboutthewoman.com and should not be repurposed, republished or used otherwise. The content herein is owned by the blogger. SuperBloggerChallenge2018 is not responsible for any kind of infringement caused.
Want to be there this week? What are you waiting for? Check our weekly topics for WEEK 3 and add your post link here

Uttpal K
Copyright © Uttpal K
If you share this post, please give due credit to the author Uttpal K
2. Please DO NOT PLAGIARIZE. Please DO NOT Cut/Copy/Paste this post
© Uttpal K., all rights reserved.
Copyright Notice: No part of this Blog may be reproduced or utilized in any form or by any means, electronic or mechanical including photocopying or by any information storage and retrieval system, without permission in writing from the Blog Author Uttpal K who holds the copyright.