Pretty much every woman wishes to have a clear skin. Imagine of not having any need to put corrector, concealer or layers of foundation on the skin just to get that even skin tone.  Most of us try any of the product in the market that promises us to give a flawless, glowing skin that we always wish for. While we take care of skin, keep it moisturized and use sunscreen religiously, one section that gets ignored is the food we eat. You might not realize that food you consume plays a considerable role in your skin complexion. There are several skincare smoothies you must try for glowing skin and healthy hair.
The is no such theory that foods can make you two to three times fairer but it will help make your skin soft and acne free. Certain foods contain antioxidants, minerals, and vitamins that play a vital role in clearing the skin if consumed in right way. So, instead of giving you list of foods to munch on, there are some delicious recipes of  skincare smoothies for glowing skin and hair.
Best Detox Skincare Smoothies for Glowing Skin and Hair
The real beauty shines from within. You need to nurture your skin and the body with the right nutrients and help it glow and revitalize from within to maintain the healthy texture.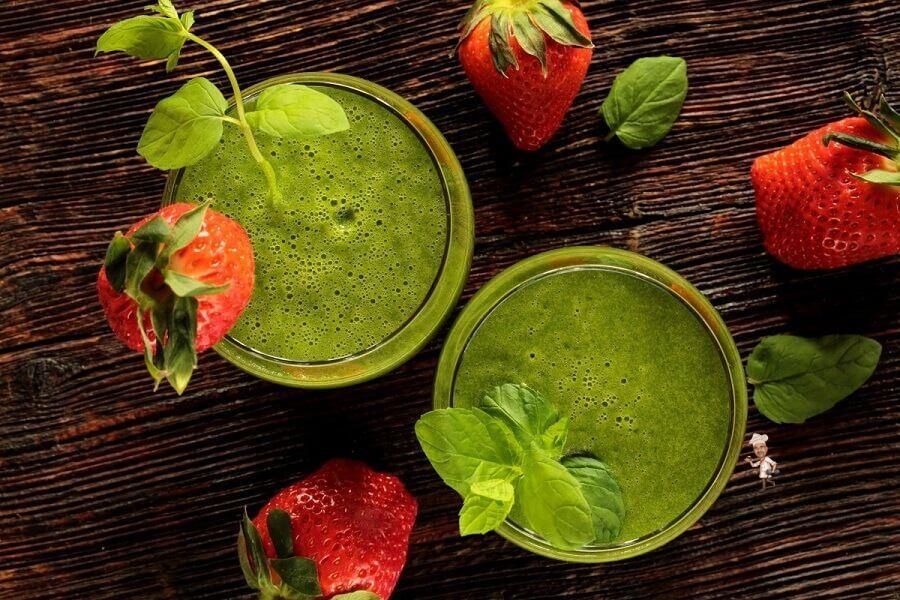 Here are some healthy skincare smoothies for glowing skin and hair. Yes, it doesn't simply help you achieve a glowing skin but also strengthens your hair making them shiny and bouncy.
Without a further ado let's check out these best skincare smoothies for clear skin.
Clear Skin Smoothie:
Instead of applying a different set of creams everyday opt for the best smoothie for clear skin to achieve that. We have a green smoothie that will clear out dark spot giving you even skin tone. The main ingredient of clear skin smoothie is Avocado that improves dull complexion by building new skin cell membranes. It also contains spinach that has Vitamin K for clearing the spots.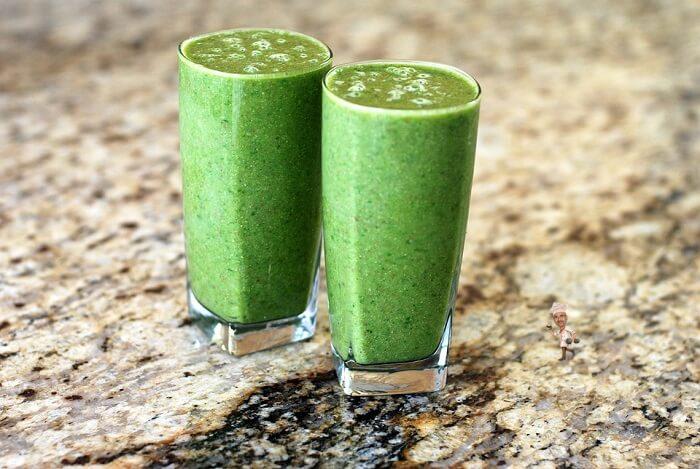 Ingredients for Smoothie:
1 cup Fresh Coconut Water
1/2 Avocado Pulp
1/2 cup Fresh Blueberries
Handful of Spinach Leaves
1/2 teaspoon Spirulina Powder
Blend everything to make a healthy smoothie to get clear skin.
Glowing Skin Smoothie:
No matter how much makeup you apply, a dull skin won't appeal to the eyes. Instead of using chemical based products, you can always try consuming foods that give natural glow from inside. This is why we have picked the most effective recipe among the smoothies for glowing skin and hair. It contains antioxidants, Vitamin A, B, C, E and K with natural sweetness. Nothing is more delicious than having a smoothie that soothes taste buds, quench thirst and has compounds to work a miracle on the skin.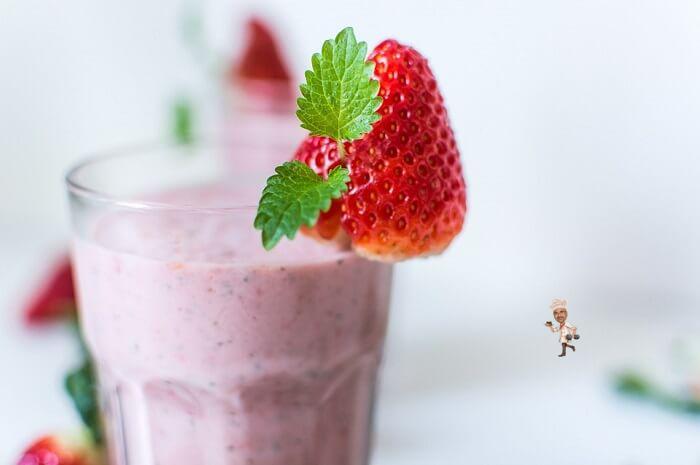 Ingredients for Smoothie:
1 cup Coconut Water
1 cup Fresh Strawberries
1 cup Carrots
1 cup Fresh Mango Cubes
1 Orange Pealed
Mix everything in a juicer and enjoy this chilled drink to hydrate your skin.
Detox Probiotic Smoothie:
The gut is an essential part of our body. Be it purification of blood or throwing the waste out of the system, each section is linked to the gut. If you have an acne problem, maybe it is related to an unhealthy gut. The name might be complicated, but this is the most straightforward smoothie you can make at home every day to strengthen the gut system. This smoothie contains yogurt that is full of probiotics to give you healthy gut. Pineapple includes compounds that stimulate collagen making skin tighter while mango cleanses the system putting a stop to unwanted breakouts. Overall this smoothie is most exceptional in the smoothies for acne-prone skin.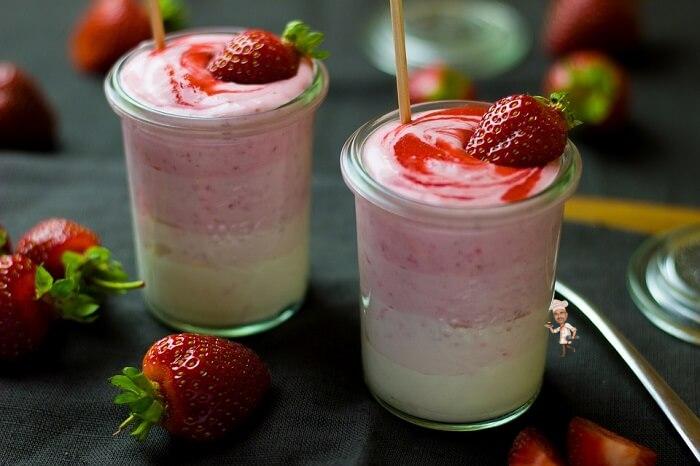 Ingredients for smoothie
1 Cup Low Fat Yogurt
1 Cup Fresh Strawberries
1 1/2 Cup Fresh Mango
1 Cup Pineapple
Mix all the ingredients in a blender and blend unit you get a smooth, creamy paste. This smoothie is also good when you are hungry.
Beauty Enhancer Smoothie:
The biggest beauty concern among men and women is the uneven skin tone. This happens due to overproduction of melanin, a pigment responsible for skin color. Vitamin c is proven to be effective in treating hyperpigmentation, so we bring you a beauty enhancer smoothie that contains a high amount of vitamin C and fiber. This smoothie includes strawberries, blueberries, and orange that have antioxidants that stop premature aging and repairs the skin damage.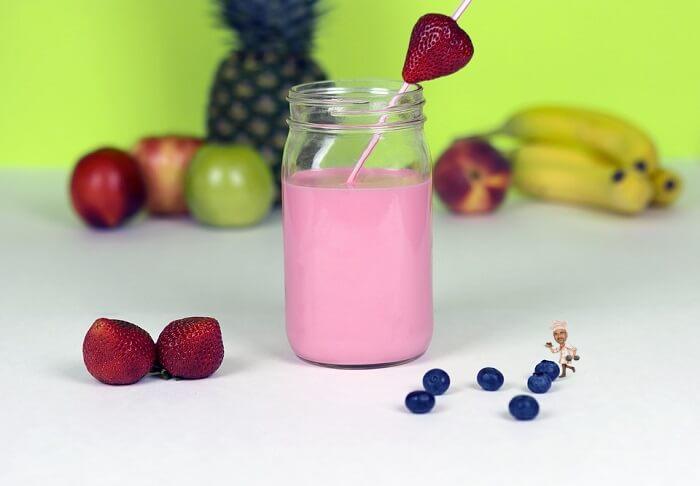 Ingredients for Smoothie:
1/2 Cup Fat-Free Plain Yogurt
1/4 Cup Fresh Strawberries
1/2 Cup Blueberries
1 Peeled Orange
1 Banana
1/2 Cup Silk Tofu
2 Tablespoon Chia Seeds
Combine all the ingredients in a blender and mix until you have a slurry texture. If you find the smoothie too sour, add one teaspoon of organic honey to get a perfect balance.
Food for Thought:
Get cleanup and facials on a monthly basis will help you maintain the skin but you also need to cleanse the body from inside. We do live a stressful life, and with wrong eating habits, everything gets visible on the skin. If you are facing acne problem, treat your skin with the best product but also go for skincare smoothies for acne-prone skin.
This will balance out the oil secretion and put a stop to sebum growth. Ingredients like cucumber, papaya, banana, blueberries, mango, orange, and coconut contain vitamins that purify the blood, boost skin cell regeneration and cleanse the system. Not only good for your skin, but these skincare smoothies will also aid in weight loss.