Jaggery Wheat Tortilla – History
After winter, the transition of Sun into Zodiac sign Makara (Capricorn) is celebrated with this festival called Makar Sankranti. Almost every year this falls on 14th January as per the English calendar. This is celebrated as Makara Sankranthi in Karnataka, Thai Pongal in Tamil Nadu, Uttarayan in Gujarat, Magh Bihu in Assam, Poush Sangranti in West Bengal, Shishur Saenkraat in Kashmir, Maghi in Punjab, Himachal And Haryana and Makar Sankarnti in other states. Maharashtra celebrates this festival with sweets. One of them is the Tilgul poli or the Gul poli which means Jaggery Wheat Tortilla. This is served to neighbors and friends with the customary salutation, "Tilgul ghya,  goad goad bola", which means "Accept this sweet and be friendly." It is a wheat-based flat bread filled with sesame seeds and Jaggery. Today we will check out the recipe for the Jaggery wheat Tortilla.
The Ingredients and Recipe
Jaggery Wheat Tortilla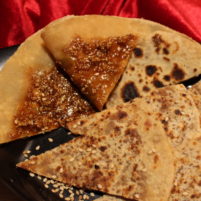 An easy Festival recipe which should take max 40 mins to prepare.
500 gms Jaggery
1/2 Cup Poppy Seeds
1/2 Cup White Sesame
5 cloves Cardamom
1 Tbsp Dry Grated coconut
2 1/2 Tbsp Gram Flour
2 Cup Wheat Flour
2 1/2 Tbsp Gram Flour
1 Cup All Purpose Flour
Ghee as needed
Oil as required
Mix Wheat flour, All purpose flour and Gram flour together.

Add some oil as per need to make a soft Dough ball.

Keep aside.

Grate yellow Jaggery.

Roast the Sesame seeds, Poppy seeds and coconut powder a bit and then grind it.

Fry the remaining gram flour in some Ghee.

Fry well till you get a nice color to the flour and add the cardamom powder.

Mix the flavored gram flour in the Jaggery mix and keep aside.

Make small thick round, flat breads from the dough ball of about 3 inch diameter.

Keep a single sheet of the bread and put a small ball of the Jaggery mix in the center of it.

Put another sheet on top and seal from all sides by gently pressing it.

Roll it to make a tortilla.

Heat a pan and place a Tortilla on it.

Flip it once the side visible to you shows puffing.

Flip it to make the other side puff a bit too.

Max time to heat a side should be 30 seconds to ensure even cooking.
The Jaggery Wheat Tortilla tastes best when cold. Give enough cooling period to this dish before consuming.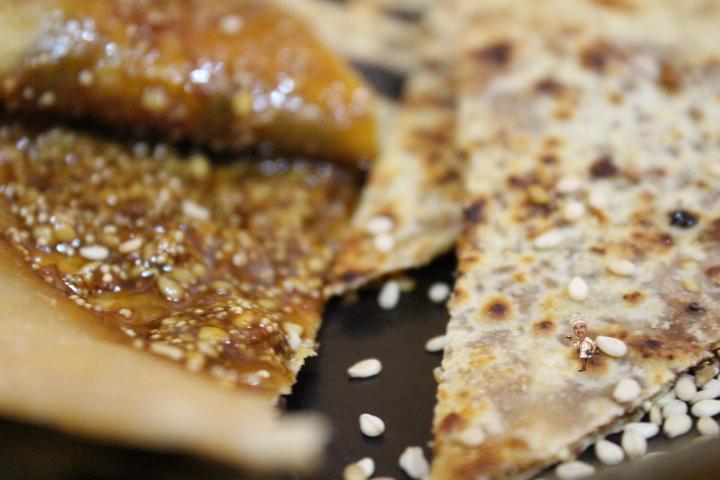 Uttpal K
Copyright © Uttpal K
If you share this post, please give due credit to the author Uttpal K
2. Please DO NOT PLAGIARIZE. Please DO NOT Cut/Copy/Paste this post
© Uttpal K., all rights reserved.
Copyright Notice: No part of this Blog can be reproduced or utilized in any form. This means electronic or mechanical including photocopying or by any information storage and retrieval system. Please take permission in writing from the Blog Author Uttpal K who holds the copyright.