Dehydration
Up to a whopping 60% of the adult human body is water. Water always helps a human body stay hydrated and alive. Since summer here, the thermometer shows a rise every single day. One needs to keep him/her hydrated all the time. Dehydration could lead to diarrhoea, vomiting, low blood pressure, increased heart rate and unconsciousness. This could lead to many other medical issues. It is up to us to keep ourselves hydrated in this scorching heat.
Looking at this hot season ahead, we should look at making plain water drinking exercise more enjoyable and healthy. How do we do that? We do that by drinking Infused water.
What is Infused water?
Infused water involves a process. The extraction of chemical compounds or flavours from plant/herbs or fruit material is done to make Infused water. This is generally done by suspending the plant material in water for a specific period of time.
Is Infused water good for Humans?
There is a high antioxidant content in fruit infused water. This cleanses the body and helps eliminate toxins faster. Infused water also keeps us hydrated. It also helps remove waste from our system. If we drink Infused water regularly, we build a stronger immune system. We will definitely have a healthy human body.
What is the shelf life of a prepared fruit infused water?
Any Infused drink will taste best after allowing it to stand for some time. Ideally, overnight Infused drinks taste the best. It also depends on what fruits or herbs you have used. It is also advisable to refrigerate the Infused drink to increase its shelf life.
How to make infused water?
Sugary or aerated drinks aren't good for us because. In fact, they can actually leave us more dehydrated. You can infuse water with herbs, edible flowers, fruits, spice and even vegetables. It is all about being creative and getting the right combination. You can try with smaller quantities before making it your recipe. Wash your ingredients well. You can use the fruits or vegetables in peeled or unpeeled state. Try using organic stuff if possible. Don't use over-ripe, or herbs that don't look fresh. Add all the ingredients like fruits or whatever you use, into a bottle of cool water. Use thin slices if you want the flavours to infuse quickly.
Allow the water to stand for a few hours so as to allow the flavours to infuse. If this is done overnight, the water will be more flavourful. Some fruits infuse faster than others. Citrus infuses faster than herbs.
Types of popular Combinations:
Blueberry Lemon Mint is my personal favourite. Infuse overnight for best results, the keep refrigerated and finish in 3 days.
Pineapple cucumber mint or Lemon cucumber mint is one more popular combination. You can UP the Lemon or pineapple component as per your taste. Overnight Infusion will give you a pleasant drink for 3 days if refrigerated. Great detox recipe.
Mango Pineapple Min with a slice of a firm and ripe mango, few slices of pineapple and a handful of fresh mint. Infuse minimum 4 hours for best results with refrigeration post Infusion.
Over to you, Friends
I am sure you will be able to create and re-create many more such recipes this summer. Let us fight dehydration. Let us all become healthier and detox ourselves. Start drinking Infused water. Do let me know your favourites and your combos in the comments below.
This article is written as a part of #SuperBloggerChallenge2018 conducted by Healthwealthbridge.com, Fashionablefoodz.com & Allaboutthewoman.com and should not be repurposed, republished or used otherwise. The content herein is owned by the blogger. SuperBloggerChallenge2018 is not responsible for any kind of infringement caused.
The TOP READERS for Week 3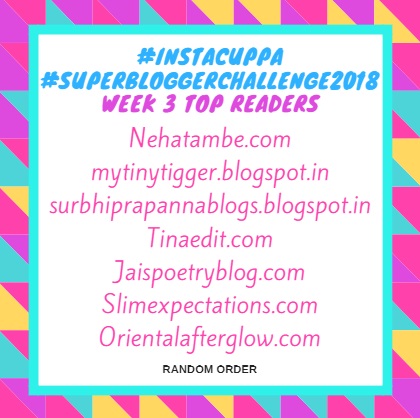 Check out the previous Hall of Fame to get motivates.
Want to be there this week? What are you waiting for?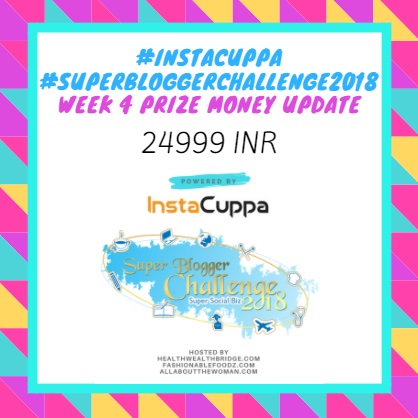 Check our weekly topics for WEEK 4 and add your post link here:

Uttpal K
Copyright © Uttpal K
If you share this post, please give due credit to the author Uttpal K
2. Please DO NOT PLAGIARIZE. Please DO NOT Cut/Copy/Paste this post
© Uttpal K., all rights reserved.
Copyright Notice: No part of this Blog may be reproduced or utilized in any form or by any means, electronic or mechanical including photocopying or by any information storage and retrieval system, without permission in writing from the Blog Author Uttpal K who holds the copyright.