Children are susceptible to both good and bad learning. It is a known fact that their home is their first school. So the parents become their first teacher. The primal activity that parents must engage themselves is to educate Children. 
Now what is a good touch? Good touch is felt when the child feels good about being touched. The examples for this can be when the child is hugged by his or her mother, it is also when the child for example gives a hi five to his or her friends. Now let us find out what is a bad touch? A bad touch is when one feels uncomfortable when someone is touching you. For example when someone other than your parents or doctor influences the child to undress or touches the child's  private parts without the child's consent. What are private parts, there are four sensitive parts of the body that are sensitive and are considered private. These include, "the mouth", "the chest area", "the part between the legs" and "the buttocks region"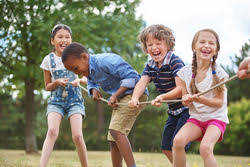 Educate them
Children are to be educated by parents and teachers, that nobody should touch these parts of their body except when the mother touches them while caring and a doctor can touch them while treatment and that too in the presence of their parents. The child should also be educated that, the child should inform their parents or anyone including their teachers about such, "bad touch" even if they know the miscreant.
Here are some good touches and bad touches:
Firstly, "good touch"
When the child's parents or grandparents touch the child with love.
When the teacher touches the child to appreciate the child.
When a friend touches the child to call him or her.
Secondly, "Bad touch"
When anybody pulls the child that pains the child.
When somebody manhandles the child while playing.
When a stranger offers to take the child to an unknown location.
A parent or a guardian or a teacher should be very careful, not to let the child talk to strangers. They should educate children. They should educate him or her about the dangers and repercussions they may have to face if the stranger, the child is talking to is a bad person. Thus, understanding the child;s feelings is very important. The stranger may be luring the child with something that the child does not have or something that the child has been asking the parents for and has not got. The stranger might be having evil intentions like, "molestation!"
So a parent should always educate the child about what is a good touch and what is it good for and what is a bad touch and what are the ill effects of a bad touch. 
Utpal Khot
Copyright © Utpal K
1. If you share this post, please give due credit to the author Utpal Khot
2. Please DO NOT PLAGIARIZE. Please DO NOT Cut/Copy/Paste this post
© Utpal K., all rights reserved.
Copyright Notice: No part of this Blog may be reproduced or utilized in any form or by any means, electronic or mechanical including photocopying or by any information storage and retrieval system, without permission in writing from the Blog Author Utpal Khot who holds the copyright