Eid, the joyous festival that marks the end of Ramadan, is a time for celebration, reflection, and dressing in your finest attire. As we step into Eid 2023, let's explore the fashion trends that are making waves in both the Gulf and India for both men and women.
Eid Fashion Trends for Women
Rich Jewel Tones:
In 2023, bold and vibrant jewel tones are the talk of the town. Deep emeralds, regal purples, and royal blues are taking center stage. These colors not only exude elegance but also add a touch of opulence to your Eid ensemble. Look for dresses, abayas, or sarees in these hues to make a statement.
Embroidery and Zari Work:
Detailed embroidery and intricate zari work are timeless elements of Eid fashion. This year, they are making a comeback in a big way. From delicate floral motifs to intricate geometric patterns, outfits adorned with these embellishments are stealing the show. Pair an embroidered kurta with palazzos or a zari-worked saree for a traditional yet trendy look.
Abayas with a Modern Twist:
In the Gulf, abayas continue to be a fashion staple. However, designers are adding modern elements to traditional designs. Look for abayas with unique cuts, asymmetrical hems, and statement sleeves. These contemporary twists breathe new life into this classic garment.
Sustainable Fashion:
Sustainability is a growing trend in fashion, and Eid attire is no exception. Many designers in India and the Gulf are incorporating sustainable fabrics like organic cotton and eco-friendly dyes into their collections. Opt for brands that prioritize sustainability to make a fashionable and eco-conscious choice.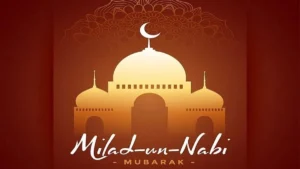 Eid Fashion Trends for Men
Tailored Suits with a Twist:
For Eid 2023, tailored suits are getting a makeover. Expect to see suits in unconventional colors like dusty pink, olive green, and maroon. These unique shades add a fresh perspective to classic menswear. Pair them with a crisp white shirt and minimal accessories for a sophisticated look.
Nehru Jackets:
The Nehru jacket, a staple of Indian menswear, is experiencing a resurgence. This sleeveless jacket can be worn over kurtas, shirts, or even t-shirts for a versatile and stylish ensemble. Opt for embroidered or silk Nehru jackets to elevate your Eid look.
Sherwanis with Contemporary Elements:
Sherwanis are a traditional choice for Eid celebrations in India. In 2023, designers are incorporating contemporary elements like slim-fit cuts and unique textures. Accessorize with a stylish turban and matching mojris to complete the look.
Gulf vs. Indian Eid Fashion Trends
While there are some shared trends between the Gulf and India, there are also distinct differences that reflect the cultural diversity of these regions.
Gulf Fashion Embraces Abayas:
In the Gulf, abayas and kaftans remain an integral part of Eid fashion. These flowing, modest garments are often embellished with intricate embroidery, beading, or sequins. They are paired with elegant hijabs and statement accessories to create a striking look.
Indian Fashion Celebrates Diversity:
India's fashion scene for Eid is incredibly diverse, reflecting the country's rich cultural tapestry. From the colorful silk sarees of South India to the heavily embroidered lehengas of North India, there's a wide array of choices. Indian men also have a variety of options, from traditional kurtas to fusion wear.
In conclusion, Eid 2023 promises a delightful fusion of tradition and contemporary style. Whether you're in the Gulf or India, you have the opportunity to embrace these fashion trends and make your Eid celebrations even more special. Whether you opt for rich jewel tones, intricate embroidery, or a sustainable twist, let your fashion choices reflect your festive spirit this Eid.
Utpal Khot
Copyright © Utpal K
1. If you share this post, please give due credit to the author Utpal Khot
2. Please DO NOT PLAGIARIZE. Please DO NOT Cut/Copy/Paste this post
© Utpal K., all rights reserved.
Copyright Notice: No part of this Blog may be reproduced or utilized in any form or by any means, electronic or mechanical including photocopying or by any information storage and retrieval system, without permission in writing from the Blog Author Utpal Khot who holds the copyright.