Reduce Belly Fat
No matter how lean and fit you are, if there's even an inch or two fat under your belly, it becomes a huge concern. Having a flat tummy is the primary goal for most fitness enthusiasts, especially girls and it is also considered the most difficult shape to achieve.
Well, with proper planning and workout schedule, you can easily achieve a flat tummy but it can be achieved faster if you follow these simple home remedies.
(Source: https://cdn.pixabay.com/photo/2010/12/13/10/08/belly-2354_960_720.jpg)
Natural Methods to Reduce Belly Fat
While you can get the desired shape by spending hours in the gym, a few natural habits can be helpful in tightening the core and reducing that belly fat.
Try out these simple home remedies that can actually help get rid of the extra layers of fat under your belly.
Start your day with Lemon and Honey
(Source: https://cdn.pixabay.com/photo/2013/03/08/14/19/lemon-91537_960_720.jpg)
Good metabolism rate is the key to stop the accumulation of unhealthy fat in the body. Well, starting your day with some warm water mixed with lemon juice and honey can boost your metabolism rate for the day.
Avoid sugary foods totally
Sugary foods have no nutritional value. They are simply empty carbs that get piled up in the body resulting in unnecessary fat and cholesterol. It is in your best interest to stay away from sugary foods.
Drink 8 to 10 glasses of water every day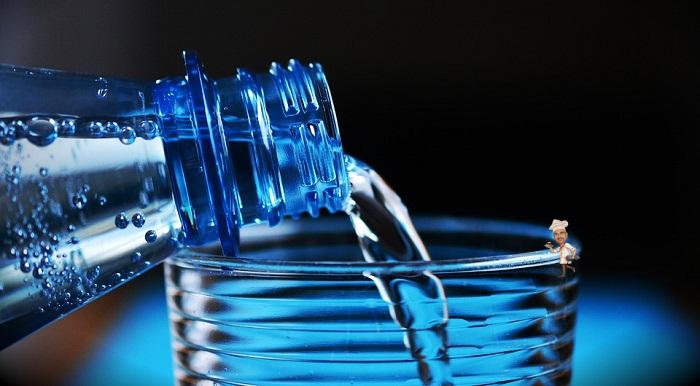 Drinking a good amount of water every day keeps your body hydrated and full all the time. It can eliminate the irregular hunger cravings and keeps you from snacking unnecessarily all the time.
Stop eating refined white rice
If you are a rice person, then it's time to quit the habit. Replace it with whole wheat based products such as brown bread or try oats and quinoa for a change. These are healthy alternatives to rice and could help reduce the belly fat quite naturally. You can also go for brown rice if you can't ditch your favourite food.
Add a lot of fruits and veggies in your diet
(Source: https://upload.wikimedia.org/wikipedia/commons/1/13/Fresh_cut_fruits_and_vegetables.jpg)
Often times, we rely a lot on grains and pulses but least on fruits and vegetables. It's important to include a lot of fruits and vegetables in your diet as these healthy foods are the essential source of vitamins, minerals, and fibre. It is recommended to go for salads if you feel hunger cravings in between meals.
Stay away from non-vegetarian dishes
Unless and until, you are bodybuilding, stay away from non-vegetarian dishes. Non-veg dishes contain a lot of protein. This helps in muscle building but it also contains a lot of calories. These act as fuel during workouts. If you are looking for a lean and trim figure, we would recommend staying away from non-vegetarian dishes for a while and see the results for yourself.
Add a lot of healthy herbs and spices in your cooking
Herbs and spices can offer that necessary punch to your dish. Adding them won't just enhance the flavour but also improve the health factor of your dish. Spices and herbs are also considered great fat burning foods. Adding them in your regular cooking will easily help reduce the belly fat.
That's it.
These simple home remedies will only work if you lead a healthy lifestyle. Dieting or cutting down on healthy food to an extreme level can only make things worse. Also, add regular workouts in your daily routine for effective results.
Uttpal K
Copyright © Uttpal K
If you share this post, please give due credit to the author Uttpal K
2. Please DO NOT PLAGIARIZE. Please DO NOT Cut/Copy/Paste this post
© Uttpal K., all rights reserved.
Copyright Notice: No part of this Blog can be reproduced or utilized in any form. This means electronic or mechanical including photocopying or by any information storage and retrieval system. Please take permission in writing from the Blog Author Uttpal K who holds the copyright.
I am taking My Alexa rank to the next level with Blogchatter. #MyFriendAlexa