Mental Health
Many times, we overlook nutrition when it comes to our Mental Health. What you don't understand that food you choose to eat will have an impact on body and mind. Neglecting a nutritious diet can result in having heart disease or diabetes, but you will also find the brain working slower. Foods hold the power that can make you behave dumb, give rise to anxiety and depression.
It is imperative to know about this complicated connection between diet and mental illness. With so many cases of depression surfacing these days, it's time to stop consuming junk food and include food for mental health to fight all types of psychological disorder. Most of the experts believe that instead of taking supplements if nutrients like mineral, vitamins, omega three fatty acids and amino acids get included in the daily diet, it will help boost brain activity making you happier naturally.
So, to start your day with better mood is by incorporating healthy brain foods in your diet:
Top Foods for Mental Health Wellness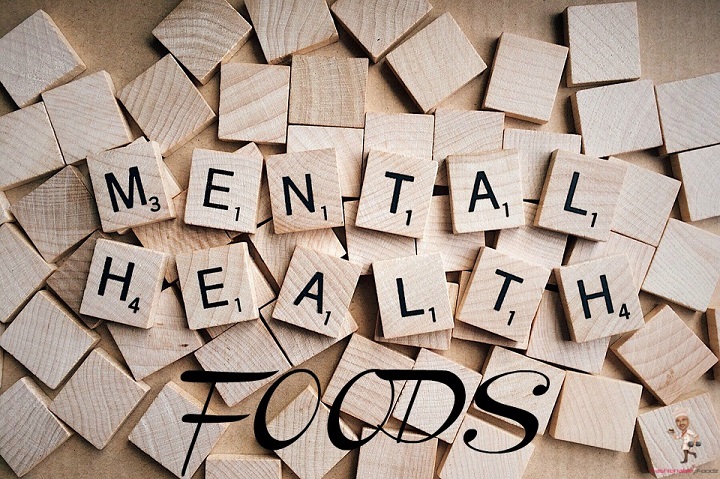 Spinach:
This dark green leafy vegetable is filled with nutrients and power that even Popeye ate it when in trouble. Rich in iron, magnesium, potassium, calcium, and folate, a bowl of spinach can do wonders on the brain and digestive system. Many people don't know that this leafy green also has some omega 3 and omega six ratios in it. One can use it in a salad, make soup, add in vegetable dishes or just make a smoothie to have your daily brain booster fill.
Broccoli:
Another green veggie that is good for mental health is Broccoli that is high in folate, potassium and Vitamin C. With lots of fiber in it, it keeps the gut and thinking clean.
Eggs:
Next, on the nutrition mental health food list comes eggs. Easy to make, eggs can be consumed every day to make your brain smarter. Eggs are an excellent source of Vitamin D, Vitamin B12 and Omega 3's.  Buy the eggs from pasture-raised chickens which are nutritious.
Yogurt:
Fermented foods have a good number of probiotic bacteria that break down nutrients for easy absorption. Yogurt is the best-cultured food that improves digestion and improves the ability to think clearly. You can go for different types of Greek Yogurt every day which are high in protein, have live cultures, contains potassium, and Vitamin B12 Gobble down a cup, add into fruit bowl or make a smoothie, yogurt should be consumed every day to achieve healthy brain.
Berries:
This small fruit is an excellent source of Vitamin C, potassium, fiber, digestive enzymes and powerful antioxidants. You can include blueberries, strawberries, blackberries, and raspberries in the daily diet. Eat it raw, mix in cereals, yogurt or make an antioxidant smoothie to kick-start your day.
Oysters:
Zinc is an important nutrient for mental health, and the best source of food is oysters. Once can consume 4 ounces of cooked oyster to fill your daily zinc requirement. Apart from this oysters are also an excellent source of Vitamin B12, magnesium and calcium.
Bananas:
Ever feeling low because of life struggles then enhance the mood with a ripe banana.  A compound Tryptophan found is banana will help regulate sleep and control hunger, both associated with emotions. Apart from this, you also get potassium, vitamin B 6 and fiber that support good health.
Lentils:
Serotonin is a type of brain neurotransmitter which tells your brain to be happy. Lentils contain B vitamin folate which aids in a product this happy hormone in the body. If you feel lethargic or low on energy, try consuming lentils which will cause blood sugar to upsurge at a gradual rate.
Sweet potato:
A healthy alternative to its cousin Potato, this vegetable is rich in antioxidant beta-carotene which reduces the damage of brain cells. Consuming sweet potato will help reduce oxidative stress from DNA that can lead to anxiety, schizophrenia, and depression.
Diet Tips on Food for Mental Health:
We do live a life that is ruled by stress and anxiety. Wrong Diet and mental illness are very much related which are now proven by the ongoing researches. It's not easy to just start consuming all the food for mental health wellness. Instead of going for a full-fledged kitchen cupboards makeover, try taking baby steps. Shop for your favorite fresh fruits, vegetables, and nuts. Search for healthy recipes that require less ingredient and cooks fast.
Instead of quitting everything, try to reduce the consumption of process food, so you don't have a craving for it. Consult the doctor for your health problems and get blood tested for your Iron, Hemoglobin, Vitamin and Sugar levels. Also, being happy is not a task but a necessity of your mind and body. Engage in an activity that makes you feel good about yourself. Remember a happy brain is the most critical step for a healthy body.
#SuperBloggerChallenge2018 #Instacuppa
Note:
This article is written as a part of #SuperBloggerChallenge2018 conducted by Fashionablefoodz.com, Healthwealthbridge.com, Allaboutthewoman.com and should not be repurposed, republished or used otherwise. The content herein is owned by the blogger. SuperBloggerChallenge2018 is not responsible for any kind of infringement caused.
Uttpal K
Copyright © Uttpal K
If you share this post, please give due credit to the author Uttpal K
2. Please DO NOT PLAGIARIZE. Please DO NOT Cut/Copy/Paste this post
© Uttpal K., all rights reserved.
Copyright Notice: No part of this Blog may be reproduced or utilized in any form or by any means, electronic or mechanical including photocopying or by any information storage and retrieval system, without permission in writing from the Blog Author Uttpal K who holds the copyright.