If you love your pet dog, you want to treat them as best you can. There are different options for owning a dog, depending on the kind of lifestyle you want. In the world that we live in at present, most people choose to own dogs indoors. It is excellent, but finding the suitable toys the dogs like and are safe to play with can be challenging. Choosing eco-friendly toys for dogs is an intelligent thing to do, and now we'll show you why.
Benefits of buying eco-friendly toys for your pup.
Non-toxic: Choosing eco-friendly toys indeed has a positive impact on the environment. But, these toys are also great for your pup's health. As a dog owner, you want them to live long and healthy lives. Choosing eco-friendly toys is the way to go. 
No plastic fillers: Soft toys are generally filled with plastic-based fillers. Knowing your pup, they go berserk when they see their favorite plushie. During these shenanigans, it is possible that the stuffing can go inside the dog's mouth. It should be avoided at every cost, as it is not good for their health. Eco-friendly toys do not have plastic-based fillers, which is a great sign. 
Sustainable: No one likes to let go of their favorite toys, yes, not even your pup for sure. The eco-friendly toys might come at a high price for once, but they are durable and show the worth of every penny spent. Plastic toys not only impact the environment, but they are also not very durable, especially if they are cheap quality plastic toys.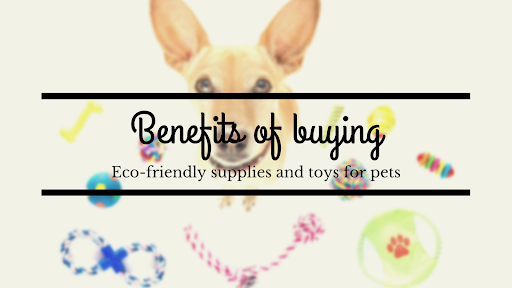 Safe to chew: Dogs are just as curious beings as toddlers, and everything goes right into their mouths. Toys are what they play with, and chewing is part of playing for them. But with the help of eco-friendly ways of manufacturing these toys, they are safe for the pooch. 
No dyes: Dyes are toxic and are generally used while manufacturing toys. But when it comes to environment-friendly toys, there is no usage of toxic chemicals or dyes. These dyes can cause skin irritation and, of course, bad health when the pup chews the object. 
How to find the best environment-friendly toys?
If you have an eco-friendly mindset, or just like living your everyday life green, then here are some choices that will help you choose the best toys for your pet and still be green!
The toys should be recyclable. 
The material used in toys must be biodegradable. 
The fiber used for the toys must not lead to pollution. 
Toys should be sustainable and safe.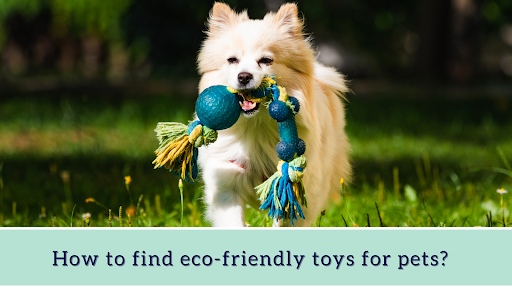 Conclusion: Eco-friendly toys are a big "YAY" indeed. But if you already have toys that are not eco-friendly, discarding them out in the environment will not serve the purpose. Instead, try to donate those toys, so they don't go to waste.
Utpal Khot
Copyright © Utpal K
1. If you share this post, please give due credit to the author Utpal Khot
2. Please DO NOT PLAGIARIZE. Please DO NOT Cut/Copy/Paste this post
© Utpal K., all rights reserved.
Copyright Notice: No part of this Blog may be reproduced or utilized in any form or by any means, electronic or mechanical including photocopying or by any information storage and retrieval system, without permission in writing from the Blog Author Utpal Khot who holds the copyright.