Butter Chicken Biryani – Bliss
We often want a change in the conventional Biryani and keep looking for options to do so. So here is a twist in the conventional Chicken Biryani to make it a Butter chicken Biryani. I am sure some of you have already tried and taste this one. I had seen this on one of Sanjeev Bhai's show and is dedicated to my friends Hiral, Mayuri, Tina, Atul, Deepa, Neha and Amrita.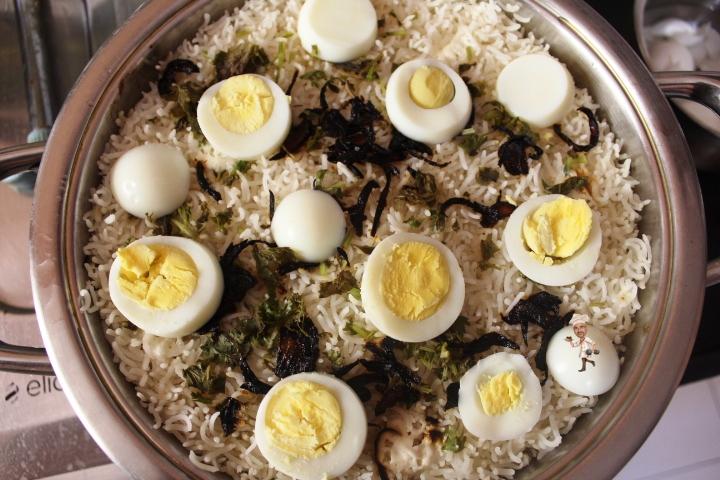 Ingredients for Butter Chicken
Boneless Chicken – 250gms
Garlic paste – 1 Tbsp
Ginger Paste– 1 Tbsp
Hung Curd – ½ cup
Cashew paste – ¼ cup
Red Chili powder – 1 Tbsp
Coriander Powder – 1 Tbsp
Garam Masala – 1 Tsp
Sugar – 1 Tsp
Tomato Puree – 1 Cup
Fried Onions – ¼ cup
Salt – as per taste
Fresh Mint Leaves – ¼ cup
Fresh Coriander – ¼ cup
Whole spices – 1 Tbsp
Recipe.
Take a large bowl.  Place the chicken and add all ingredients. Mix well and keep aside for about 30 mins to overnight in fridge depending on your love for marinated chicken..
In a large pot/Wok, Add 2 Tbsp Butter.  Set the flame on medium. Add the whole spices as needed. I use about 1 Tbsp. Stir well and let the flavor of the Spices go in the Butter. Remove the spices. Add the marinated chicken pieces. Stir well for a couple of minutes. Switch off the flame once chicken is done in about 15-20 mins. The Butter chicken for Biryani is ready.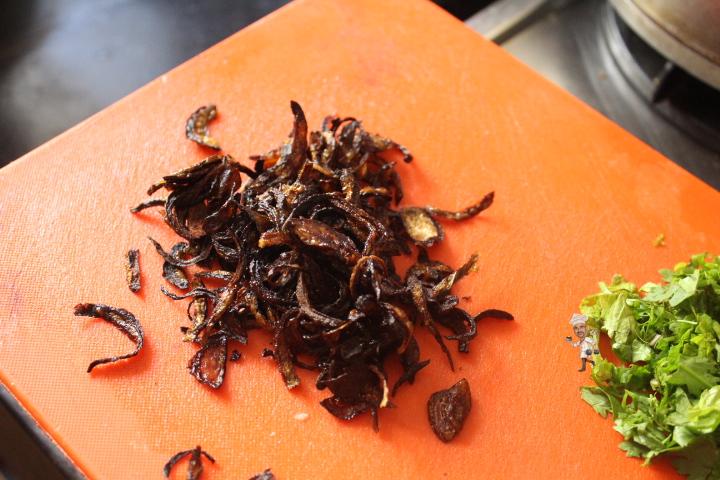 Ingredients for Biryani
Par Boiled Rice – 3 cups
Butter/Ghee – 3 Tbsp
Fried Onions – ¼ cup
Coriander leaves – ¼ cup
Mint Leaves – ¼ cup
Fresh Cream – 2 Tbsp
Saffron strands – 10-12
Milk – 2 Tbsp
Cloves – 5 to 6
Dough – For Dum
Charcoal piece – 1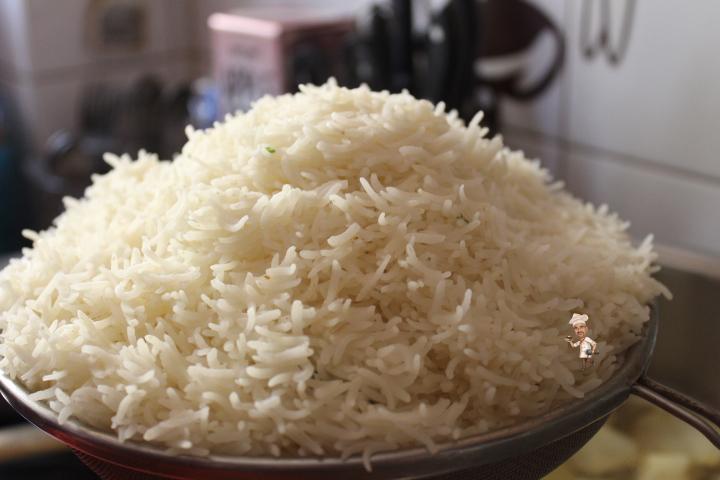 Recipe for Butter chicken Biryani
In another Pot/Wok, Take 1 Tbsp Ghee/ Butter. Keep the flame on low. Place thin slices of potatoes at the bottom. Sprinkle some salt on top for taste. Pour evenly 2 cups parboiled rice. Put some barista (Fried onions) on top of it. Add some fresh mint leaves. Add some fresh coriander leaves. Then place the entire cooked butter chicken on top of it. Spread evenly.  Add 2 Tbsp Fresh cream on top of the butter chicken. Add another layer of parboiled rice on top of this. Spread evenly and press gently. Add some saffron in 2 Tbsp milk and put on top of this. Add some more Birista, coriander leaves and mint leaves on top. Use some dough to seal the pot with a lid. This called giving Dum to the Biryani.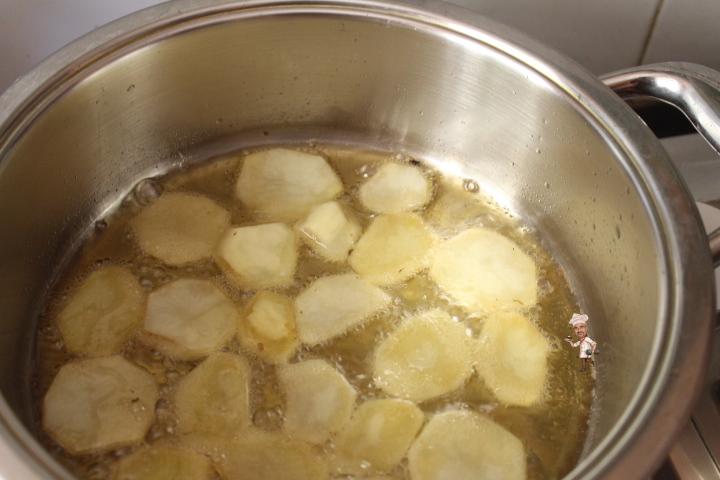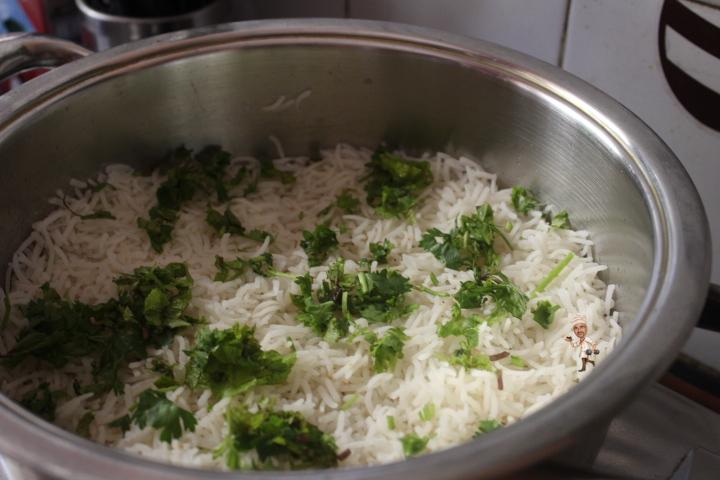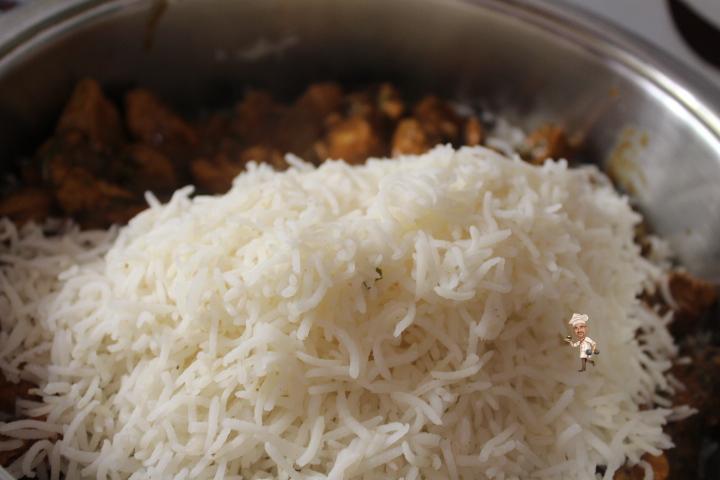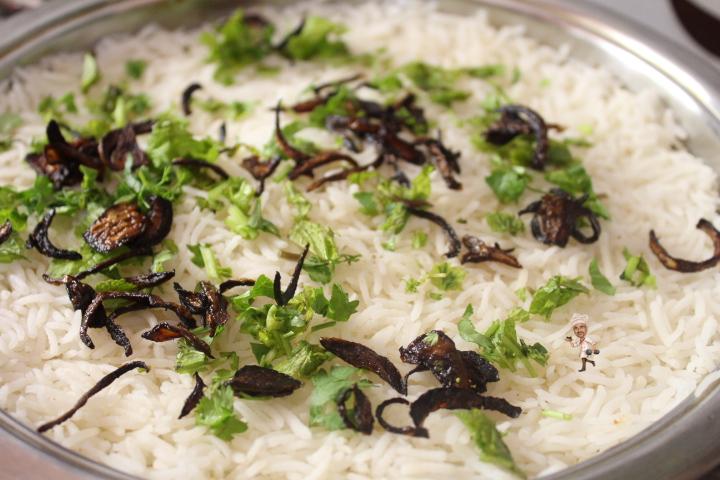 Remove the lid once done in about 6-7 minutes. Heat a piece of charcoal to red hot. Place a small bowl over the cooked Biryani and add cloves and ghee. Cover immediately with the lid and keep pressed tightly. The fumes coming from the charcoal will give the Biryani a rustic charcoal effect. This makes it a perfect Butter chicken Biryani. Add some boiled and sliced eggs for an authentic look.Serve hot with a smile.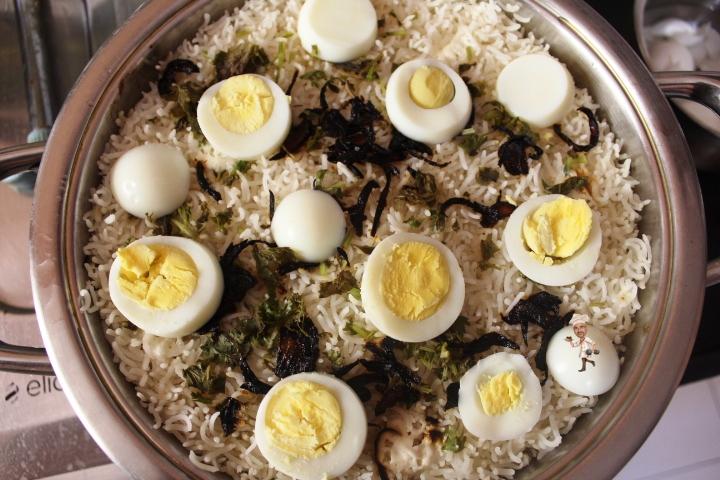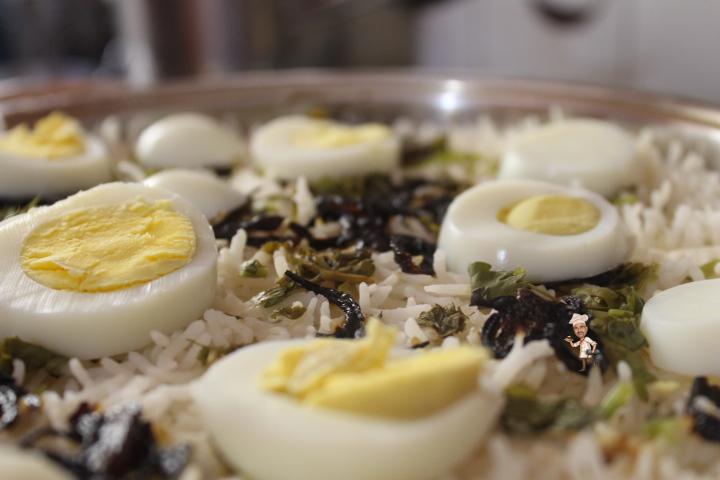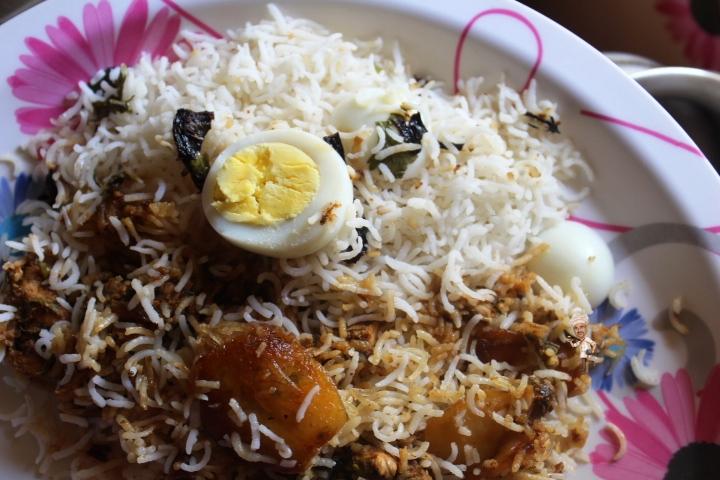 Now the most important question will be asked by my Vegetarian friends. What do we do? Hum kya khaayein? Well, the answer is simple. Just replace the boneless chicken pieces with Paneer chunks of your choice and size. The rest remains the same.
Uttpal K
Copyright © Uttpal K
1.If you share this post, please give due credit to the author Uttpal K
2. Please DO NOT PLAGIARIZE. Please DO NOT Cut/Copy/Paste this post © Uttpal K., all rights reserved. Copyright Notice: No part of this Blog will be reproduced or utilized in any form or by any means. This includes electronic or mechanical and photocopying or by any information storage and retrieval system. Please take permission in writing from the Blog Author Uttpal K who holds the copyright.