Tea Villa Cafe started as a Tea/Coffee shop which serves sandwiches, All-day breakfast, Toasts and Waffles, Pancakes, Burger and Pizza, Pasta and Sizzlers along with Continental, Jain and Lebanese, food. It has a lot of choice in Starters, Dimsums, Main course, Rice/Noodle selection, salads, Freshly brewed coffees, Classic and premium coffees, Indian Tea types, Rooibos Tea, White Tea, Flowering Green tea( one of the most expensive in the world), Oolong Tea, Fruit Infusion Tea types, Black Tea types and Green tea Types, Soups, Desserts, Raw juices, Side accompaniments along with coolers, Mojitos and shakes. We friends decided to give a try to almost everything possible for us and rate this Joint. The spacious joint welcomes you from 8 am to 1am.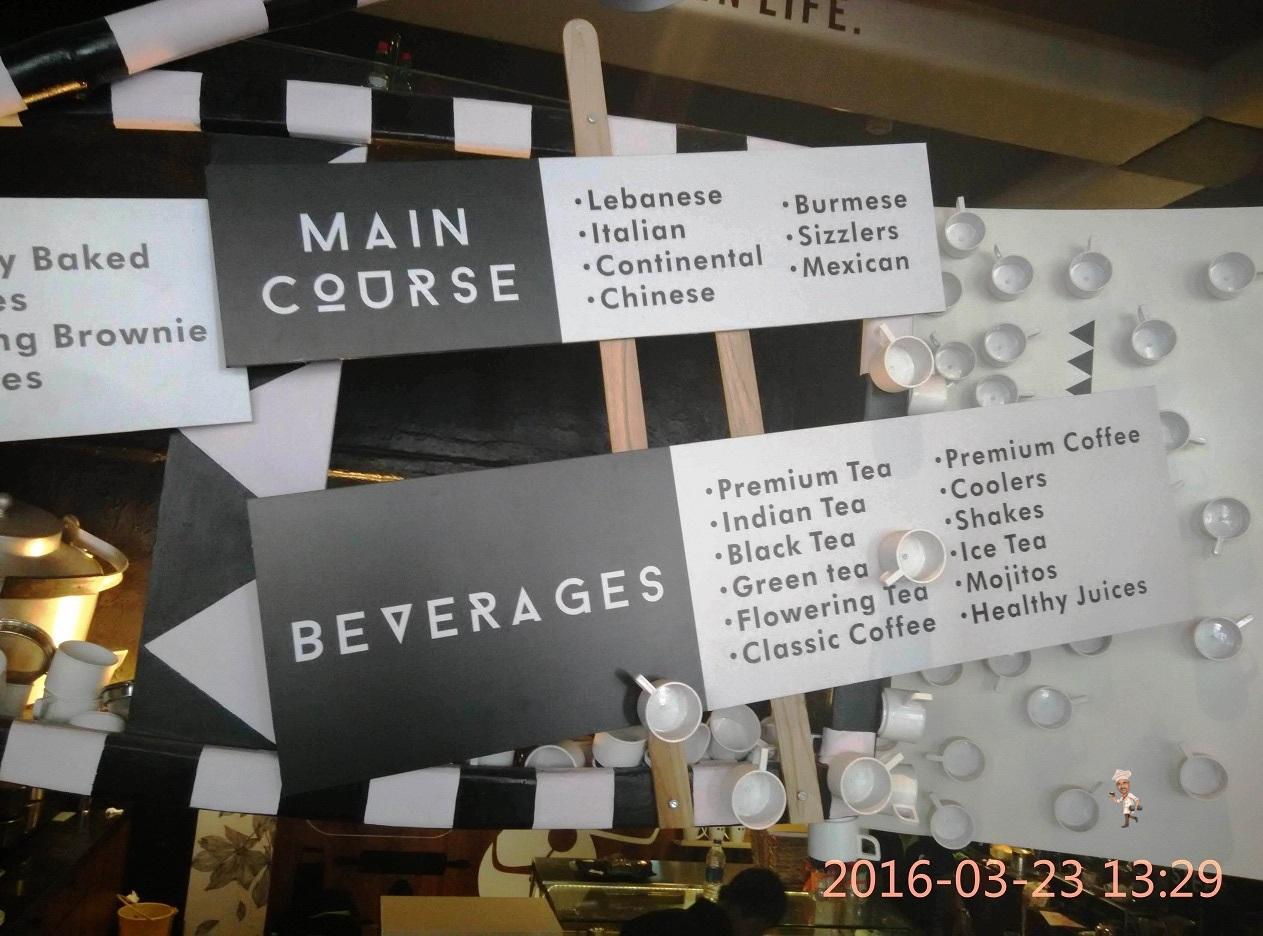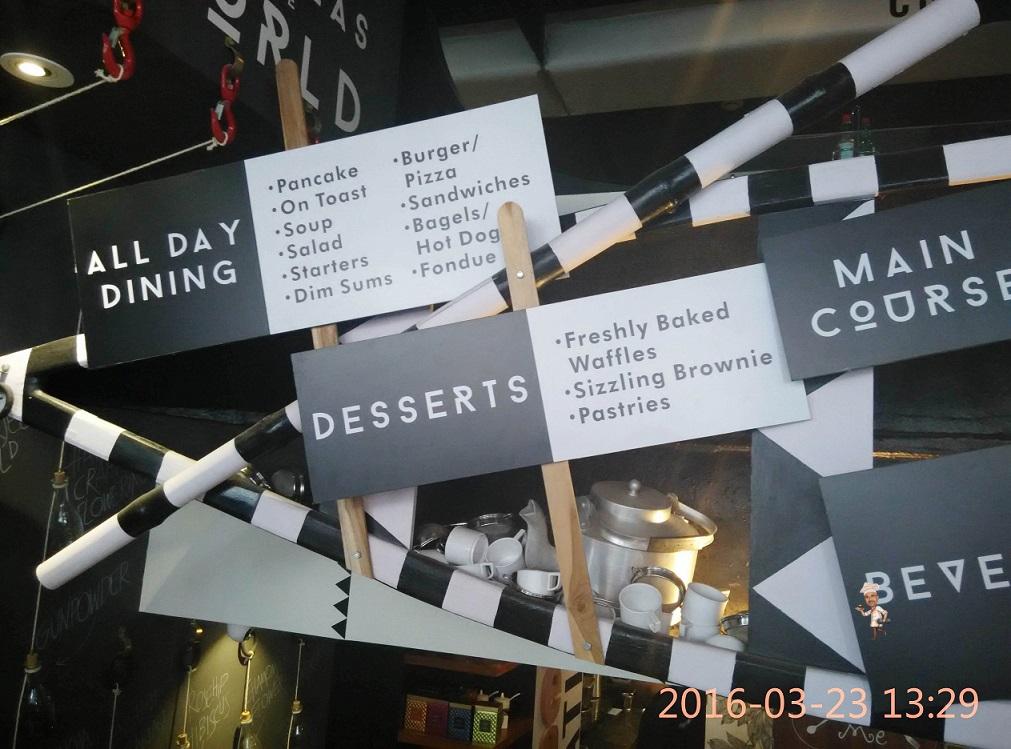 Decor
The first thing which I want to tell is that this joint is Bang opposite the famous Marks & Spencer and you can't miss it even if you want to. Since it itself is becoming a Landmark soon, so it is easy to find. The decor is fantastic and yet done in a simple fashion so that one and all understand it. Micky Panjwani and Roopanshi Bhatt have left no stone unturned to give the cafe a look which makes one and all comfortable. A few snaps to give you an idea..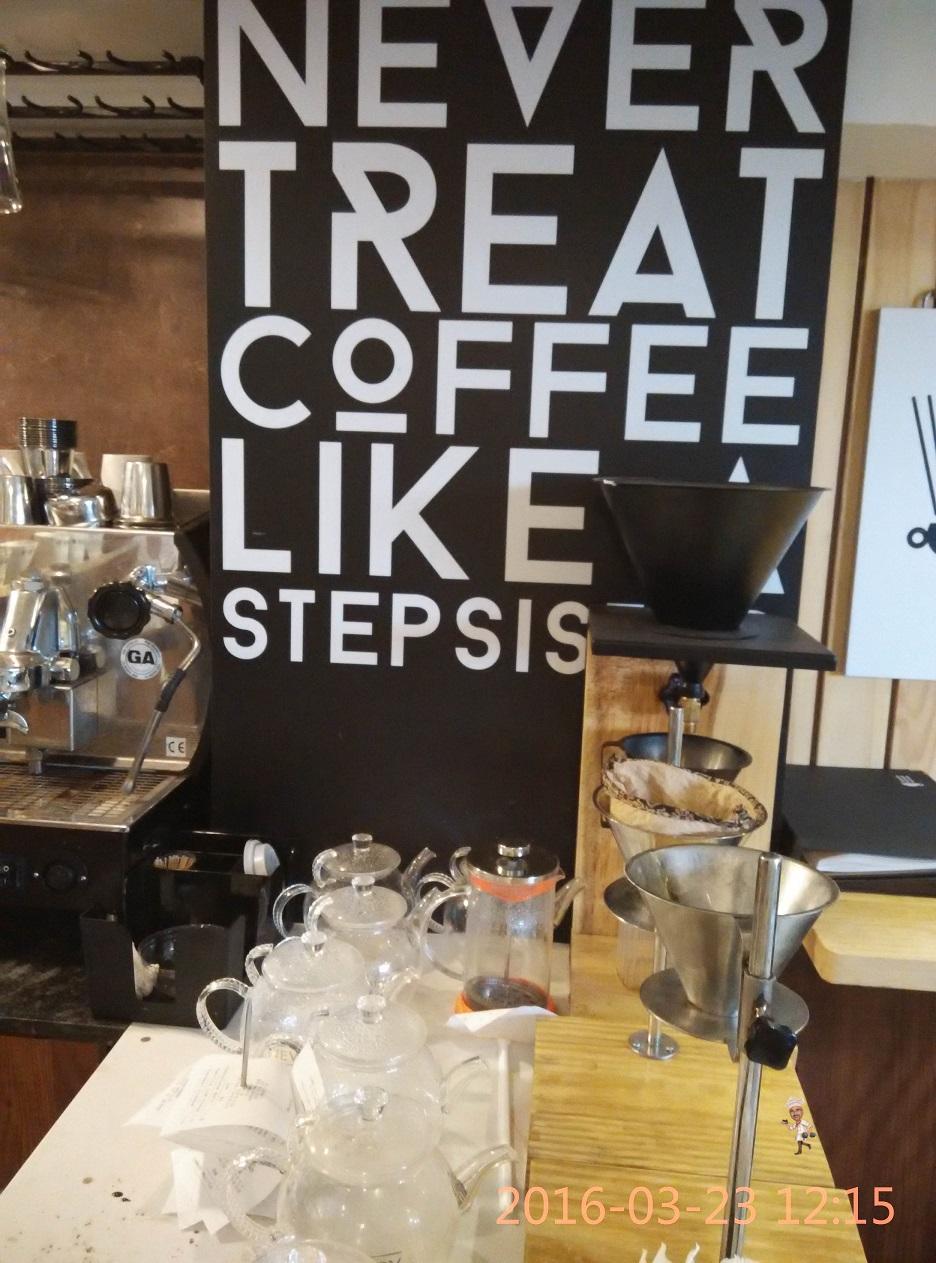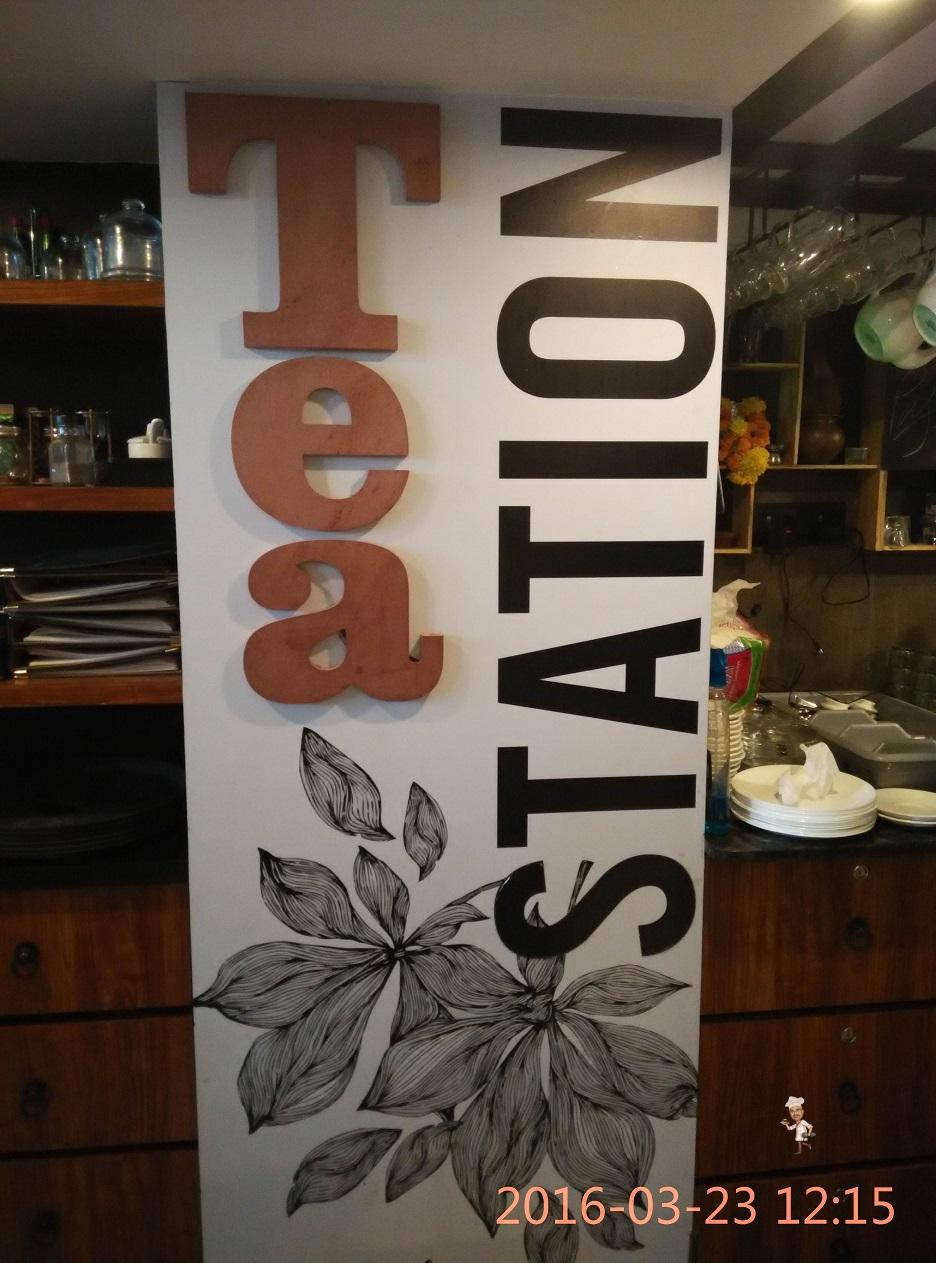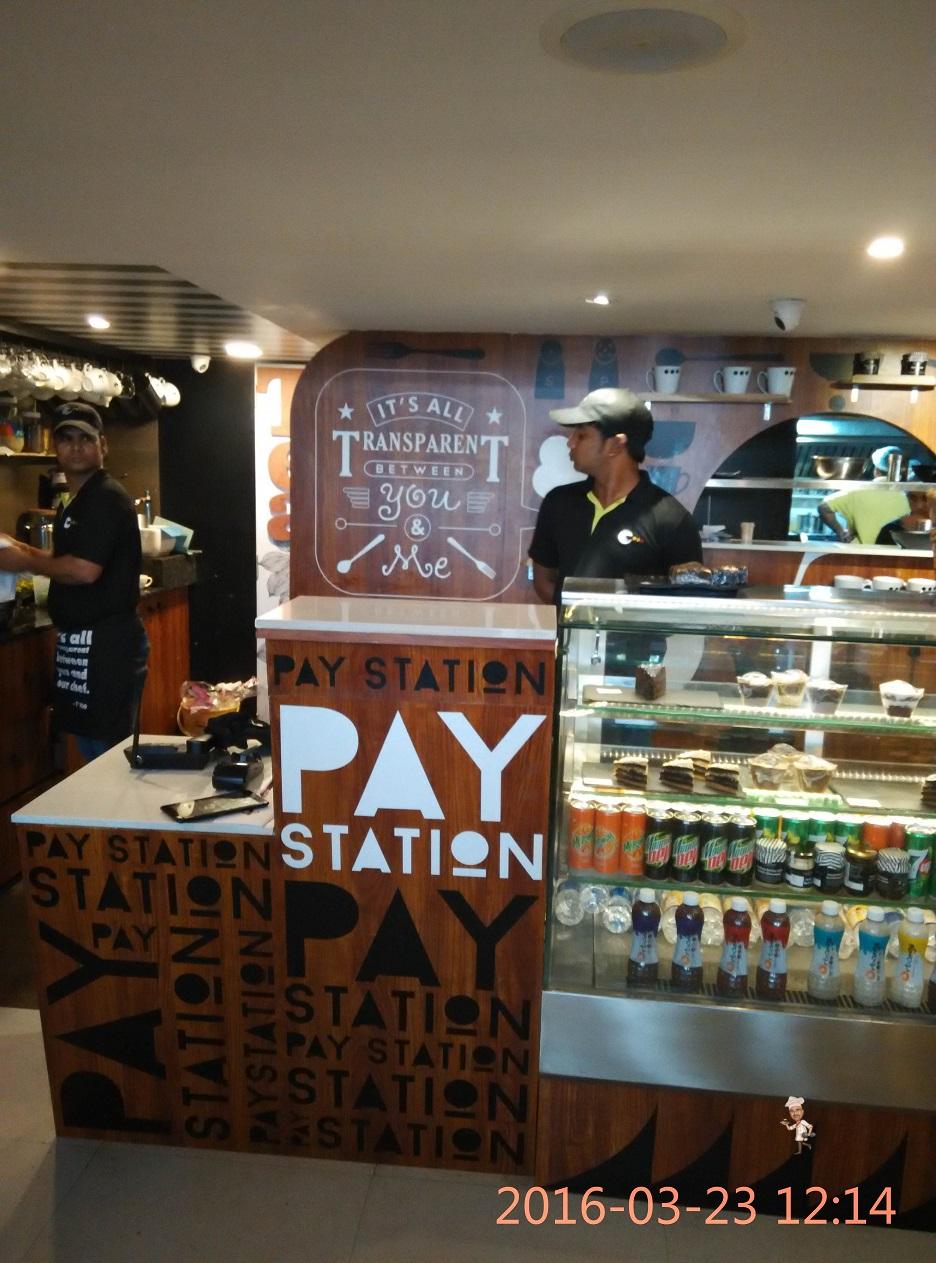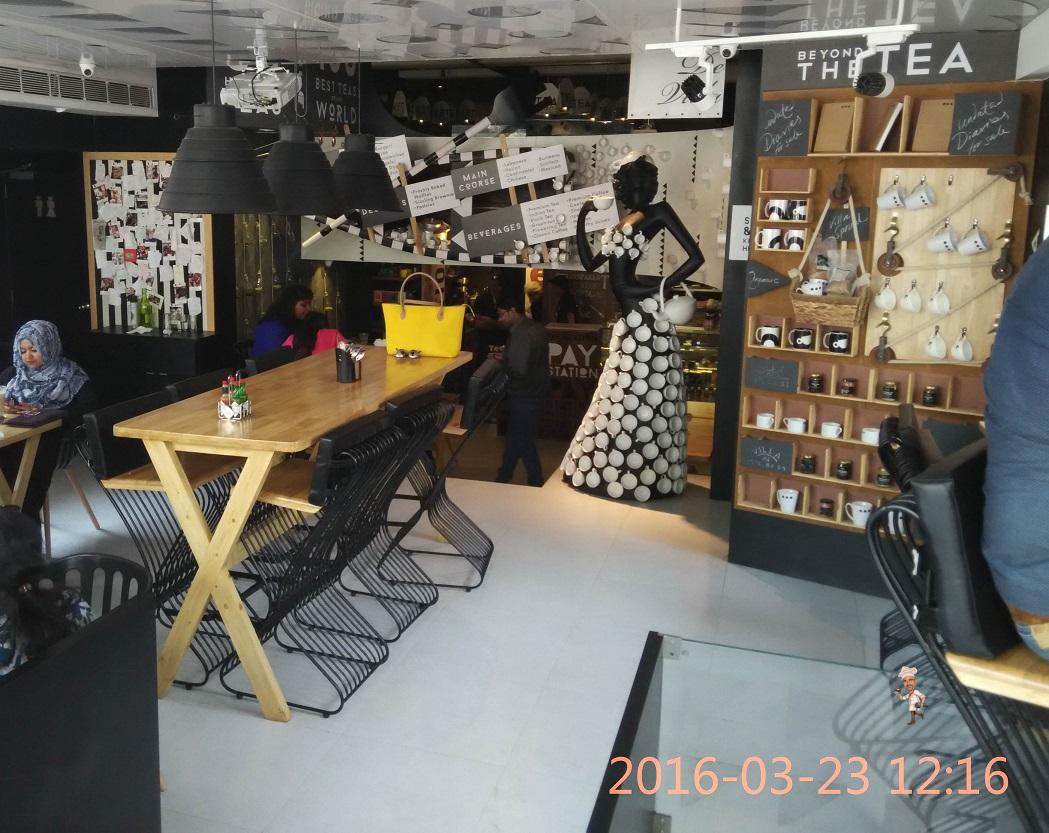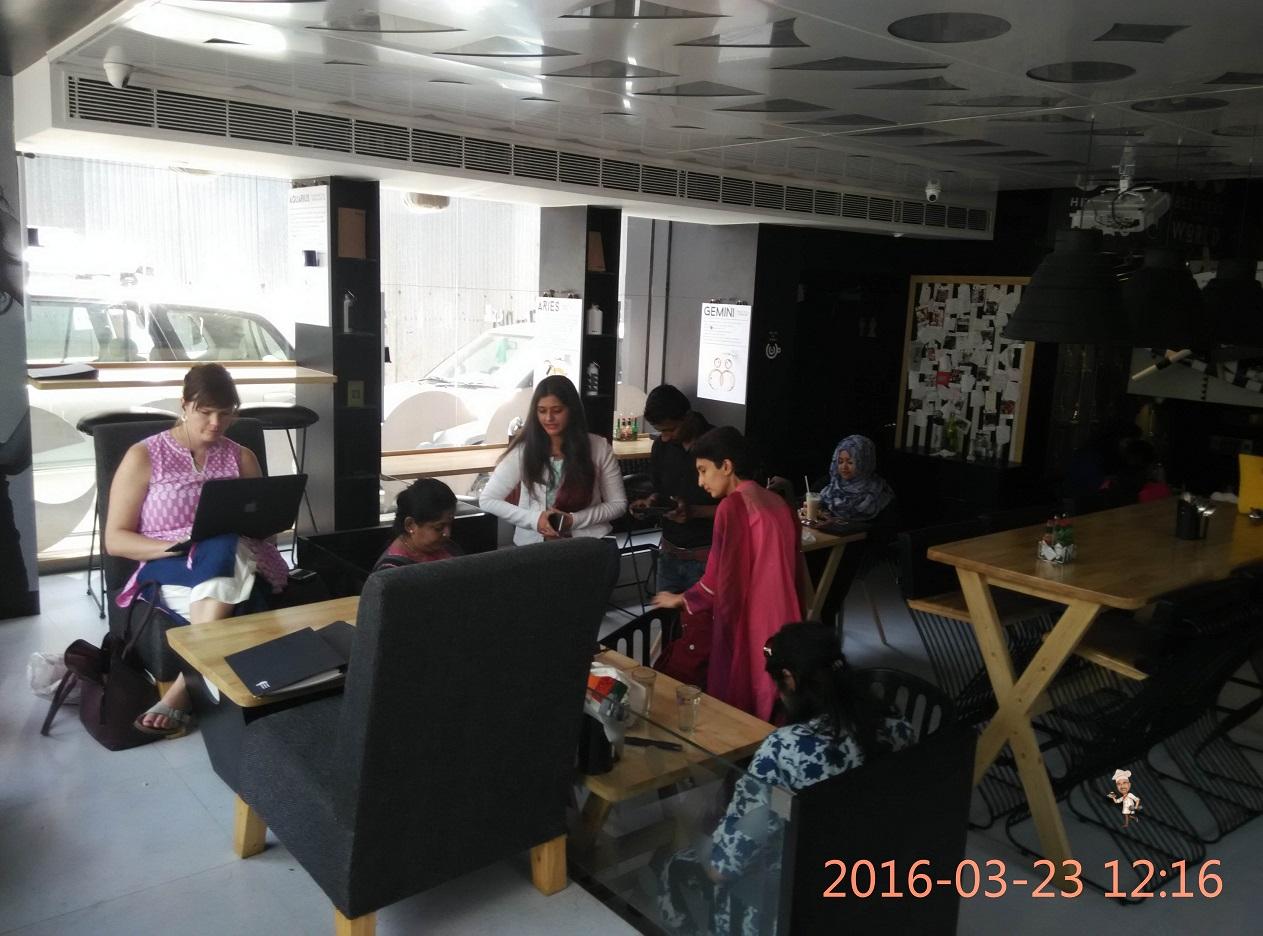 Food
We started with one of the most expensive tea in the world which was blueberry infused green tea wrapped around a marigold in the base, a chain of pure jasmine blossoms and a globe amaranth flower which blooms above when infused in 3 minutes. We actually saw the process happen and the taste was an instant turn ON. I had started liking the place.
We then had some Rooibos Tiramisu Tea which is a blend of rooibos, barley malt, cocoa particles, roasted chicory root, white chocolate pieces and tiramisu flavour which gives you the Tiramisu aroma as you sip it. We sipped the Tropical Delight too which is a rich, fruit filled blend combining mango and vanilla. We also tried the Triple Berry Coffee in coffee section which is a blend of triple berry semisweet, and dark chocolates with a bit of cream and coffee shot. This coffee would be a hit with pure coffee lovers. Others won't understand it, due to its complex aroma and feel as it goes down the throat. Advice to one and all is please go with good time on hand to enjoy various Tea flavors if you are a Tea Lover and go with even more time on hand if you are a Coffee lover.
We then decided to check out some starters and snacks and ordered the Baked Chili Parmesan, Paneer Skewers, Hummus Platter and Crispy Lotus Root Honey Chili. The Hummus platter is okay, The baked chili parmesan is again okay as it is not fried, but there is nothing great about the taste, maybe they should have added some garlic to make it a bit more appealing. I found it going on the bland side except the slight spicy touch.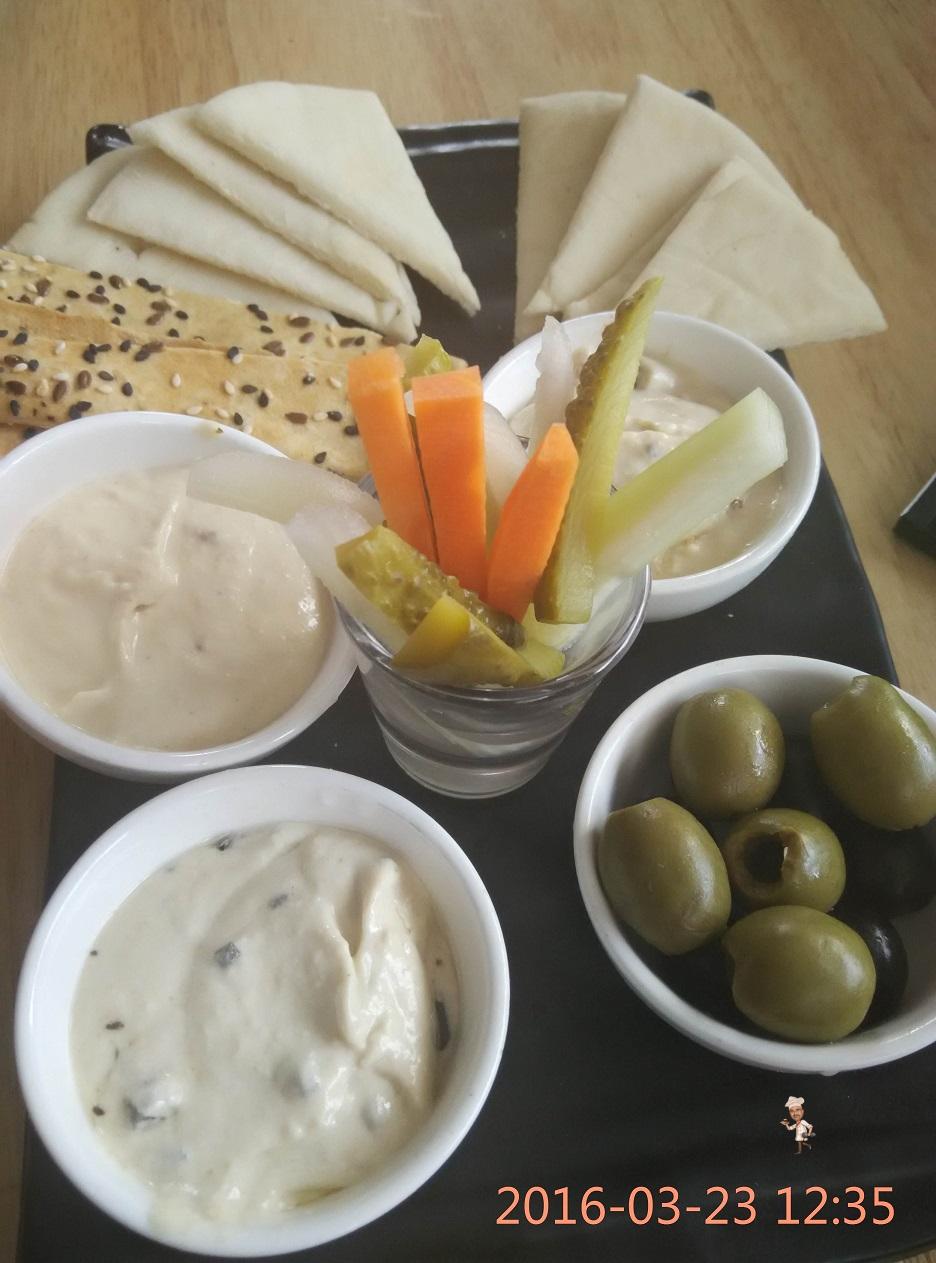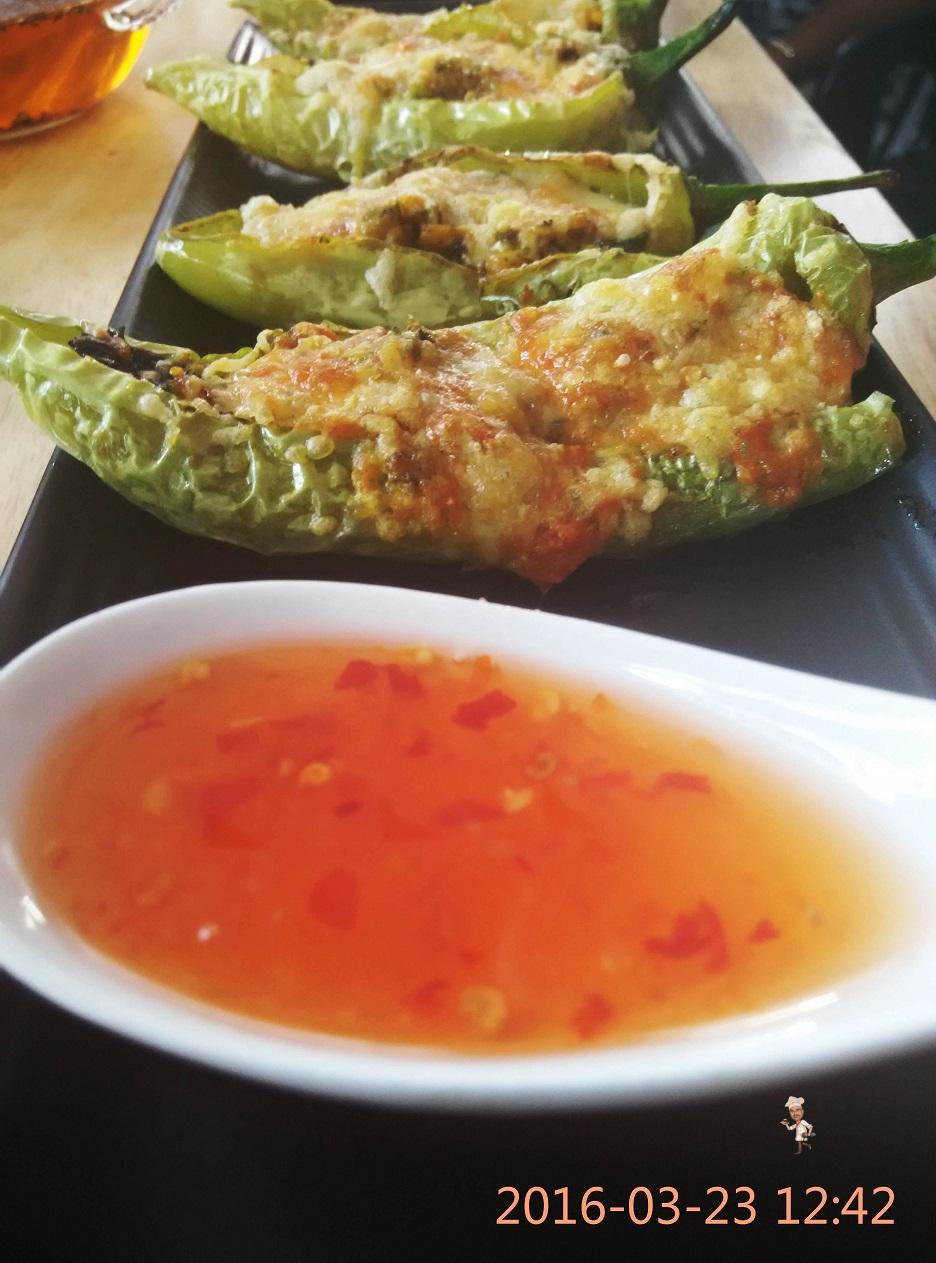 The paneer skewers are good and they were done well with the marinade reaching deep in the paneer yet keeping it moist and juicy and you can still taste the paneer in every bite. The hit in the snacks section is the Crispy Lotus Root Honey chilly. This awesome dish is definitely staying on the menu for a long time and is addictive. A good mix of sweet and spicy food which is balanced almost to perfection and the extra crunch keeps you engrossed in eating it again and again. A definite recommend.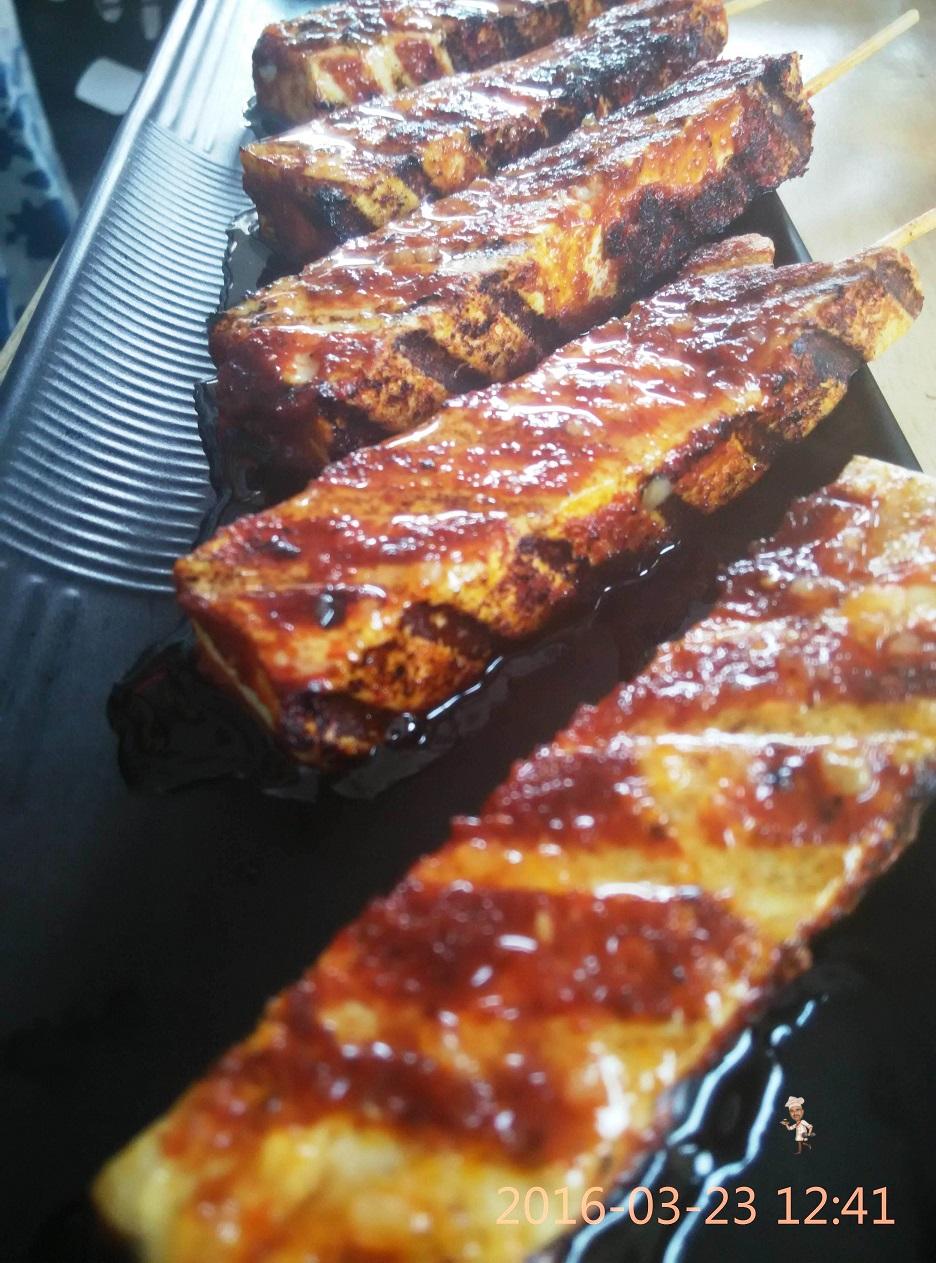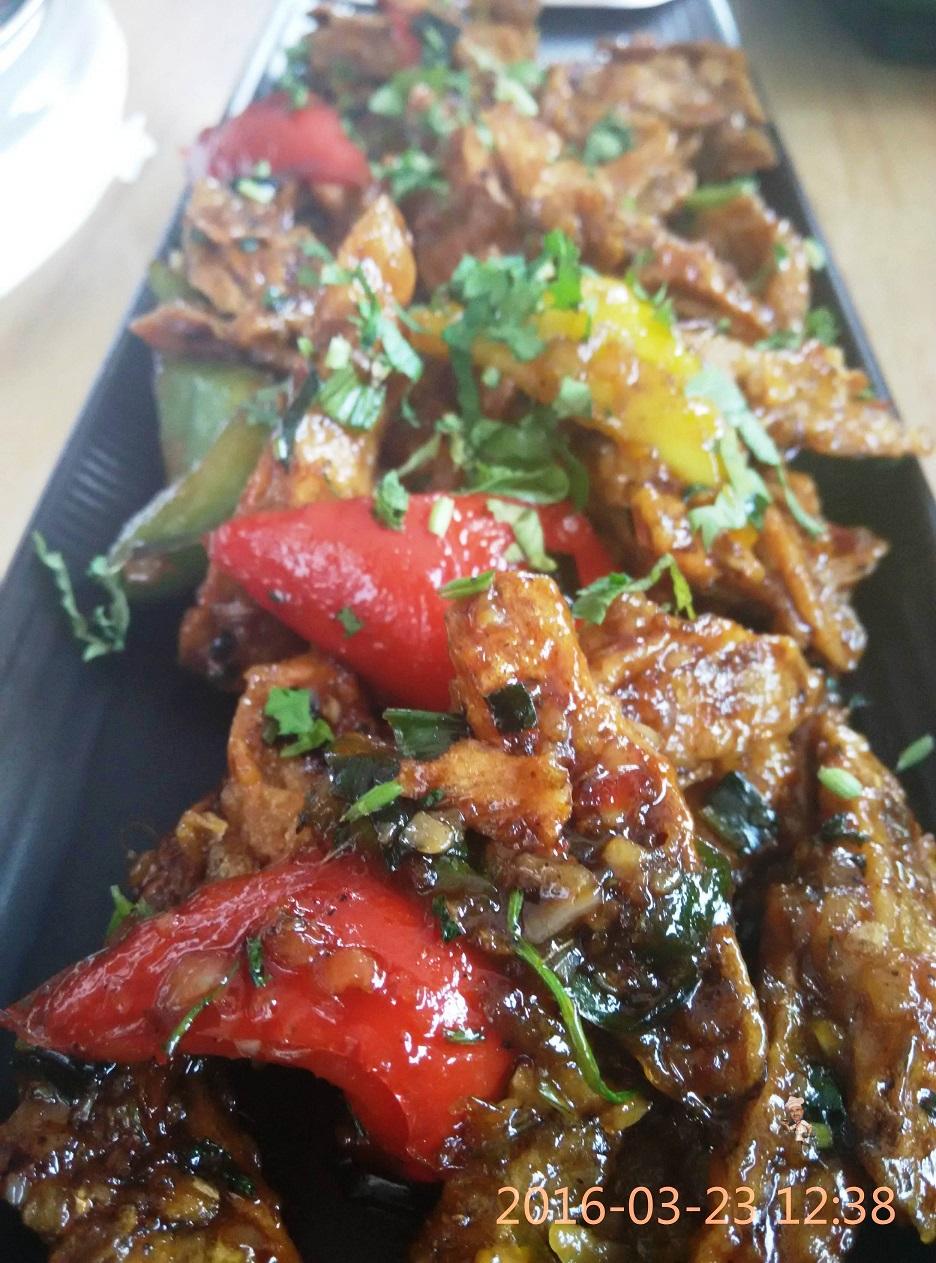 We then tried something continental and were served the Villa special Risotto which have some exotic vegetables in tomato and cheese sauce. This again is a hit with people who understand north Italian culinary arts. If you are looking at eating Indian rice, please avoid. Risotto rice comes separate and Tea Villa Cafe has chosen the best Risotto rice to get this dish made. I personally loved it.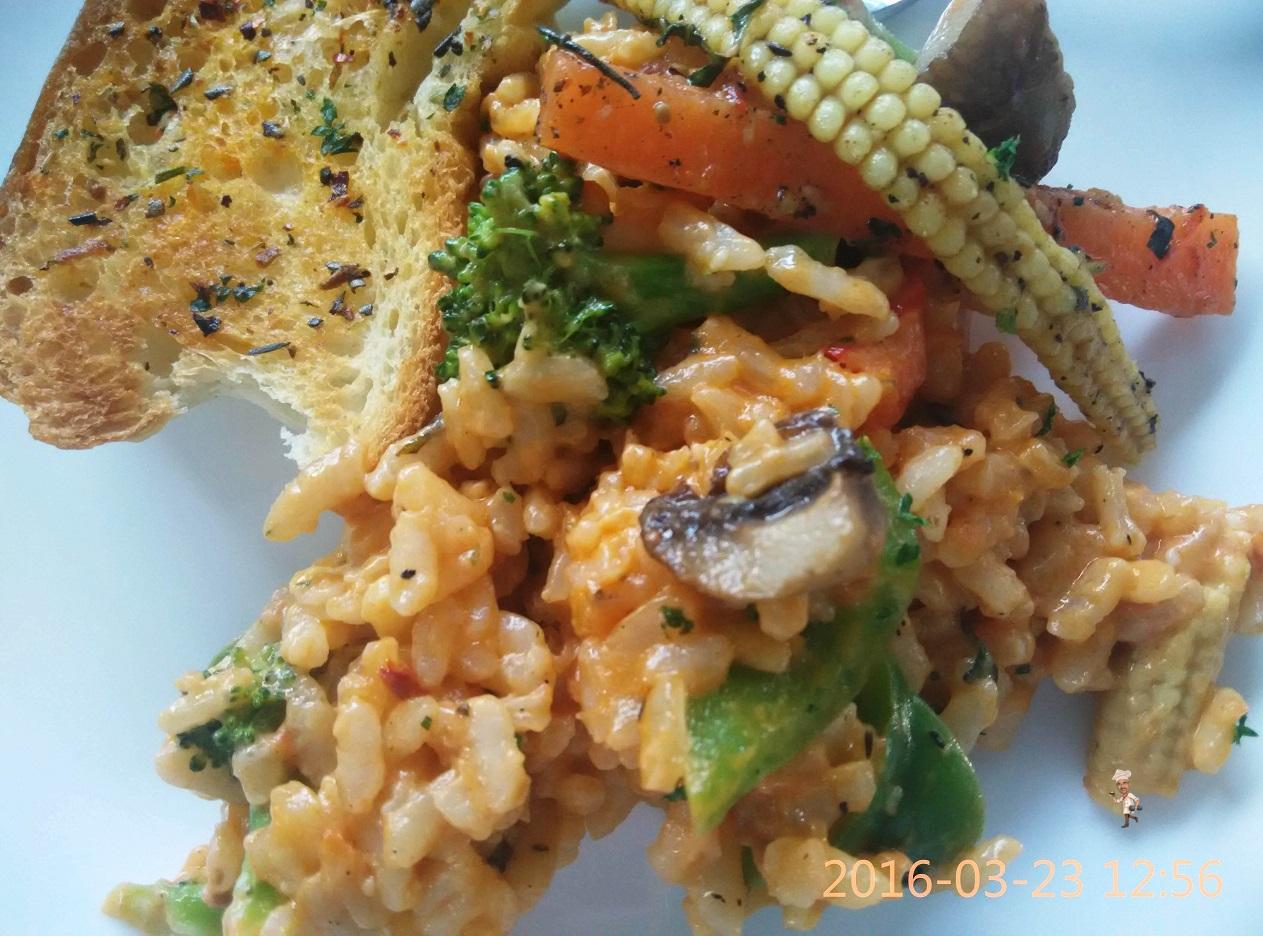 We tried some shakes too ( Chocolate and Mango) which are filling no doubt but are like other regular shakes. We were the recommended some waffles and we tried the Classic waffle with Maple syrup and Banana & Caramel Waffle. Both were awesome and the waffle are dipped just right to make them soft and juicy at the same time retaining the crispiness of the waffle when you need it. Do remember to cut the same and eat only a portion unless you have a sweet tooth as it is very filling and you may end up quitting food thereafter.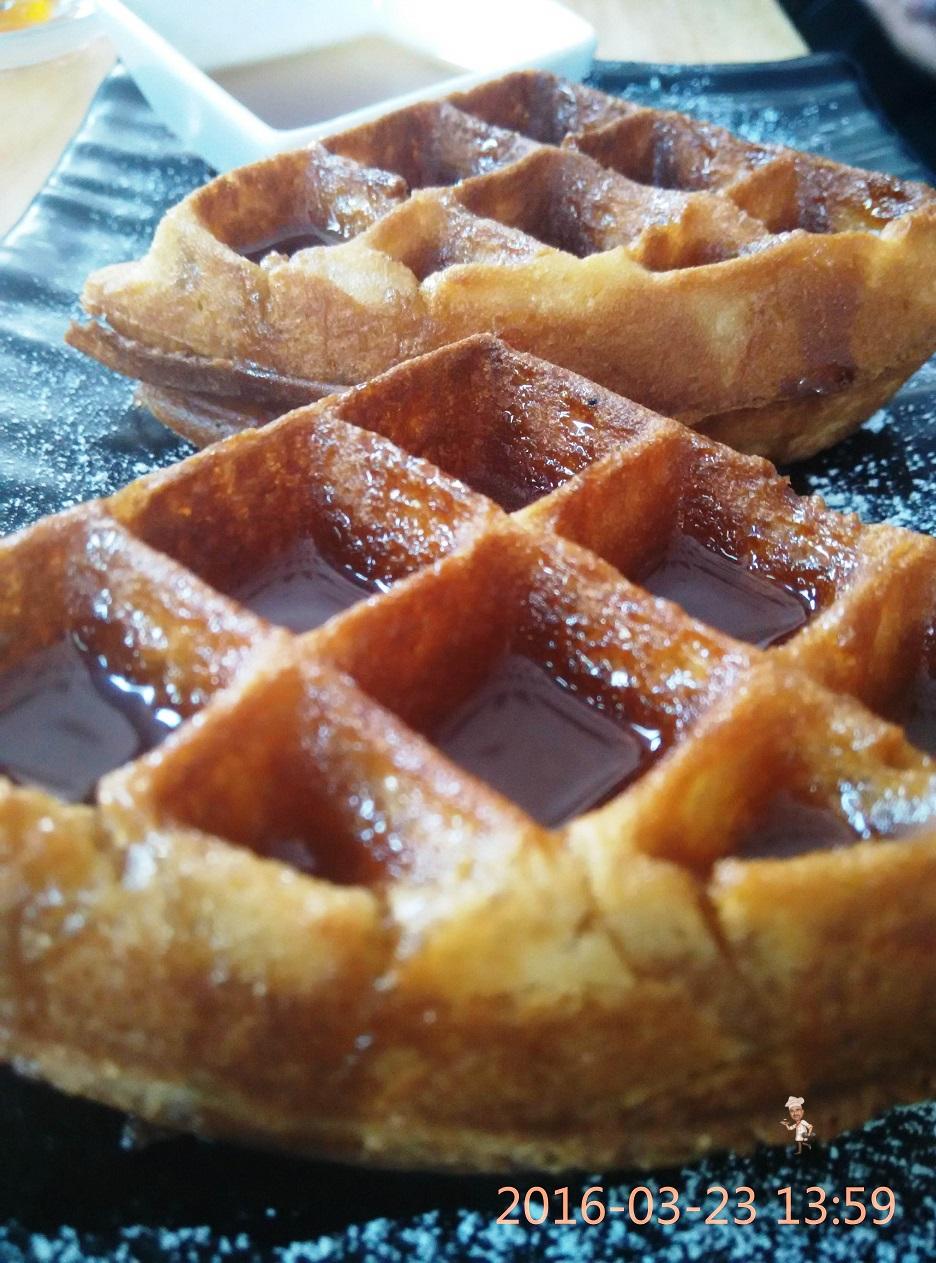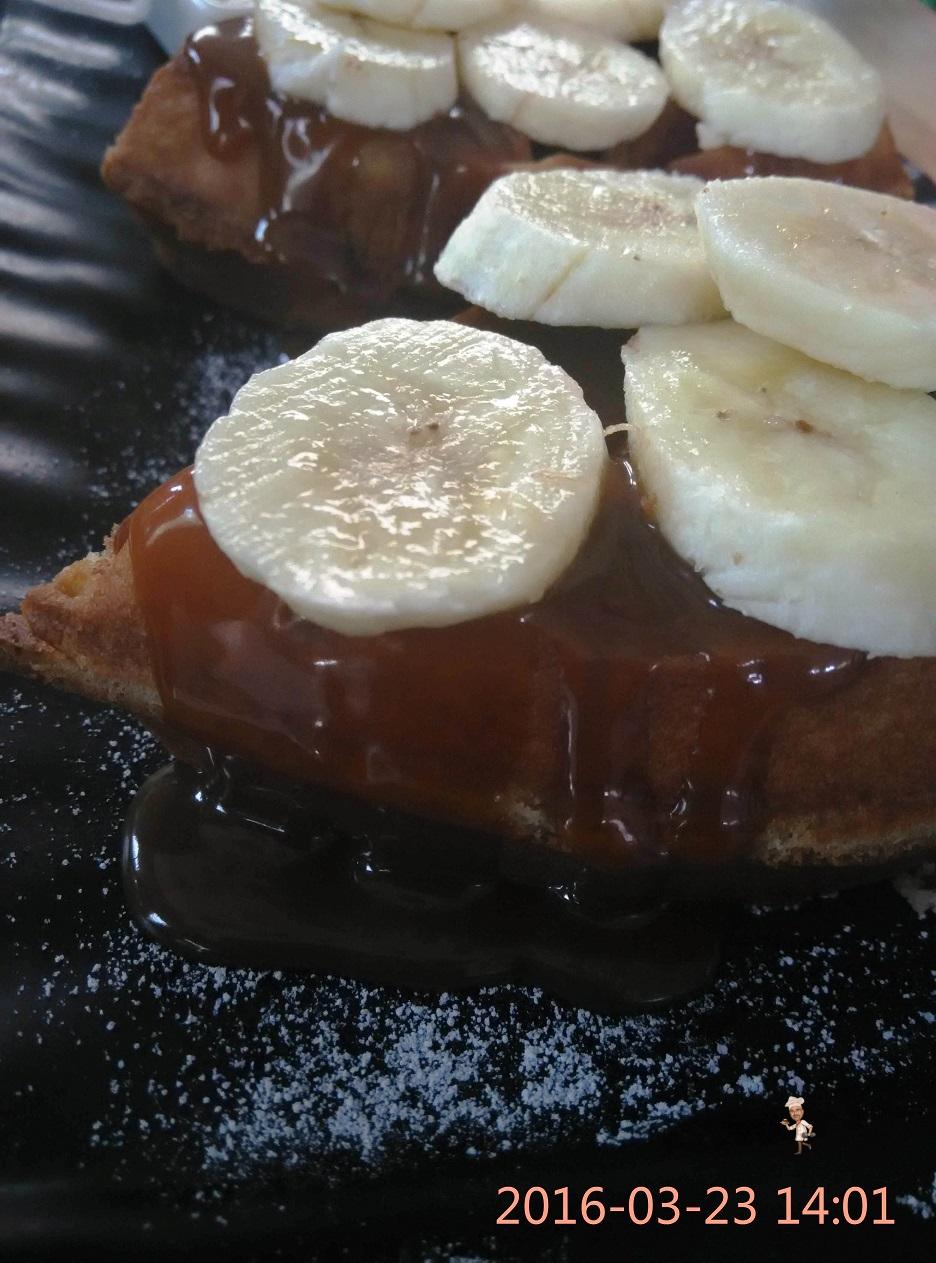 The Peri Peri French Fries, Sizzling Brownie with Ice cream are okay, nothing outstanding but I liked the Peach Mojito which came last. Awesome taste with correct amount of crushed ice in it to keep it just right as I would want it be. The peach flavor remains intact till the end and it is a definite recommend to finish off your food hunt at Tea Villa cafe.
Plus and Minus
The ambience is outstanding though the place is crowded even on a weekday noon. If you are looking at privacy with your group and are used to some fast music, this is your poison. There is no Air-conditioning effect felt as the main door keeps opening and closing 200 times, so please avoid sitting near the main entrance. The Food is awesome and the dishes I recommended are a must try. Being a self -Trained chef and being a food blogger helps when you have so much food to choose from. This is not the place for someone who goes looking for a typical Indian meal (rice, roti, sabzi stuff) They also give you free wi-fi over chai which I loved. The pricing is slightly on the higher side but then looking at the quality which they serve, the price is definitely justified. The service needs improvement and the staff needs some more training. When I asked for the Latte to be split in 3 cups for all of us to taste like other dishes and drinks, the person serving nodded and vanished with the coffee never to bring it back again…and no explanation whatsoever in spite of reminding 2 times. Overall I loved the concept, the place and overall performance. Small issues could be definitely taken care of with more attention.
Tea Villa Cafe- Bandra: 31, Opposite Marks and Spencer, Hill Road, Bandra West, Mumbai.
Meal For 2:  1500/-
Timings:  8.00am to 1.00am.
Ratings:   Food – 4.5    Service – 3.5     Decor – 4.5
Uttpal K
Copyright © Uttpal K
If you share this post, please give due credit to the author Uttpal K

Please DO NOT PLAGIARIZE. Please DO NOT Cut/Copy/Paste this post
© Uttpal K., all rights reserved.
Copyright Notice:No part of this Blog may be reproduced or utilized in any form or by any means, electronic or mechanical including photocopying or by any information storage and retrieval system, without permission in writing from the Blog Author Uttpal K who holds the copyright.