Paneer Schezwan Stir fry
We always look for improvising and innovating traditional and contemporary dishes in order to bring out something new which appeals to our taste buds and which is healthy too. So when this original Schezwan recipe came to me, I immediately started thinking of ingredients and vegetable to add in it in order to make it a healthy side dish which could be relished by one and all. I guess I need to patent my recipes soon. So here comes the Paneer Schezwan Stir fry for you all. Do let me know how you like it.
Ingredients:
Paneer: 200 gms.
Green peas: 50gms
Capsicum: 2 Medium
Carrot: 1 medium
French beans: 100 gms
Onions: 2 medium.
Baby corns: 3-4
Mushrooms: 2-3
Spring onion leaves : For garnishing (optional)
Green Chillies – 2-3
Garlic pods: 6-8
Schezwan Sauce as per spice needed.
Tomato chili sauce
Corn flour: 1Tbsp
Salt as per taste
Oil – 1 Tbsp Canola or any other.
Preparation:
Chop Paneer, Capsicum and Onions in ½ inch cubes. Cut Carrot in thin slices but not juliennes.  Slice green chilies and French beans in cross patterns and dice the garlic pods. Chop mushrooms and baby corns. Chop fine the spring onion leaves for garnishing and is completely optional. You can use boiled potatoes instead of Paneer and chicken cubes if you want a non-veg dish.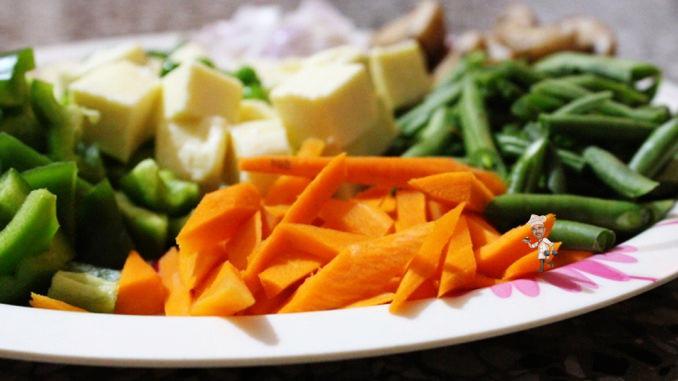 Recipe:
Heat a frying pan or wok and add 1 Tbsp Canola oil. Saute the onions, garlic and green chilies. Add the carrots, baby corns and French beans and stir for about 2-3 mins on medium to low flame. Reduce flame to low and add Capsicum and Paneer cubes. Cover and cook for 2 mins. Remove lid to add the sauces along with the green peas and salt and give a gentle stir. Cover and cook again for a minute and add the corn flour mixed in small quantity of water. The cornflour will give a thickness to the juices left out by the vegetables. Garnish with grated cheese or spring onions or just serve as it is. Tastes best even without Paneer for the completely health conscious people.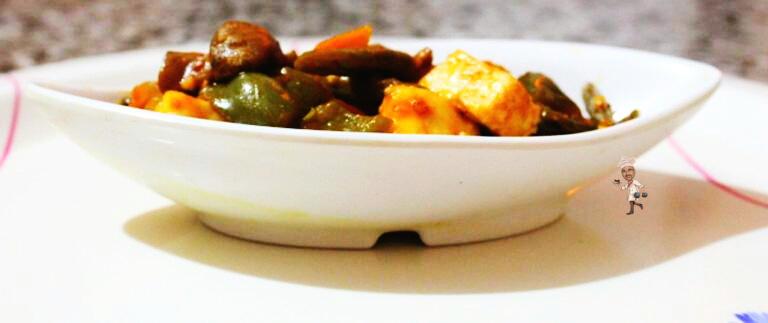 The original recipe of Aloo Schezwan was suggested to me by my sister Ayesha.
Nutritional facts: This Paneer Schezwan Stir Fry is a high sodium, high sugar dish so Diabetics can remove or reduce the veggies accordingly. A total of 640 cal generated approx which means 160 cal per person for this dish. Normal Human should consume 2000 calories diet. comprising of the entire meal.
Breakup as given (approx values):
Calories 641
% Daily Value Total
Fat 18g – 28 %
Saturated Fat 1.6g- 8 %
Sodium 8023 mg – 349 %
Total Carbohydrate 106g – 35 %
Dietary Fiber 20g – 80 %
Sugar 15g
Protein 22g – 44 %
Uttpal K
Copyright © Uttpal K
If you share this post, please give due credit to the author Uttpal K
2. Please DO NOT PLAGIARIZE. Please DO NOT Cut/Copy/Paste this post
© Uttpal K., all rights reserved.
Copyright Notice:No part of this Blog may be reproduced or utilized in any form or by any means, electronic or mechanical including photocopying or by any information storage and retrieval system, without permission in writing from the Blog Author Uttpal K who holds the copyright.