Grandmother's remedies
Ever wondered where all those Grandmother's recipes and Home Remedies are gone now? Why are we running after a stress filled life day after day? What do we get at the end of it? An old age which comes 20 years earlier. All the aches and pains which come 40 years earlier. An ideal physical and mental growth which we never achieve in the City. Eventually, we realize what we have lost and it is too late by then. So why don't we bring back those Grandmothers remedies which are now Purer, Safer and Potent than ever?
This was the theme of the Bloggers meet organized by Amway. They introduced their New Nutrilite Indian Traditional Herbs range set to make Indian traditional herb even more beneficial. As we are all aware, Amway, the country's leading direct selling FMCG Company. They have come up with a new Nutrilite Traditional Herbs Range. This combines best of science, best of nature and best of Indian traditional wisdom to offer a comprehensive range of nutraceutical product supplements with physiological benefits. This herbs range is indigenously developed in line with our PM's 'Make in India' vision. They also follow the "Seed to Supplement" approach where they follow a stringent process from the selection of the right farm to the right process of extraction and making the right product.
Highest Purity, Safety and Potency Standards for Nutrilite Indian Traditional Herbs range
The manufacturing process focuses on the three key pillars of traditional herbs – Purity, Safety and Potency.
Purity: All the products in this range are from Certified Organic Herbs.
DNA Fingerprinted Herbs: Also known as DNA profiling, DNA typing, or genetic fingerprinting is done during the manufacturing process.
Safety: Good Manufacturing Practices (GMPs) are followed at the LEED Gold Certified manufacturing plant in Tamil Nadu for all the Nutrilite dietary nutraceuticals.
Potency:  The herbal supplements are prepared from certified non-GMO sources to prevent any unknown health hazards and it ensures safety. The quality and efficacy of Nutrilite's new range lie in its high concentration of beneficial active ingredient/s which are extracted right from the herbs. For instance, one tablet of Tulsi has benefits equivalent to over 100 dried organic leaves of Tulsi.
The Product range
The Nutrilite Traditional Herbs range comprises 4 products. These are Nutrilite Tulsi, Nutrilite Brahmi, Nutrilite Ashwagandha & Nutrilite Amalaki, Vibhitaki, and Haritaki. The pricing is INR 649 inclusive of all taxes, for a bottle of 60 tablets. The new range is compliant to the new Nutraceuticals Regulations i.e. The Food Safety and Standards (Health Supplements, Nutraceuticals, Food for Special Dietary Use, Food for Special Medical Purpose, Functional Food and Novel Food) Regulations, 2016 ('Regulations'), issued by Food Safety Standard Authority of India (FSSAI).
The Event
The launch was on 28th April in Mumbai at Ginger Hotels, Andheri. We had a good number of bloggers and social influencers turning to the event. Mr.Ajay Khanna – Category Head, Nutrition and Wellness at Amway India gave some beautiful insights about the new products and a brief on the entire manufacturing process. It was indeed an impressive session. Next was Dr.V K Joshi – HOD, Dravyaguna Department at Banaras Hindu University. He gives in-depth knowledge about how the extraction process. He also explains the benefits of taking these supplements.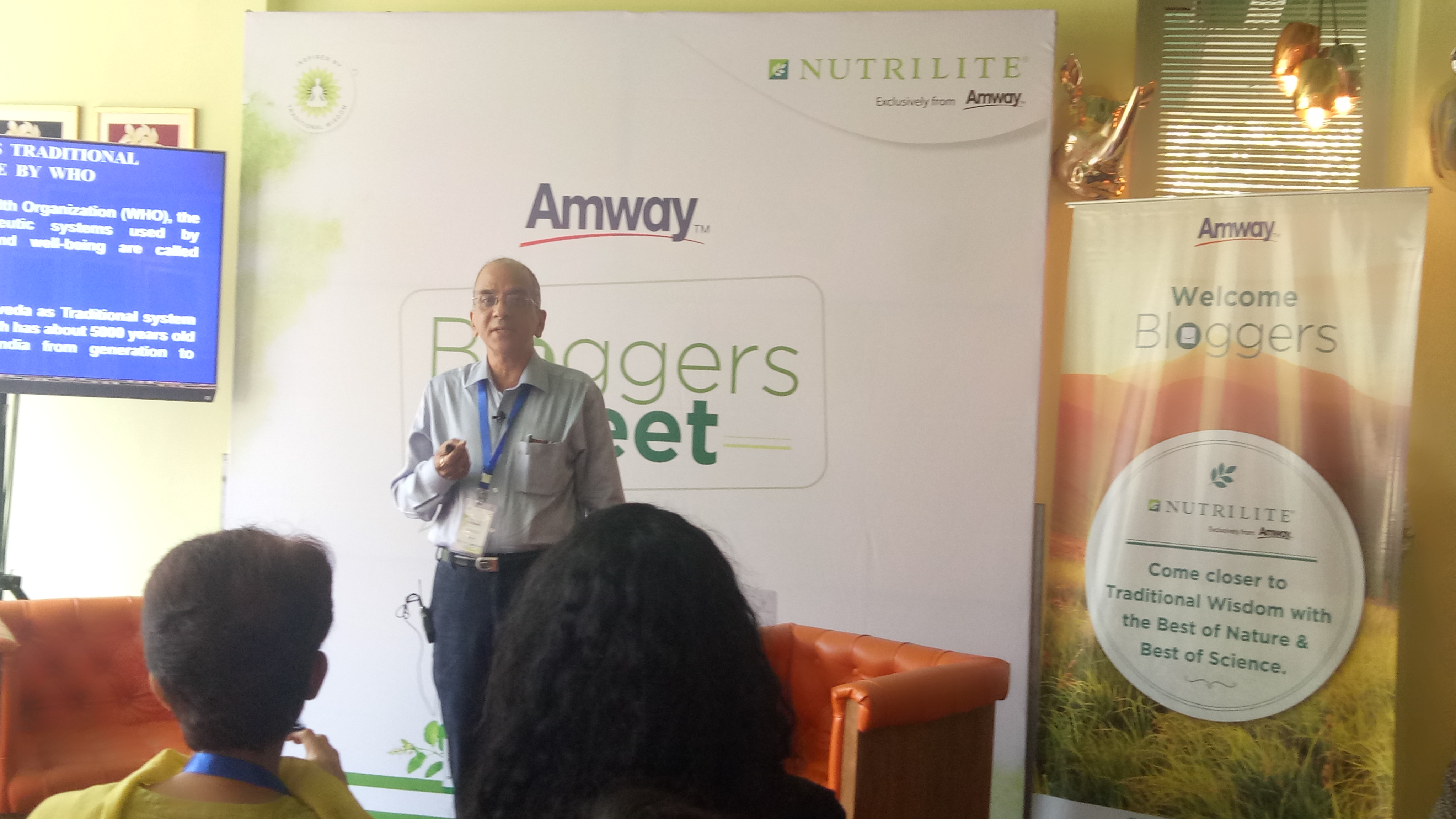 We realized that this was indeed what our Grandmother and her mother used to use in their day to day life. These were indeed Grandmothers remedies with the use of these herbs range. We also realized what we have lost, living in the cities while working in posh and swanky offices. It was time to make up for all the lost health and wellness. These 4 products from the Nutrilite Traditional Herbs range would definitely take us there. I think we all should give it a sincere try and experience the positive impact it has on us.
Uttpal k
Copyright © Uttpal K
If you share this post, please give due credit to the author Uttpal K
2. Please DO NOT PLAGIARIZE. Please DO NOT Cut/Copy/Paste this post
© Uttpal K., all rights reserved.
Copyright Notice: No part of this Blog can be reproduced or utilized in any form. This means electronic or mechanical including photocopying or by any information storage and retrieval system. Please take permission in writing from the Blog Author Uttpal K who holds the copyright.