Charmboard
A big hello to all our lovely readers, the Spring-Summer 2018 is in full-swing. It is the best time of the year to wear fashionable clothes and flaunt stylish accessories. Most of us have a statement style but bringing in some fresh changes to our personal style each season is a good idea. I am among those who are constantly on a lookout for some style inspiration.
Today, I shall be sharing with you about a website that has been created on a very interesting concept.It is called Charmboard.com. This is an online portal where you can discover and save the hottest and trendiest fashion trends of the season. You can follow charmboards created by others. You can create your own multiple boards here and save your favourite styles or rather charms on them.
Anything, in terms of fashion, be it outfits, makeup, accessories etc that you come across in movies, advertisements, TV series or short videos and happen to like can be saved on Charmboard. You can also explore and save different looks. This is a really handy and effortless way to create your everyday and party looks!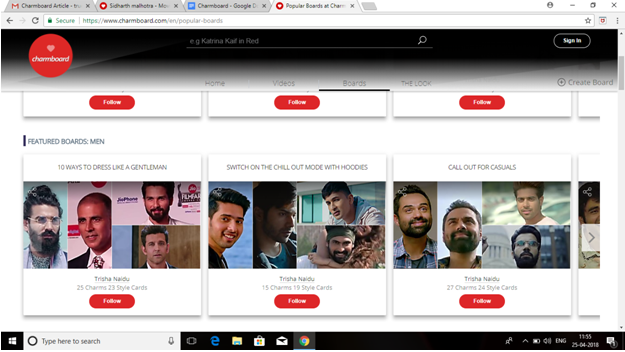 Features
The best part about this website is that we can check out latest outfits and fashion accessories worn by various artists and celebrities. Celebs mostly have the most impeccable sense of fashion. To check out their Red carpet looks, the party looks, the airport looks and even everyday looks is fun!  Also, this is a place where even guys can create their own charm boards. They can draw some fashion inspiration from Bollywood actors, TV actors etc.
Let us now check out charmboard inspired by Alia Bhatt. Alia Bhatt needs no introduction as we all know that she is Mahesh Bhatt's daughter who has proven her mettle in the field of acting at a very young age. Her charmboards helps you know more about her outfits, personal style, accessories, beauty, makeup and hair.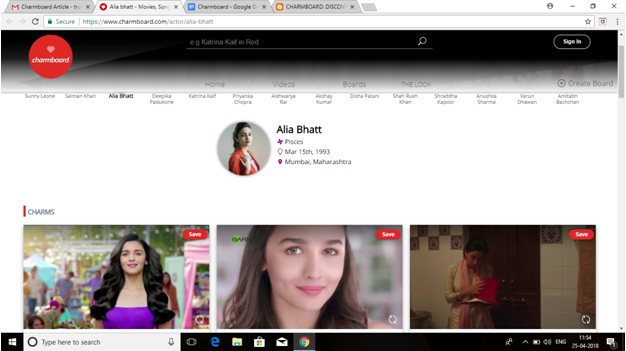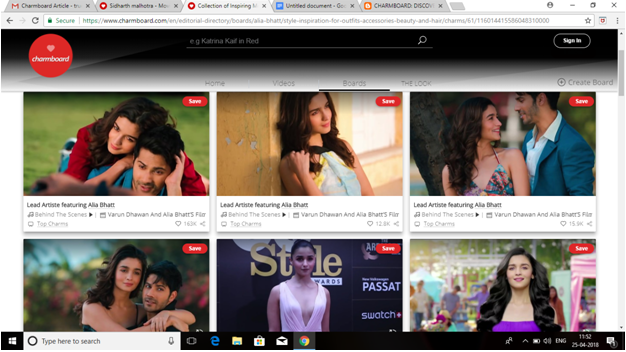 Alia's Charmboard would definitely appeal to most young girls out there as her fashion style is free spirited! There are many lights, pastel summer colours that clue you as to which colours are in trend this spring! There are a lot of charms from her upcoming movie Sehmat for more traditional looks. Also, there is some nice office wear inspiration as well. Her charmboard also features a nice collection of vivid stoles and jhumkas.
For the guys out there, Sidharth Malhotra inspired charmboard offers some great formal as well casual wear inspiration.You can check out some classy tuxedo suits, cool summer wear blazers, tee shirts as well as smart accessories flaunted by Sidharth in various movies and public appearances.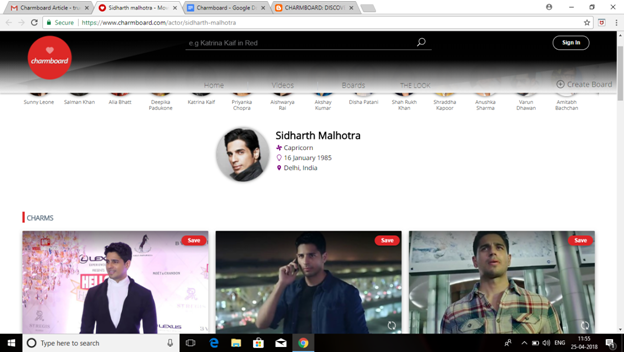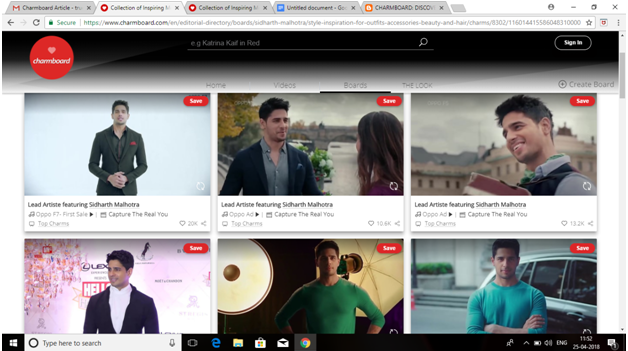 Over to you
The designing of the website has been done in a very organised way. You can easily navigate through different categories and check out videos, charmboards and smartly curated looks out here. Various users share what they like. You surely can draw some hints as to how to look your glorious best. This in sync with the season's trendiest fashion trends. So, people what are you waiting for get going and create your own charmboards!